Climbing partnerships are a must when it comes to rock climbing. If you want to progress and get better at the sport, you need a good partner. Someone who's reliable. Someone who's going to push you and challenge you, so that you're progressing week by week. But How To Find Climbing Partners? All it takes is a bit of effort and creativity on your part.
Climbing is a sport that requires you to have a partner. It is important to have a partner who can make you feel safe and secure while climbing. Climbing partners are also important because they help each other with technique and skills.
Finding a rock climbing partner can be difficult if you don't know anyone who climbs. Luckily, there are many ways to find someone who shares your passion for climbing. I'll show you exactly what to do below.
Related:
35 Best Rock Climbing Tips For Beginners
Things you need to know when choosing a climbing partner
1- Why do you need a climbing partner?
Climbing is a sport that is best done in groups. There are many reasons why you should climb with a partner. First and foremost, it's safer. Climbing alone can be more dangerous because if you fall, there is no one there to help you. If you are climbing with someone else, they can protect themselves while also looking out for your safety.
Another reason why you should climb with a partner is to make it more fun! Climbing with another person will allow you to have someone to talk to during the climb or even just enjoy the view from the top together. You can also share in each other's excitement when each of you takes turns leading the climb or belaying each other on rappels.
Climbing partners can help keep each other motivated by keeping each other on track with their goals no matter what kind of goals they may have: improving technique, getting stronger, or just trying something new for the first time.
Climbing partners are like having another set of eyes. They can spot mistakes or problems before they happen and offer advice on how to avoid them. When climbing with others, it's easy to get caught up in trying to impress them or show off your skills — especially if they're better than you! It's important not to do this because then you'll risk injury or worse by taking unnecessary risks.
Before starting any climb, make sure that your partner knows what they are doing — ask them if they've done the route before and if so, how many times? If they don't know or haven't done it before then maybe suggest an easier route or one that doesn't involve so much exposure!
It's not just about safety — climbing partners can save you money when you're heading out on a multi-pitch route. If you're climbing with two people, each person only has to buy half of the rack (gear). This means that instead of buying 40 cams, you can get away with 20. You'll still need plenty of nuts, hooks, and slings though.
When climbing in groups, climbers tend to be more careful about rope drag since they don't want it getting tangled up in their gear or in other climbers' gear. This means less rope being dragged across sharp edges or over loose rocks. It also means that if one climber falls onto the rope (called an "exposure" fall), everyone else will feel it much more than if he had fallen alone on a single strand of rope. This could cause
2- How do I choose a climbing partner?
Climbing partners are an important part of the climbing community. Your climbing partner can make or break a trip, so it's important to choose wisely.
Here are some tips on how to choose a climbing partner:
A good partner will be someone who is willing to share the lead, belay, and clean the route. They should be able to communicate well with you on the climb and be able to think clearly when things go wrong. A good partner will also share your interest in safety and won't take unnecessary risks.
Your climbing partner should also have similar goals as you do – they might want to try harder routes than you or they might want to climb on a budget. Either way, it's best if both climbers are on the same page when it comes to objectives and expectations for the day.
A good climbing partner is someone who is patient, supportive, and will listen to you if something goes wrong. They should be able to give you advice on how to improve your climbing skills as well as help you through any problems you may have while climbing.
Make sure they're qualified. If someone hasn't completed an introductory course or has never climbed before, then they probably aren't ready for an advanced climb. Make sure all members of your party are competent climbers before heading out into the wilderness together!
3- Can you climb outdoors by yourself?
Don't climb alone — it's safer for everyone if you have someone else around who can help if something happens unexpectedly.
If you're new to climbing, then it's best, to begin with, a friend so that they can help you through the learning process. However, as you become more experienced it is possible to go out alone. The most important thing when climbing outdoors is to ensure that you know the route and how good your equipment is.
It's also important not to push yourself too hard or try anything too ambitious for your first time out. You may be tempted to try something harder than what you're comfortable with but this can lead to accidents if things don't go according to plan.
4- Can you rock climb with no experience?
Yes, you can climb with no experience, Rock climbing is a sport that requires a beginner to learn how to properly use the equipment, but it can be done with no experience.
The first step in rock climbing is learning how to tie your harness correctly. The harness is an important part of the equipment because it attaches you to the rope and protects you from falling. Learning how to tie your harness correctly will ensure that you stay safe while climbing.
Next, you'll need to choose a place where you can practice climbing without any assistance from professionals or other people who have experience in rock climbing. The best place for beginners would be at a gym where they have staff members who can help teach new climbers how to properly use their gear. You can also find outdoor locations where there are boulders that allow for practicing without needing anyone else's help or assistance.
The Best Places to Find Climbing Partners?
A common question I hear is, "Where do you find climbing partners?" The truth is — it depends. Where are you located? What type of climbing do you enjoy? How old are you? What times work best for you? All of these factors have a role in finding the right climbing partners. Here are my top tips for finding climbing partners, so read on!
1. Climbing Gyms
Climbing partners are the people who go climbing with you. They can be friends, family, or just anyone else who shares your love of climbing. You'll often see climbers at the gym climbing with their spouses or kids, which is great because it's a great way to bond with your family while doing something fun and active together.
Climbing partners can also be strangers you meet at the gym or on an outdoor climb. If you're new to the sport, joining an indoor climbing gym is a good way to get your feet wet and meet other climbers who share your interests. The majority of people who climb at indoor gyms are there because they want to improve their technique and learn new skills. These people are usually more than willing to help out newcomers and answer any questions they have about the sport.
If there's a climbing gym in your area, check out the bulletin board or ask someone at the front desk if they have any open gym slots or partner spots to fill. Many gyms have regular partner nights where you can meet up with other climbers who want to go climbing together.
2. Get out and climb.
The more you climb, the more likely it is that you will meet people who have similar interests and skills. As you talk with other climbers, you'll find that you have something in common with them. They may be looking for someone to climb with as well!
Just go to a crag, or even a gym if that's what you have to work with, and start climbing. If you're lucky, someone else will be there too. Talk to them! If they're interested in climbing with you again in the future, ask them to join your email list (or invite them to join yours). That way when you send out an announcement of your upcoming trip, they'll see it and hopefully respond positively.
3. Join an online community
The best way to find rock climbing partners is to join an online community. There are many different ways to do this, but we recommend using a platform that allows you to meet people who are interested in the same things as you.
join an online climbing community like Mountain Project or Rock Climbing World Forums. These sites are a great way to connect with climbers from all over the world. There are also many other websites that cater specifically to climbers such as Meetup.com
Once you've found an online community, it's time to start looking for climbing partners! You can search for people in your area who share similar interests (e.g., experience level). You can also browse profiles and ask questions about where they've climbed before or what types of routes they enjoy most.
Post on social media platforms
If you're new to rock climbing, the best way to find partners is to post on social media platforms. You can use Facebook, Instagram, or Twitter (or any platform) to post about your interest in climbing and see if anyone responds.
4. The local climbing shop or guide service office
The first place many people go when they want to get into rock climbing is the local climbing shop or guide service office. These businesses often have a bulletin board where members can post information about upcoming trips, including dates and locations.
This is perhaps the easiest way to meet people with similar interests. If you're looking for someone who shares your passion for climbing, this is a good place to start. The staff at these businesses often know all the other climbers in town and can point you in the right direction. Some shops even have "climbing nights" where people get together and climb after work on weeknights.
Call the local climbing shop or guide service office. They'll know who's been in their classes, which people have been climbing regularly at their gym or crag, and may even be able to put you together with someone they think would be a good match.
5. Check out your school's intramural sports program
Many colleges and universities offer rock climbing as an intramural sport, which means it's open to anyone who wants to sign up — even if you don't have any experience with the sport.
Many schools have climbing teams, which can be a great way to meet fellow climbers and get involved with the community.
So it's a great way to meet people who share your interests outside of the classroom!
6. participate in events hosted by local rock gyms.
Many rock gyms host group climbs on weekends or weeknights, which are great opportunities to meet new people and climb with them.
The staff at the gym will be able to direct you to other climbers with similar skill levels, and you can even make new friends.
There are also many organizations that offer recreational sports like rock climbing as part of their mission statement. Contact them about joining their club or attending one of their events to meet other people who share your passion for adventure!
7. Go on outdoor adventures
Climbing partners can come from anywhere. You can find them through your own social circle, but you may also get lucky enough to meet them on the trail or crag.
If you don't already have a friend who climbs, then try finding one in your community. The best way to find climbing partners is to go on outdoor adventures with your friends and family members. If you don't have any, it's time to get out there and meet some people!
8. Ask around at work, school, or locals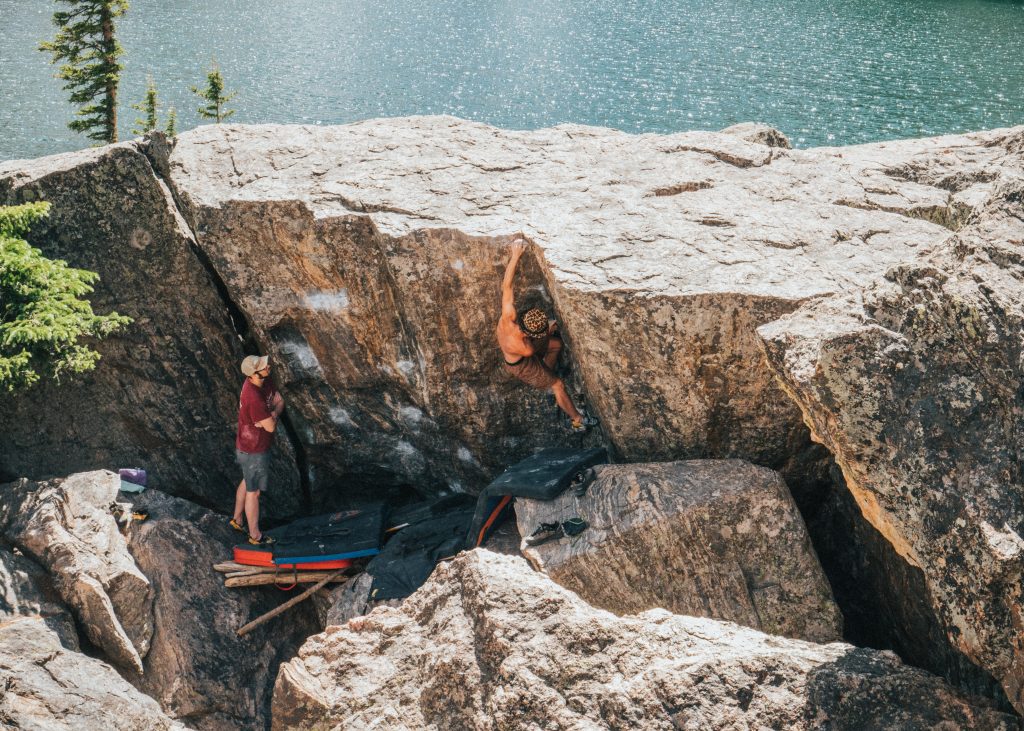 The first thing to do is ask your friends if they have any recommendations. If they live in the area and are already into climbing, chances are they will know someone who would be interested in joining you on an outing. If not, they might have some ideas on where to look.
Ask around at work or school. This is especially helpful if you have coworkers or classmates who are climbers themselves. Ask them if they know of anyone else in the area who climbs and if they'd be interested in getting together sometime.
Another great way of finding a rock climbing partner is by asking locals. If you live near an area where people like to go rock climbing, then there's a good chance someone will know someone who can help you out with your first climb.
9. Go online
There are many websites that list local rock climbing groups and events. You can also search for "rock climbing partners near me" or something similar on Google or Bing to find local groups. You can also check out Facebook pages of local climbing gyms or organizations that cater to climbers such as the American Alpine Club (AAC). Many of these organizations have their own calendars where they post upcoming events and outings so that members can plan their trips together
Conclusion:
There is great variety in the ways you can find climbing partners, but no matter what way you choose, the underlying idea is: get out there! Start talking to people at climbing gyms, check out local outdoor and indoor climbing areas, or by starting your own group. Ask around, see who is interested and when they'd like to go. Send out emails and texts to friends who you think would enjoy rock climbing.