Places to Buy Cheap & Used Climbing Gear
Whether you are an experienced climber or just starting out, you will eventually want to replace your old, damaged climbing gear or buy new gear so that you can progress and scale bigger walls. But this presents a problem: where do you go to buy cheap used climbing gear? There are many places that sell climbing gears at the lowest prices available. In fact, there are a lot of suppliers that sell second-hand equipment for an even cheaper price than others. Where should you go to get the best deals?
The idea behind compiling a list of climbing gear suppliers is to help adventurous outdoor lovers find the best place to buy used or cheap climbing gear. This list compiles a diverse range of climbing gear suppliers in one easy-to-read article. Each individual provider has been added to the list based on their reputation, quality of service, and reliability. The list is by no means exhaustive – it simply provides you with some basic information about the sale and rental options at your disposal when it comes to your climbing equipment.
Best Places to Buy Cheap & Used Climbing Gear
1- Mountain Project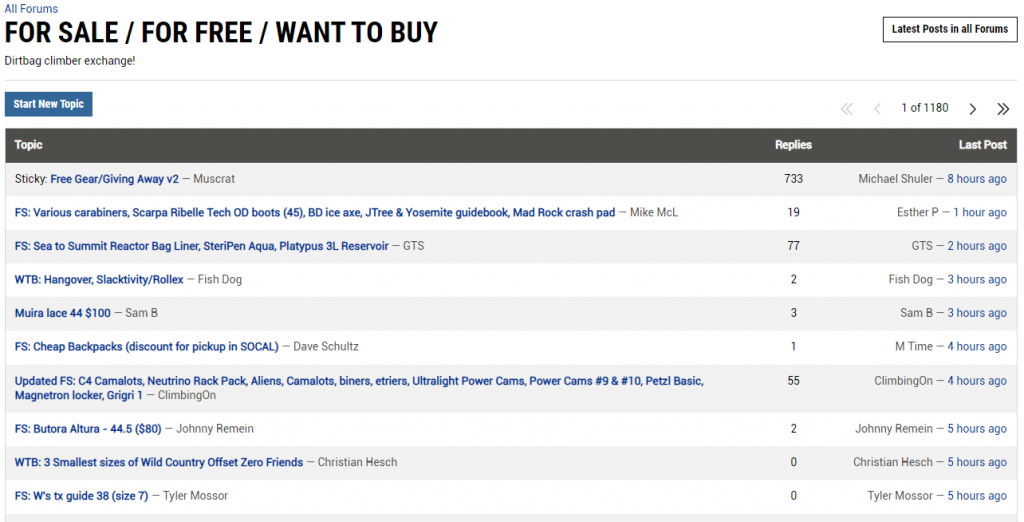 The Mountain Project is a website that serves as a guidebook to The Top Rock Climbing Routes. It's also home to one of the best second-hand markets for climbing gear, with everything from ropes to shoes available at great prices.
The Mountain Project forums have an active marketplace where users can post their used gear for sale. All listings on MP are free, so anyone can put their gear up for sale here, and if priced well, the gear gets sold within a day or two. On the other hand, if it's particularly priced, it might just take an hour or even minutes to find a buyer.
It's important to mention that not all sellers are willing to ship their items (especially if they are large), but most do offer this option. Shipping costs and total price generally get specified in each post. Paypal is the norm for payment here as well.
2. Craigslist
Craigslist is probably the most well-known place to buy used gear, but it can also be a great source of climbing gear. With a little research and patience, good deals can be found on Craigslist, it can be an excellent resource for climbing gear. The hardest part is usually finding what you need — items are posted sporadically and sell quickly.
The best strategy for finding quality gear on Craigslist is to do some research beforehand by looking at online forums like Mountain Project or SuperTopo. This will give you an idea of what types of gear are being sold in your area and what types of prices people are asking for them. You can also search for specific brands or models to see who might have something similar for sale.
Always remember to ask questions about the item before purchasing it, especially if it's a high-dollar item like a rope or harness. If possible, inspect the item in person, which is always preferable to buying something sight unseen over the internet. If you're not able to inspect it in person, make sure that the seller has pictures that clearly show any damage or wear on the product so that there are no surprises when it arrives at your doorstep
3- REI Co-Op Used Gear
REI is a high-profile American retail and outdoor recreation services corporation. They bring you top-quality gear and apparel, expert advice, rental equipment, guided trips, and more. The REI community has 20 million lifetime members, and 168 locations across the U.S., Canada, and Mexico.
REI Co-Op Used Gear is an online marketplace for finding and buying used gear. It's a great resource for climbing, camping, hiking, and other outdoor equipment.
The best thing about REI is that they take in-house photography of all their used offerings to provide a clear view of what you are going to purchase. You can also read customer reviews and ask questions before you put down your money on anything.
They are a trustworthy source of climbing and other outdoor gear, which is why REI is a great place to find gently-used second-hand equipment for your needs.
4- eBay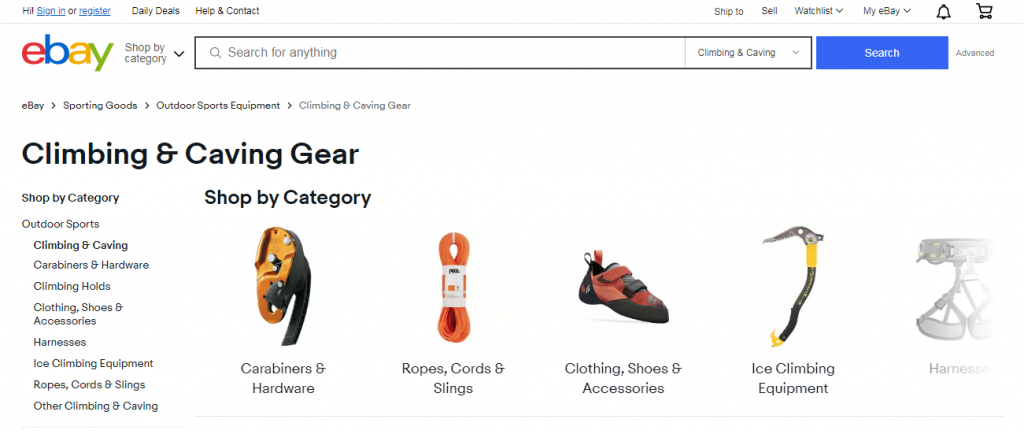 eBay is one of the most popular online shopping websites in the world. It is an online auction, consumer-to-consumer, and small business trading platform. eBay allows its users to buy, sell, or trade products through their services.
eBay creates pathways to connect millions of sellers and buyers in more than 190 markets around the world. their technology empowers our customers, providing everyone the opportunity to grow and thrive.
one of these sellers the established outdoor gear review website, OutdoorGearLab, has its own eBay store where they sell different climbing gear after testing and reviewing them.
You can find some cheap climbing gear homes in this popular online store.
5- Steep and Cheap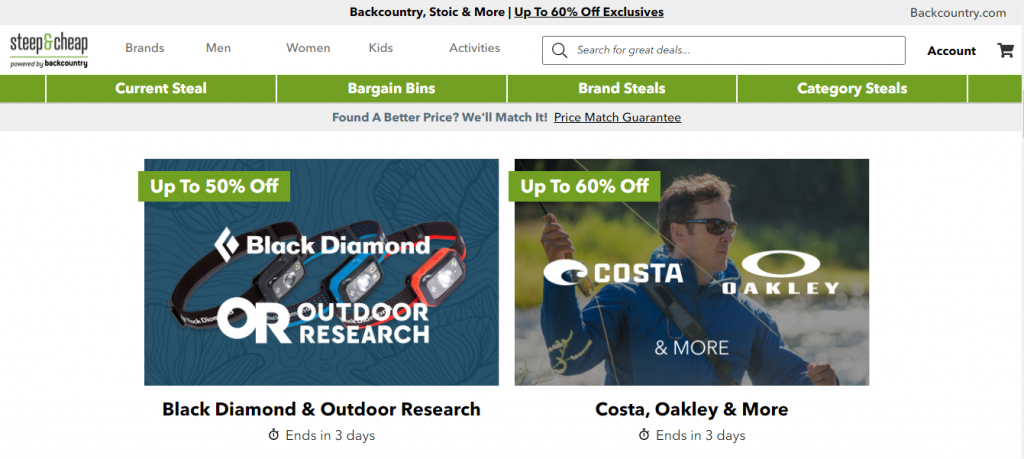 The Steep & Cheap website is a showroom of limited-time, limited-quantity deals for the outdoor enthusiast without a ton of cash to burn. Steep & Cheap always has the deepest deals on outdoor gear. Once you've found something you want, simply add it to your cart and checkout with PayPal (or with your credit card if you're shopping from our mobile site).
Steep & Cheap offers camping gear, hiking and backpacking gear, kayaking and canoeing equipment, snorkeling and scuba gear, water sports equipment, winter sports equipment, and more!
they have over 40 categories of products available in their online store including tents & shelters; sleeping bags; backpacks; trekking poles; stoves; camp furniture; cooking utensils; travel accessories; water filtration & purification products.
You can get the products from top brands at a conveniently low price.
6- GearTrade
GearTrade is a marketplace for used climbing gear. it's one of the best companies that have the broadest selections of used climbing gear for sale.
GearTrade is essentially eBay for the outdoors. It's a place where you can find a lot of good deals, but it requires a little research and patience to check whether it has what you're looking for.
The site offers many different categories and subcategories, so there's no shortage of options when searching for your next piece of equipment or clothing item.
Whether you're looking for new boots or an old harness, there's bound to be something that catches your eye on GearTrade — even if it doesn't catch your budget!
7- Outdoor Gear Exchange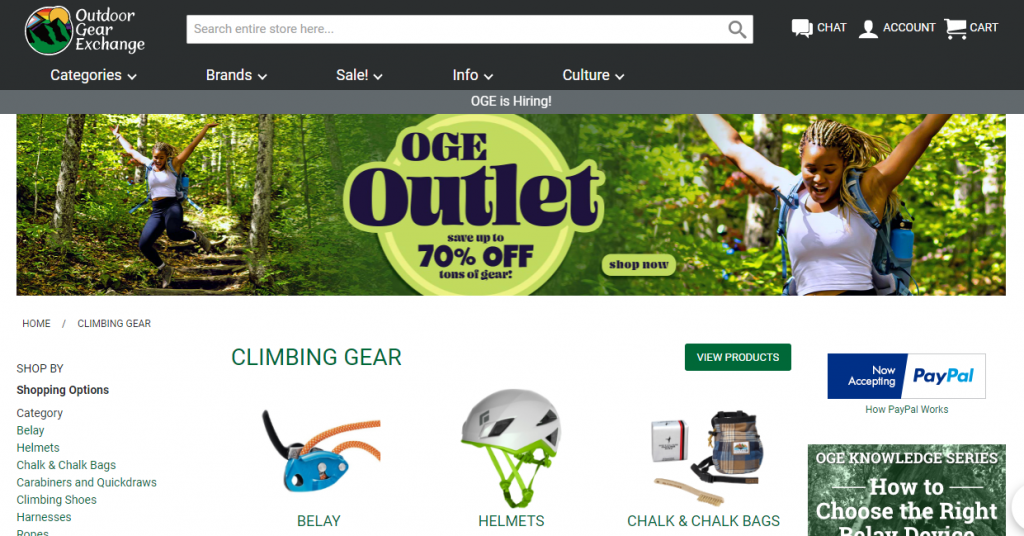 Outdoor Gear Exchange is a great place to buy and sell new and used outdoor gear, whether you're looking for rock climbing shoes, backpacks, or tents, the experienced staff at Outdoor Gear Exchange has you covered.
The shop also offers an extensive rental program and guided climbing trips, no matter if you prefer trad or sports climbing, bouldering, mountaineering, or mixed climbing.
Outdoor Gear Exchange sells a large selection of pre-owned and lightly used climbing gear in addition to new products for every season.
the experienced staff has used the gear they sell and can answer any questions you may have. it's perfect for those who want to buy or sell the used products
8- The Clymb
The Clymb's mission is to help you find the best gear, at the best prices, and also offers a wide variety of products from leading brands, including Patagonia, Black Diamond, Arc'teryx, and The North Face.
The Clymb offers daily deals on outdoor gear, apparel, and equipment from prominent brands. The Clymb members have the chance to score up to 50% discount on climbing and other all types of gear.
The Clymb makes it easy to find what you want by filtering results by category, brand, or price range so you can quickly find exactly what you're looking for. You'll find brands like Patagonia, Burton Snowboards, and The North Face among others.
9- MEC Gear Swap
MEC Gear Swap is the largest outdoor gear swap in Canada. It's a chance for you to clear out your closet and bring in some extra cash to buy more gear!
You can sell your gently used clothes, shoes, and accessories for cash or trade them for new gear at any MEC store in Canada.
You must be a member of MEC to participate in the Gear Swap. If you're not yet a member, join now! You'll get 10% off all regularly priced items in-store, plus 20% off sale items.
10- Local Thrift & Consignment Stores
Local thrift shops are a great place to pick up used climbing gear. a lot of people don't know that climbing gear is often resold in second-hand stores, but you may be surprised at how much good stuff you can find.
Picking up items locally is frequently your best option. if you live in an area where there's a market for the climbing gear you'll find a lot more for sale, These shops are excellent places to find deals.
Local stores are good sources for Picking up climbing items, the best thing about these stores is that you can find a lot of items at a lower price than normal retail shops will offer. If you are looking for something specific, this may be your best option because it is unlikely that any retail store will carry what you want.
In fact, the only problem with these types of stores is that they don't always have what you are looking for.
11- Local Climbing Groups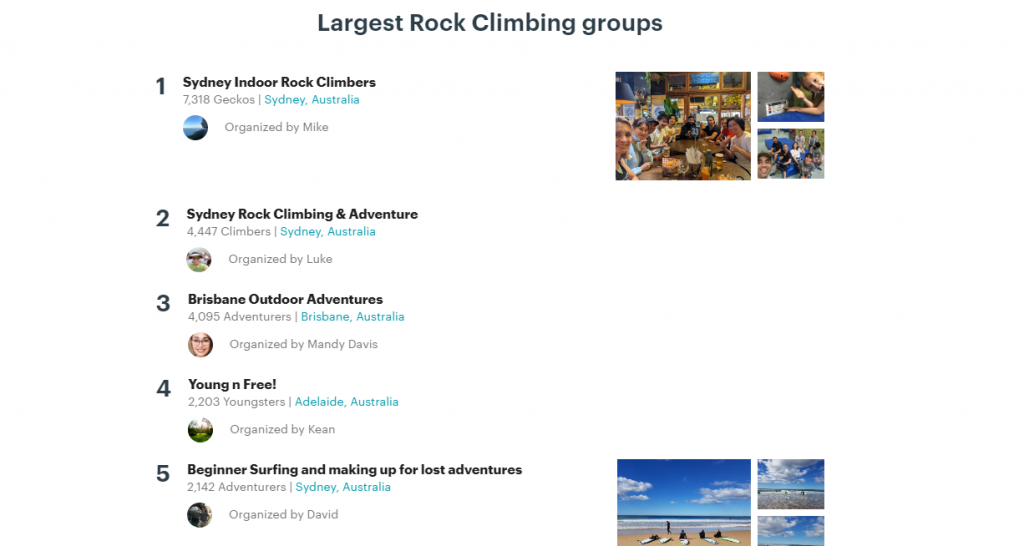 Climbing groups are a great way to meet other climbers, get beta on new routes, and share gear. You can often find local climbing forums or online groups where people post about upcoming events, sell and trade gear, and give each other advice.
Facebook groups are another good way to connect with local climbers. Many have "climbers only" policies in place to make sure that only people who are serious about climbing participate in discussions. There are also many regional groups that focus on specific areas of the country or types of rock climbing.
If you haven't already, check around online to see how climbers are connecting near you. Check Out the Meetup Website – it has some of the Largest Rock Climbing groups
Conclusion:
Overall, you'll find that these resources can be effective and helpful for purchasing your climbing equipment. If you're looking for a bargain and want to find the best prices and selection, or just want to support a small business, buying used climbing gear may be right for you.
So there you have it, use this information wisely and enjoy relentless savings on your next climbing gear purchase!