So, aggressive climbing shoes have intrigued you with what they are, when you should get them, and how they fit? Not only this, but several confusions also worry you before picking the hyper-aggressive shoes for climbing. 
The good news is, you've landed on the right page, for you're going to help you know all about these pro climber's shoes. Why not begin with A-Z of these advanced climbing shoes.
I get commissions for purchases made through links in this post. View our Affiliate Disclaimer.
What are Aggressive Climbing Shoes?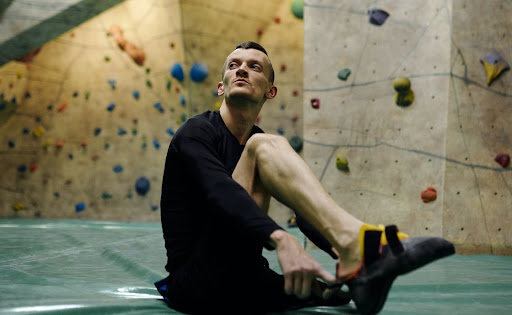 Should you think that aggressive climbing shoes are used by advanced or pro-climbers? It can be partially correct. 
However, the aggressive shoes are for climbers who've advanced in climbing the rocks. If the high walls with cracks no more frighten you, yet those vertical ones with the tiny holds of one toe space invite you to conquer them with more speed and agility, it's the stage when you'll need such high-end shoes. But can use them only the very time when you'll be climbing, not all the day round.
If you ask me to tell you about these shoes in one sentence, it'll be: 
"The tight rubbery socks like shoes with a downturned shape to make your feet curl like a BANANA arch, but with outstanding durability to fight spiky rocks and pockets."
 Yes, they're stiffer at the heel and toe but super flexible in the middle.
How do Aggressive Climbing Shoes Look Like?
A 90 degree curved big toe from the knuckle, down-turned or cambered shape, sung fitting, and enhanced max sensitivity are what can define an aggressive level shoe for a climber. The shoe shapes your foot in a specific shape while hanging on the wall. This curve runs towards the big toe to allow you to project force in the small holds. 
Though the aggressive shoes for rock climbing are all about sticky and thin soles and defined shapes with the flexibility to help the climbers with challenging movements, some additional features still help with the utility for a short period. Some of these features are as given below:
How your climbing shoes will close affects the fitting. For instance:
The lace closure

allows you some flexibility with the fit. So, you can tighten your shoes when you need to climb and lose them when you want to walk around — most versatile.

The strap closure

is also great for allowing a climber to manage the shoe fitting and alter it with no effort. You need not spare 1 minute to lose the fitting; instead, it'll be a second job.

Slip-on or elastic closure

shoes are the easiest to wear, and you have to pick them precisely with the size you need.
The aggressive climbing shoes also have much to do with the material. Though you get them with durable material most of the time, they won't last long being "rock warriors."
How should Aggressive Climbing Shoes Fit?
I think it's the burning question at any forum when you know about these pro-level climbing shoes. First, understand the purpose of aggressive shoes. It accommodates a curled foot "cat paw" in shoes that you actually don't have. 
So, what if you curl your foot like an arch? Obviously, your foot size will be reduced significantly. Hence, your feet are to be in aggressive shoes with an arch shape and big toe curled by 90 degrees from the knuckle.
So, when you wear the shoes, they can be fit enough but try to walk and see how it feels at heels. The shoes should be fittest but not painful as a rule of thumb.  
How to Choose Aggressive Rock Climbing Shoes
Are you convinced by the usability of next-level climbing shoes? You might be interested in getting them. Stop… 
Before you head towards looking for the best aggressive rock climbing shoes, you must know what you should consider these tips.
Get the shoes a little smaller than your standard size,

for these aggressive climbing shoes should fit more than your running on your foot. Shopping in the afternoon can be brilliant advice only when you go physical shopping. So, consider the last option if you hit for an online purchase. No matter what way you prefer, remember, the aggressive shoes should not be too fit to cause pain.

Shoes' contact points can be the actual indicators of how

your shoes fit you. For instance, with an aggressive shoe, the connection point will be your big toe, and the last outer toe should feel highly supportive when you move on the holds. 
Yet, if you feel your toenails instead of your toes, it can show that your shoes are too small. Hence, the misconception of getting a climbing shoe pair "as small as possible" is not appreciated.
Price can also affect your decision.

Don't forget you get what you pay for. Undoubtedly, the expensive shoes come with quality material and construction. So, Don't let the "low price" tag spoil your experience.

Material

can be a significant factor in determining the product's quality and user experience. Leather and synthetic material can be options for the shoe's upper. Leather might seem to loosen by the time, but it'll not affect the shoe fitting. Why? The reason is, you still have rubber soles that will not expand.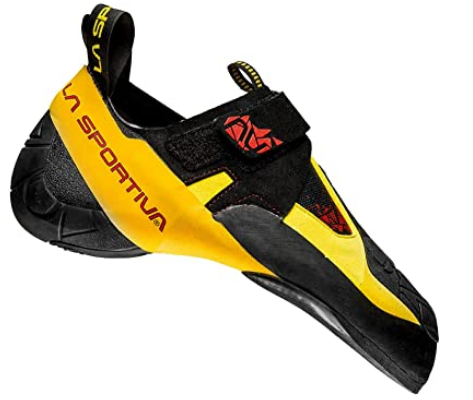 Yes, they're worth buying. It's pretty normal to be in a fix about getting the climbing shoes. The reason is their limited versatility, less comfort, and no help when you want to smear and jam. 
You need an expert opinion: So, here is why you should have your pair:
 When you need the technical ability on overhangs, these are only down-turned shoes with more sensitivity to help. Yes, the moderate climbing shoes are of no more help.

You can only access demanding pockets and holds with small space through the thin rubber shoes, which let you feel "what's under your toe."
When should you get aggressive shoes for climbing?
"You're climbing through cracks; moderate climbing shoes are good. You're climbing through small holds; get aggressive shoes."
Looking at many climbing shoes can excite you to grasp the most advanced shoes. Yet, they aren't for you if you're learning to climb only. 
You can switch to aggressive climbing shoes when you have to climb high walls, do overhang climbing with small holds. 
The best time is when you don't climb the entire day but climb steep walls, horizontal routes with small pockets and holds.
FAQS about Aggressive Climbing Shoes
Why are aggressive climbing shoes so expensive?
Ranging from $50 to $200, these pro climbing shoes can seem expensive. Yet, the manufacturing cost makes them so unique and costly. 
They're handmade, so they require more time and effort than regular shoes, which can be made in large numbers. Similarly, since the climbing shoes are for challenging surfaces, they need premium quality material for a demanding purpose. 
How can you walk in aggressive climbing shoes?
Let me ask you, "how long can you walk with sure feet." Not much!
So, with smaller shoes, and panic toes, you can't walk. As a piece of advice, even if you could walk, we'll recommend you not to do so, for it'll affect the structure of your shoe. 
Final Thoughts 
Aggressive climbing shoes are a must-have to help you move forward with your passion as a climber. Being an advanced-level climber, you can use them on the wall whenever you need them. Yet, it's more about switching between the right pair by understanding the structure of the climbing wall. So, you can have yours if you have learned the basics of climbing and you enjoy moving on hard surfaces with small holds.
---
*This page may contain affiliate links. I get commissions for purchases made through links in this post. As an Amazon Associate, I earn from qualifying purchases. View our Affiliate Disclaimer.