Best Trad Climbing places to climb 
Finding the Best trad Climbing Destinations
Trad climbing is an outdoor activity that has been around for centuries. It involves rock climbing and using natural holds, and it is not limited to any one type of rock. The United States boasts a wide range of trad climbing destinations, and the popularity of this sport continues to grow.
Climbing in the U.S has become a popular pastime for people who want to get away from their busy lives and enjoy some time in nature while getting some exercise as well. Trad climbers can find different types of rock formations all over the country, which makes this sport accessible to people from all walks of life.
Trad climbing typically involves ropes, anchors, and protection for safety purposes. It can be as easy as following a path with ropes or as difficult as free soloing.
Some of the best trad climbing destinations in the U.S are Yosemite National Park, Joshua Tree National Park, and Zion National Park. Let us learn in detail the 8 best trad climbing locations in the US.
1. Red Rock, Nevada
Red Rock is a trad climbing destination in the United States. It offers access to a variety of different climbs and the Red Rock Canyon National Conservation Area is a great place to enjoy nature.
Many long routes at Red Rocks provide significant adventure without the runouts that are common in many regions, thanks to steep, intermediate routes, cracks that eat away pro, and securely bolted face pitches.
Red Rocks multi-pitch routes offer it all: lacquered edges, incut jugs, splitter cracks, and tricky faces. On popular routes, bolted anchors accelerate the growth and allow for easy retreat. The multi-pitch climbs at Red Rocks are fantastic, but this is only half of the equation.
2. Shawangunks, New York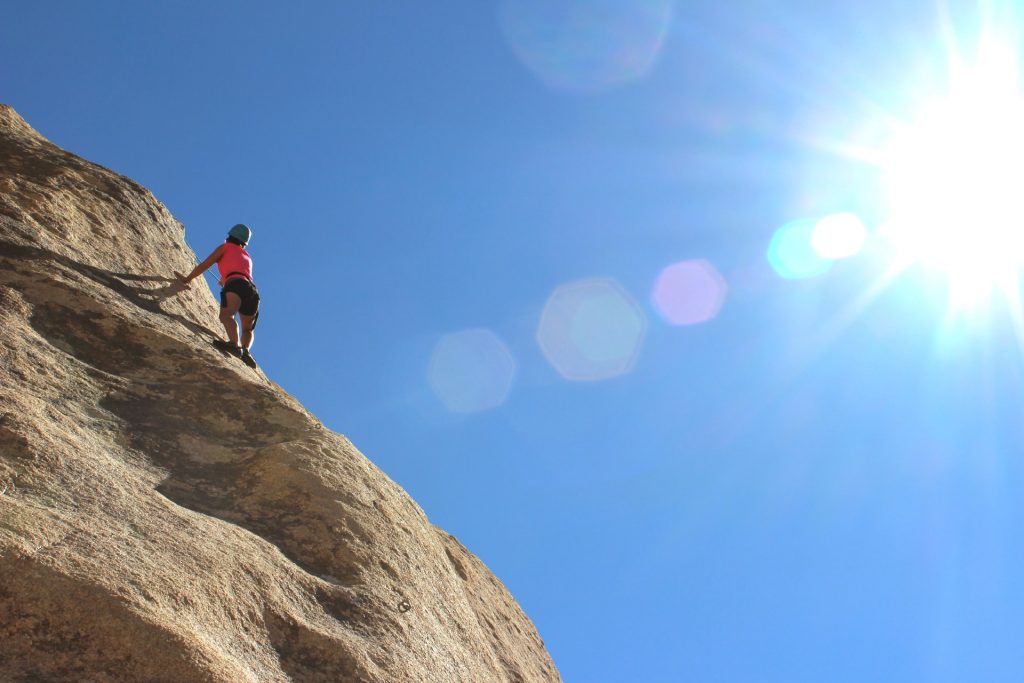 The Gunks (short for Shawangunks) are a premier climbing region in America. It's only a few minutes from New Paltz, a hip college town of 13,000 people, and 85 miles outside New York City, offering a great destination getaway. Solid quartz conglomerate with horizontal splits rather than vertical ones. Airy roofs, large jugs, traverses, and even "sporty" pro define the climbing here. It's known for excellent one- to three-pitch climbs of any and all difficulty levels, including some of the country's best moderate trad (sorry, no sport climbs).
3. Smith Rock, Oregon
Smith Rock is a unique trad climbing destination in the U.S. It takes a lot of effort to get there, but it is worth it. It has long been considered one of the best trad climbing destinations in the U.S., and it has been featured in numerous guidebooks and climbing magazines over the years.
Smith Rock packs a sunny punch with approximately 1500 climbing routes of different lengths and styles on roughly 650 acres of terrain. Smith is well situated between Eastern Oregon's high semi-arid desert and the temperate rainforest in the western part of the state, providing year-round climbing options and few rainy days.
4. City of Rocks, Idaho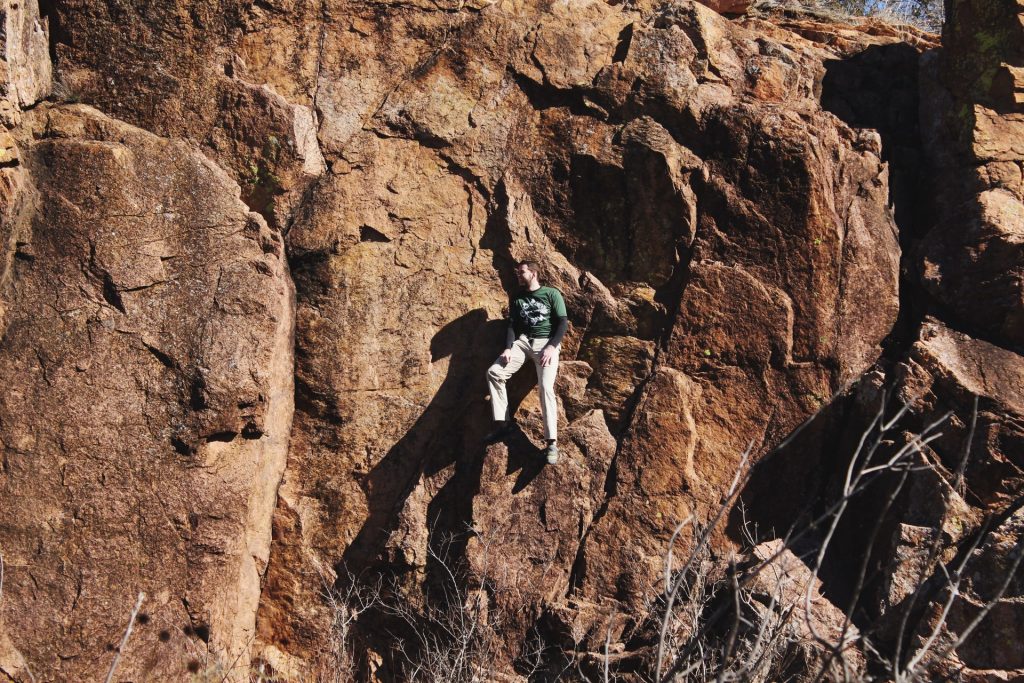 City of Rocks is a trad climbing destination in the U.S. that has been popular among climbers for decades. Located in central Idaho, the City of Rocks National Reserve is home to more than 300 routes and is the most popular destination for sports climbing in North America.
It also has a rich history with its first documented ascent by Dick Bass in 1954, and it's one of the few places where you can find granite boulders that have been polished smooth by climbers over time.
City of Rocks, once a stopover for migrants seeking a new start in California, has an old rock with pockets and chickenheads that are always entertaining. Keep an eye out for hidden riches; legend has it that $90,000 in gold was concealed at Treasure Rock in 1878 but was never discovered.
5. Joshua Tree, California
With countless routes, innumerable boulder issues, and a small number of campsites, Joshua Tree is a world-renowned destination. Its popularity as a winter getaway has only grown over time as climbers of all skills have discovered the moderate weather, grippy rock, and unique environment that make it a must-see spot for every climber.
J-Tree continues to attract new climbers with its multitude of ultra-classic climbs, making it one of the most popular climbing destinations in the United States. Because of the strong friction of the quartz monzonite, even the most heinous-looking routes are usually moderate.
6. New River Gorge, West Virginia
New River Gorge is a trad climbing destination in the U.S. It's known for its high concentration of sports routes, and it's also a popular destination for climbers from all over the world. The walls of this gorge and prime climbing center in the East are solid sandstone. Overhangs, fissures, and slabs range in difficulty from 5.7 to 5.14 throughout the Gorge.
7. Cathedral Ledge, New Hampshire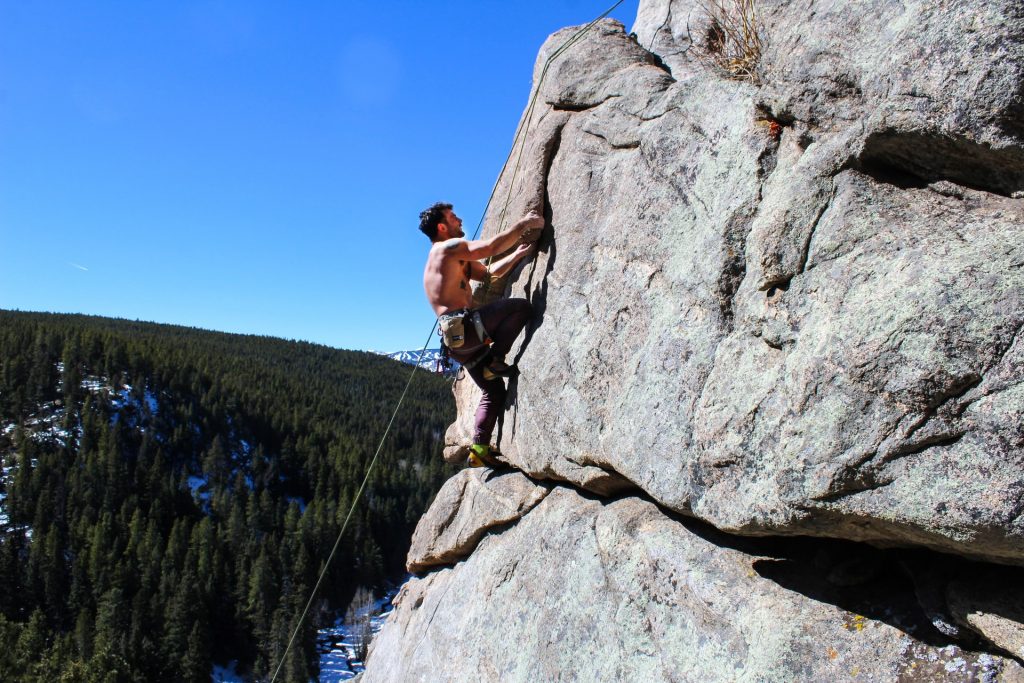 In New Hampshire, Cathedral Ledge is the epicenter of traditional climbing. Cathedral has rightly been popular for decades due to its simple accessibility and pathways of all levels and types. Cathedral has its own scene due to its proximity to North Conway, and it is not uncommon to share the cliffs with old-timers who set up routes in the 1960s, 1970s, and 1980s.
8. Tennessee Wall, Tennessee
Tennessee Wall is a trad climbing destination in the U.S. It is located near Chattanooga, TN, and is home to some of the best trad climbs in North America. T-Wall is primarily a single-pitch crag, while several multi-pitch routes may be found in the western portion.
Protection is plentiful, save when mentioned in the route descriptions, and a rack of nuts, tricams, and cams up to 4 is usual. Rapping from trees at the summit of the crag was once common, but with pine beetle infestations killing many of the trees, the usage of bolted anchors is becoming more common.
Don't take rapping from a hanging tree at face value! This concept is driven home by a glimpse at some of the fallen trees along the trail hung with old tat.