Living in San Diego and finding the best rock climbing gyms in San Diego can be nothing but Eden to be a rocking climbing enthusiast. Yes, we understand it well. 
To help get peace of mind for scheduling and practicing your climbing skill, we've reviewed the top 3 best gyms for rock climbing in San Diego. Yes, you got it right, you're about to find your favorite in San Diego soon, just after 10 mins. Can't wait? You don't need it, as here we begin.
I get commissions for purchases made through links in this post. View our Affiliate Disclaimer.
Best Rock Climbing Gyms in San Diego
It shouldn't come as a surprise that we've reviewed only 3 best rock climbing gyms in San Deigo on our list. The reason is, according to our research, these top 3 gyms have been hard to decide between for the climbers. And they needed a clear comparison. Here we begin our review.
https://www.youtube.com/watch?v=CITwxy8QuWo
Here is the Vital rock Gym to be first on this list for best rock climbing gyms in San Diego. You'll find multiple reasons why this gym is inviting crowds to visit it. No more delay here; we begin our review.
Vital Climbing Gym Locations
In San Diego, the gym shares only one location:
Vital Climbing Gym Timings
The Vertical Hold Climbing Gym has two different timing around the week:
You can Visit 11:00 am to 9:00 pm

 24/7 open for members
So, you get flexible timings and complete relaxation. Not only this, you can focus on your climbing without caring about time — time always flies while climbing!
How Vital Climbing Gym Welcomes you
The small space of Vital Climbing Gym is relatively surprising and pleasing. You get a clear insight into how well the area has been used to cope with the needs of climbers from any learning stage. 
The floor has been entirely covered — you feel safer. It's pretty predictable to feel excited in this gym because you see hundreds of climbing opportunities and practicing in the presence of friendly fellows and gym staff members.
What Makes Vital Climbing Gym so Special
The gym is just a brand among rock climbing gyms. And, any climber can only wish to find a gym like this.

The climbing area has been planned to keep the needs of climbers in view. Except for pro climbers, the climbers feel it is the best fitting.

Bouldering clinics are hard to find in any other climbing center. NO, NO, those are not the medical services at the gym, but the courses in which the climbers learn about climbing like a warm-up, climbing terms, and techniques to upgrade their climbing experience at the gym. 

The gym has only monthly plans and annual memberships, you find no crowd besides the Day Pass but no weekly plan. We can say the gym chooses who should visit it. That's why, despite having a peaceful atmosphere, music, and all the mega amenities, the gym has nothing to do with the "fun" activities.

 The gym serves as a climbing academy for beginners to intermediate-level climbers.

Being open 24/7 for members, the gym lets you choose your visit hour so that you may continue practicing with complete serenity.
Vital Climbing Gym Pricing
The gym offers you monthly and annual memberships. It means there is no way to go or have fun. It's a gym for dedicated climbers. You can be a part of this gym for:
$70/month

$700/year, which saves you $84

Day pass available for $17/single learning session

5-Day Punch Card is for $75

10-Day Punch Card is for $135
Vital Climbing Gym Cons
Cons have nothing to do with this gym. Some visitors have thought that the gym could be more advanced for pro climbers, but it's still exceptional, according to us.
The second but most populated gym in San Diego, the Grotto Climbing Gym, is our most favorite climbing gym with 7,000 square feet of climbing space. A unique blend of state-of-the-art climbing walls and sophisticated staff invites you to have a wonderful experience here. 
It's why the space has won the highest satisfaction of the visitors. Let's have a quick look, what Grotto Climbing Gym offers.
The gym is a perfect place to accommodate all levels of experiences in rock climbing experience. It offers lesson and climbing opportunities for beginners, kids, and experts. 
Grotto Climbing Gym Locations
Grotto Climbing Gym Timings
The Gym has different timings during the week. 
On Monday, Wednesday, and Friday, the gym is open for 12 hours: 10:00 am -10:00 pm.

On Tuesday and Thursday, the gym is open for 14 hours: 8:00 am-10:00 pm

On the weekend, Sat and Sun, you can visit the gym from 10:00 am-6:00 pm
How Grotto Rock Climbing Gym Welcomes you
The gym's introduction starts with a promise that your entrance into the gym will cause quick bouldering. Yes, you don't have to wait for instructors longer. 
They're ready to help you and teach you to climb. Thus, in no time, you sense that you're getting fantastic value for your money and time.
What Makes Grotto Climbing Gym so Special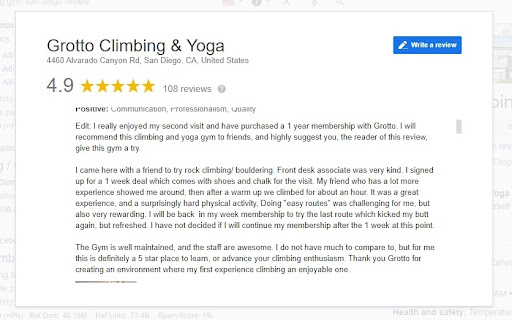 According to our research, this rock climbing gym has earned the highest customer satisfaction on almost every platform. That can be a big reason to intrigue you what makes it win such a great appreciation. Some of these features are given here.
The climbing routes have offered a variety of experiences with varying difficulty levels.

You feel the gym homely because you get dedicated lockers in the restroom. It's what keeps you coming back here. 

Despite being crowded, this gym has been well maintained. The climbing floor has been covered with crash pads to ensure the safety of rock climbers. 

With a complete sense of security and safety, you can feel peace of mind after meeting the welcoming staff members with no discrimination of skill level and learning needs.

The Grotto Climbing gym is pet-friendly. You can bring your dog with you.
Grotto Climbing Center Pricing
The gym's prices range for different classes. For climbing, they've divided it into two groups;
The Recreational Team

charges are $150-185 with 1-2 visits a week. Pay $50 for the enrollment fee. At the same time, you can also get a $10 discount for the siblings.

The Altitude Team

charges you $75 as an enrollment fee, $225 per month free with 3 times a week visit.
The prices seem to be higher, yet the experience justified it entirely.
Grotto Climbing Gym Cons
All is good; then what can be compromising?
Over 96% of visitors at Grotto Climbing Gym have praised it. Yet,  it has been quite hard to know any shortcomings. 
Beware that for the membership cancellation, you must document it after seeking proper instructions from the authorities. 
Otherwise, you might feel overcharged. And remember, it can be a daunting task to find that membership cancellation from anywhere.
Next on our list is this rock climbing center known as Mesa Rim. After Grotto, the Mesa Rim has the highest favorable reviews. The climbing and fitness center also has a climbing academy to help the crazy climbers learn and advance their skills. Let's see what you can get here.
Mesa Rim Climbing Center Locations
This climbing and fitness center shares two locations in San Diego. 
Mesa Rim Climbing Center Timings
The climbing center organizers apprehend the needs of climbers. 
The gym opens at 6:00 am and closes at 10:00 pm from Monday to Friday.

On Saturday and Sunday, you can visit the gym from 8:00 am to 7:00 pm.
How Mesa Rim Climbing Center Welcomes you
New to climbing lessons, you don't feel strange here. The instructors come with good homework and the planned climbing lessons, which speak of their mastery and understanding of your needs. It all makes the learning process of climbing techniques, terminologies, and body positioning full of engagement.
What Makes Mesa Rim Climbing Center so Special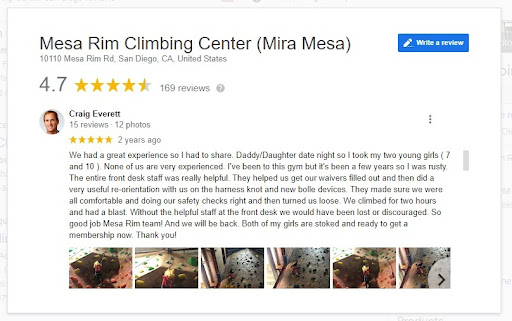 It can be the best way to define your experience at Mesa Rim Climbing center. The activities have been planned, as you can also look at the calendar and lessons plan shared by the gym. So, you can prepare ahead and dream of your adventure, which might not let you sleep.
It would be correct to say that this climbing center is heaven for beginners because you get excellent support from the staff.

It's a perfect place to have fun with your family and kids. 

The community is friendly which always strives to help you whenever you need it.

The walls have been constructed with varying difficulty levels to let you learn and polish your skill.

Without paying a physical visit, you can choose your programs like bouldering, lead, top rope, etc., and sign up online for your sessions ahead: it's time-saving.
Mesa Rim Climbing Center Pricing
The pricing of this gym or not surprising, for they're pretty nominal like:
$43 per week with gear rental and included Free Belay lessons

$99 per month with free belay lesson and pass for one friend each month
But, here is what we loved the most. Without worrying about your time, you can get a "no-expiry" membership for 10 visits for $225 only. If you occasionally visit a climbing gym, you simply sign up for peace of mind. The deal makes the gym matchless for the value!
Mesa Rim Climbing Center Cons
Indeed, the gym has won your heart. But, should you go there? If you have the patience to wait for your turn in such a crowded place, you should; or if you can go in odd hours like early in the morning, you can have great experiences. 
To be crowded means the place is great so far, and it also tests you to get an opportunity.
They have strict rules about the test system. In the same way, if you complain about your share at the climbing wall, the friendly staff might not be of great help because they have to be equally facilitating for everyone.
We didn't Include Vertical Hold Climbing Gym in our Top Picks?
The quest for the best rock climbing gym in Sandiego ends here. Some other gyms are renowned in San Diego, but we've not reviewed them or included them in our list. The reason is, our only aim has been to serve you with the "BEST" so that you may decide with a clear head. 
For instance, Vertical Hold Climbing Gym is among the top rock climbing gyms in San Diego, but we haven't reviewed it. Here are the reasons as we gathered from the visitors' feedback:
The floor has less safety with no floor mats.

The overall atmosphere of this gym is crowded, noisy, and dusty.

The climbing routes have been placed for fun. No pro climbers can find it satisfying; they're pretty flat.

The membership cancellation policy is almost a scam.

Auto belay ropes are not enough. You might need to reserve your slot first.
The gym has gone through a negative change this year. So, we no longer advise you to go there. 
Final Thoughts on Best Rock Climbing Gyms in San Diego
Each gym from our best rock climbing gyms in San Diego has been exceptional. You can assess your needs and choose one. We hope you'll not regret going there. Best of luck!
---
Shop Related Products
[product_categories number="0″ parent="0″ columns="3″]
---
*This page may contain affiliate links. I get commissions for purchases made through links in this post. As an Amazon Associate, I earn from qualifying purchases. View our Affiliate Disclaimer.