Are you an avid rock climber looking to improve your climbing performance? One common challenge that climbers face is the dreaded "pump" – that feeling of fatigue and tightness in the forearms that can hinder your progress. But fear not! In this article, we will explore various techniques and strategies to help you avoid pump when climbing. Whether you're a beginner or an experienced climber, these tips will help you optimize your climbing experience and achieve your goals.
What is Pump in Climbing?
Pump in climbing refers to the fatigue and build-up of lactic acid in the forearms and fingers during climbing. It is a common phenomenon experienced by climbers of all levels and can significantly impact their performance and overall climbing experience.
When climbing, your forearms and fingers work hard to grip and hold onto handholds or rock surfaces. As you exert force and tension on these muscles, lactic acid, a byproduct of anaerobic energy production, begins to accumulate. The accumulation of lactic acid leads to a feeling of fatigue and heaviness in the forearms and fingers, making it increasingly challenging to maintain a strong grip.
The sensation of the pump is often described as a burning or tightness in the forearms, accompanied by a loss of strength and endurance. As the pump sets in, it becomes more difficult to maintain precision and control during climbing movements. Grip strength may weaken, and the risk of slipping or falling from handholds increases.
Climbing Pump: Causes and  Impact
pump can have various causes, including sustained exertion, repetitive gripping, and intense climbing sequences that involve continuous tension on the forearms and fingers. It is more likely to occur during long or demanding climbs, challenging bouldering problems, or sustained routes that require sustained grip and muscle engagement.
During climbing, the muscles in the forearms and fingers are constantly engaged and under stress. Sustained exertion, such as prolonged periods of climbing without breaks, can lead to a build-up of lactic acid and fatigue in these muscles. Repetitive gripping, where climbers repeatedly grasp handholds, adds to the strain on the forearms and fingers, contributing to the development of pump. Additionally, intense climbing sequences that require sustained tension on these muscles can accelerate the onset of pump.
Pump is more likely to occur during long or demanding climbs, challenging bouldering problems, or sustained routes that require sustained grip and muscle engagement. The longer and more intense the climb, the higher the chances of experiencing pump. It is an expected challenge in climbing, especially during physically demanding routes or when attempting difficult moves.
The impact of the pump on climbing performance can be significant. It limits the ability to maintain a secure grip on handholds, affecting technique, precision, and overall climbing efficiency. When the pump sets in, climbers may struggle to execute complex movements, navigate difficult holds, or complete routes successfully. Grip strength diminishes, making it harder to maintain control and stability while climbing. The increased difficulty in maintaining a secure grip can lead to decreased confidence and a higher risk of falls.
How to Avoid Pump When Climbing: 17 Strategies
Reducing the pump (the build-up of lactic acid in your forearms) is crucial for improving performance and endurance on the wall, we will explore effective strategies to help you reduce pump and optimize your climbing sessions.
Hydration and Nutrition: Why is it Important?
1. Optimize Muscle Function and Endurance with Proper Hydration and Nutrition:
Proper hydration is essential for optimal muscle function and endurance. When climbing, you may lose a significant amount of fluid through sweat. Therefore, it's crucial to drink enough water before, during, and after your climbing sessions. Staying hydrated helps maintain muscle performance, prevents cramping, and aids in recovery.
The Role of Nutrition:
Fueling your body with nutritious foods is key to maintaining energy levels and preventing muscle fatigue. Eating well-balanced meals that include a variety of nutrients is important for climbing performance. Include green leafy vegetables, beans, and nuts in your diet for their magnesium content, which helps regulate muscle function.
3. Reduce Pump and Boost Performance through Effective Breathing Techniques:
Focusing on your breathing technique can have a significant impact on reducing the pump. When climbing, it's common to hold your breath or take shallow breaths, which can increase tension in your body and lead to faster fatigue. Practice deep and controlled breathing, inhaling and exhaling with each movement, to supply oxygen to your muscles and promote relaxation.
4. Prioritize Rest and Recovery: Incorporate a Weekly Rest Day:
Rest and recovery are key elements of any training program. Giving your body adequate time to recover is crucial for preventing overuse injuries and allowing your muscles to repair and strengthen. Incorporate rest days into your climbing schedule to recharge and rejuvenate.
Prioritize a dynamic warm-up routine that gets your heart pumping and increases blood flow to your muscles. Start with light aerobic exercises like jogging or jumping jacks to raise your body temperature and loosen up your muscles. Follow it up with dynamic stretches that target your arms, shoulders, wrists, and fingers to prepare them for the demands of climbing.
6. Stretching for Flexibility:
Stretching is essential for maintaining flexibility and preventing injuries. Perform stretching exercises for your entire body, paying particular attention to your forearms, wrists, and fingers. Stretching before and after climbing can help improve your range of motion, reduce muscle tension, and minimize the risk of strains and sprains.
7. Relax your grip:
Holding onto handholds too tightly can cause excessive strain on your forearms and contribute to the pump. Focus on maintaining a relaxed grip while climbing. Train your mind to find the balance between holding onto the wall securely and exerting unnecessary tension in your forearms.
8. Utilizing Kneebars:
Kneebars are techniques where you use your knee to create a resting position during a climb. Look for opportunities to utilize kneebars strategically to give your forearms a break. By distributing some of the weight to your legs, you can reduce the load on your forearms and alleviate the pump.
9. Taking Advantage of Rests::
When you find a good resting position or reach a temporary plateau during a climb, take advantage of it by shaking out your arms. Gently shake your hands and arms to promote blood circulation and release tension. This can help delay the onset of the pump and allow you to continue climbing with more ease.
10. Finding Your Climbing Pace:
Climbing at a pace that suits your ability and fitness level is crucial for reducing the pump. Avoid rushing through climbs or attempting moves that are beyond your current capability. Gradually build your endurance and skill level over time, allowing your body to adapt and become more efficient.
11. Forearm Massage and Kneading:
During a climb, take advantage of rests by massaging or kneading your forearms to help alleviate pump and improve blood circulation. Applying gentle pressure to your forearms can help relieve muscle tension and promote recovery during short breaks.
12. Consistency in Climbing: 
Consistency is key to improving your climbing performance and reducing the pump. The more frequently you climb, the better your body will adapt and become more efficient at managing the pump. Aim to incorporate regular climbing sessions into your routine to build strength, endurance, and technique.
Recovery and Training: Boosting Performance
13. The Benefits of Push-ups: 
Push-ups are an excellent exercise for strengthening your core, chest, shoulders, and arms. By incorporating push-ups into your training routine, you can build upper body strength and improve your ability to handle pumps during climbs. Start with a modified push-up variation if needed and gradually progress to full push-ups as you become stronger.
14. Running for Cardiovascular Fitness:
Cardiovascular fitness plays a significant role in climbing endurance. Incorporate short-distance running into your training regimen to improve your cardiovascular capacity. Running helps strengthen your heart and lungs, enabling you to sustain physical effort for longer periods and recover faster between climbs.
15. Route-Reading for Rest Opportunities:
Route reading involves analyzing a climbing route before attempting it. Look for potential resting positions, such as large handholds or ledges, where you can briefly pause and recover. Planning ahead and strategically utilizing these rests can help minimize pump and optimize your climbing performance.
16. Pacing Your Climbing:
Learning to pace yourself during climbs is essential for managing pump. Pushing too hard at the beginning of a climb can lead to early fatigue and increased pump. Instead, aim for a steady and controlled pace throughout the climb, conserving energy and reducing the strain on your forearms.
17. Embracing Micro-Rests:
Micro-rests refer to short pauses or shake-outs during a climb to recover before continuing. Embrace these small moments of rest to give your forearms a break. Use these opportunities to focus on your breathing, relax your muscles, and mentally prepare for the next section of the climb.
Procedures to follow when you start feeling arm pump: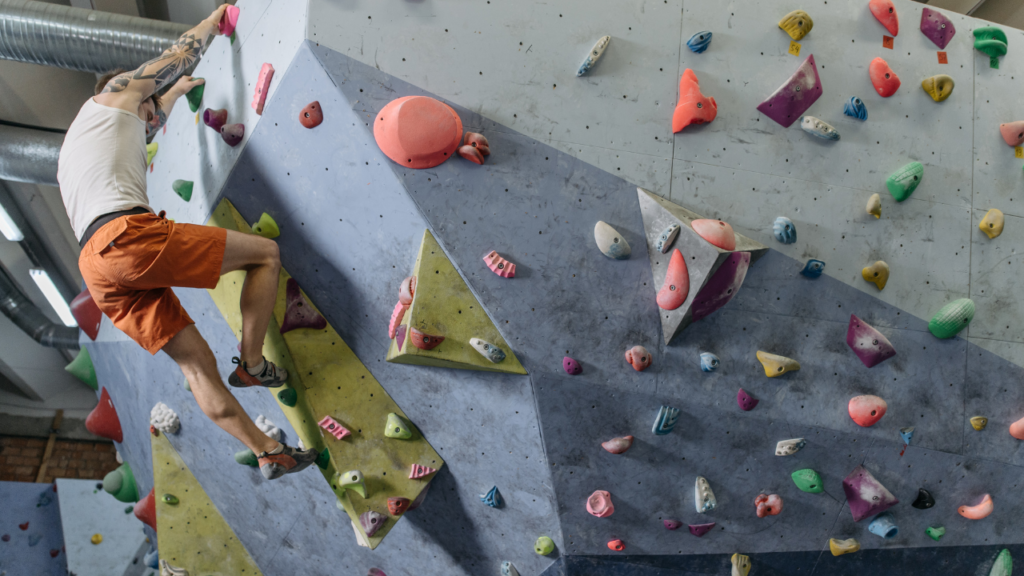 When you start feeling your arm pump while climbing, there are several techniques you can try to alleviate the discomfort and improve your climbing performance:
Shake out between moves: As soon as you feel the muscles in your arms, shoulders, or hands start to tighten, shake out between moves. You can do quick, small shakes as you're reaching for the next hold. Just opening and closing your hand can help your muscles recover.
Use rest positions: Rest positions are key to restoring energy in your body and reducing the pump in your forearms. Take advantage of rest positions during your climb to give your arms a break and allow them to recover.
Raise your arm above your head: Instead of merely shaking out with your arm dangling downward, raise your arm above your head and shake out for 5-10 seconds. This allows gravity to help drain the "bad blood" from your arm. Then, let your arms dangle below and shake out for another 5-10 seconds to pump new "good blood" into your arm.
Rub, shake, and massage: If you want to get rid of the arm pump when climbing, try rubbing, shaking, and gently massaging your arms. This can help clear lactate build-up and improve blood flow.
Relax your grip: One of the causes of an arm pump is gripping too tightly. Try to relax your grip and focus on using efficient techniques rather than relying solely on strength.
Breathe: Proper breathing can help reduce tension and fatigue in your muscles. Remember to take deep breaths and exhale slowly while climbing.
Hydrate and maintain proper nutrition: Staying hydrated and fueling your body with the right nutrients can help prevent muscle fatigue and improve your overall climbing performance.
When to Safely Stop Climbing Due to Excessive Arm Pump?
Recognizing when to safely stop climbing due to excessive arm pumps is crucial for preventing injuries and ensuring a safe climbing experience. While it's important to push your limits, it's equally essential to listen to your body and prioritize your well-being. Here are some indicators that can help you determine when it's time to stop climbing due to excessive arm pump:
Loss of Grip Strength: If you notice a significant decline in your ability to maintain a secure grip on handholds or feel like you're struggling to hold onto smaller holds, it may be a sign that your arms are excessively pumped. Weakened grip strength not only compromises your climbing performance but also increases the risk of slipping or falling from the wall.
Severe Muscle Fatigue: Excessive arm pump can lead to severe muscle fatigue, making it challenging to execute movements effectively. If you find it increasingly difficult to perform basic climbing techniques or execute moves that you can typically complete with ease, it may be an indication that your arms are too fatigued to continue safely.
Loss of Precision and Control: When arm pump becomes overwhelming, it can affect your precision and control on the wall. If you experience a loss of coordination, struggle to maintain body tension, or find it hard to place your feet accurately, it's a sign that your arms are reaching their limits. Continuing to climb in this state can increase the risk of accidents and injuries.
Sharp or Persistent Pain: Pay attention to any sharp or persistent pain in your arms. While some muscle soreness is normal during climbing, sharp or prolonged pain can be a sign of overexertion or potential injury. If you experience intense pain that worsens with climbing or persists even after resting, it's important to stop climbing and seek medical attention if necessary.
Excessive Muscle Tightness: If your forearms feel excessively tight, and stretching or shaking them out doesn't provide relief, it may indicate that your muscles are too fatigued to continue safely. Continuing to climb with overly tight muscles can increase the risk of strains, sprains, or other musculoskeletal injuries.
Final Thoughts
Reducing pump and improving climbing performance requires a holistic approach that includes hydration, nutrition, proper warm-up, technique refinement, recovery, and training. By incorporating these strategies into your climbing routine, you can optimize your performance, enhance endurance, and enjoy more satisfying and successful climbs. Remember to listen to your body, practice patience, and gradually implement these techniques to allow for continuous progress and growth in your climbing journey.
Related posts: