Want to know which climbing rope bags can be the best to help you carry those bulky survival ropes? You need an expert opinion besides the user review to calculate the actual value of every bag. 
How will you do it? Simple…. you need only to read this article. We've evaluated the rope bags after considering the real-time user's review. 
And found how one is better than the other. So, let's get into the meat of this article now.
Why do you need a Climbing Rope? Know First.
"You know what, the ropes are heavier, so to carry them, I need to pack them first." If you think of a reason like this for having a climbing rope bag, you need to correct it first.
Despite having a climbing backpack, you need a rope bag because it lets you pack your rope safely inside the backpack, though you can also take it as a standalone.
The rope bag not only helps you to take your ropes but to keep them happy forever. It can let your ropes sit in coiled form without being mixed or lost. Yep, the purpose of a climbing rope bag is to keep your ropes dirt-free, uncoiled, and safe from UV rays.
How to Choose the Climbing Rope Bag? Read before Buying yours. 
Before getting into our list of climbing rope bags, it's essential to share how you should select a bag. It'll help you reflect on your needs. Here are the features you can count on before picking your bag.
How will you want to pick your bag, on your back or by the side? You can get climbing rope bags in two crying styles. Besides, the primary three styles are messenger bag and backpack. You can also have a rope bag with carrying handles. 
Well, the rope bag carrying style has nothing to do with your bag's storage. However, it divides your bag's weight. So, It's entirely the matter of choice, how you feel comfortable.
To prevent your ropes from dirt and help with their longevity, the tarp size is highly desirable. It's a foldable flat sheet inside the bag that you'll spread on the ground to place your ropes out of the bag. 
Thus, your bag tarp is a waterproof sheet to let no dampness reach your ropes from underneath. Besides this, it also has the tie-off points to secure the ends of the ropes from messing up.
The tarp size of 4X4 is a spacious option. You might find some bags with 3X3 size, but that doesn't help your rope's cleanliness. 
As a result, your rope can lose up to 20% of its strength over time just because of the dirt. Yet, if you're getting the bag for your kiddo, you can go for the smaller size. Remember, later you'll have to replace it.
Some bags also have no tarp at all. These are the rope storage bags in a cylinder shape. They usually have drawstring closure/opening for easy accessibility.
It's about the internal storage of the bag, which is directly proportional to your ropes' size. If you're a pro climber, you'll undoubtedly require a large size bag. However, if you're a beginner, you can have an average-sized rope bag.
If you aim to use your rope bag for your gear storage, you should look for a bag that adds extra storage to the actual storage.
How would you feel carrying the backpack and the rope bag and still looking for another bag? Indeed, it'll overload you. It also depends on you how you want to take your gears with you. 
So, a good option can be, having a bag with spatial storage through dividers or pockets. It'll allow you to pack your climbing gears inside it besides the rope.
Weight of Climbing Rope Bag
Your bag's weight matters, especially when you're to hike longer to reach the outdoor climbing wall. In such a case, an extra pound seems 10. So, judge the weight of your ropes and your capacity. Then, get a bag that isn't too heavy.
Overall Value for your ropes
It might seem strange, yet the value a bag adds to your rope is the actual standard to test a climbing rope bag. For instance, some bags can be easy to carry, durable, and provide the desired shape.
However, what if any other bag surpasses them to keep your rope in shape? As a result, you get untangled rope out of that bag. 
You'll appreciate such a bag the most. Therefore, the bag that adds life to your rope and brings you convenience is better.
Best 30 Climbing Bag Ropes
[products category="235″  columns="4″ limit="32″ orderby="popularity" order="DESC"]
Best Climbing Rope Bags with Reviews
Now here you come up with the best climbing rope bags.
Weaver Leather Basic Rope Bag
How do you feel listening about a collapsible rope bag? We've reviewed a bag from Weaver among other climbing rope bags.
It's a perfect bag to let you keep your ropes tangled free and protected. Hence, you need not spend a prolonged period discovering your rope out of the bag and placing it on the tarp to solve the problem.
The drawstring closure keeps your ropes safe in this waterproof bag. Likewise, it also brings you the ease of access to your ropes.
The bag is incredible for the functionality. It can store your rope of up to 200 m. However, you might miss room for other gears with this bag.
How long will it last? The bag is highly durable not only because of its denier polyester material but the no-zipper buildability as well — zippers can be fragile.
In short, it not only takes care of your ropes against dirt but can help you keep your rope reasonably coiled over weeks or months. 
The only downside can be the portability. The reason is, it has only grab handles. So, you can make it a part of your climbing backpack instead.
Pros
Purely a bag for storage

Extremely durable

Perfect for keeping your ropes in the shape
Cons
The second to claim its superiority is the climbing rope bag by DMM. This lightweight bag is a perfect pick to pack your 50-60 meters rope.
It has extra space to let you pack some other climbing as well. The biggest reason to love this bag is the tarp, which is large enough.
For the day pack-like-picking, it has padded shoulder straps. Thus, you don't feel pulled on your shoulders. If you're more comfortable with a satchel, you can also remove one of its straps.
It also has compression straps. So, you can load your bag with extra accessories. On the downside, the bag's material is not durable. The same is with its zipper.
Pros
A lovely daypack style

Good space for 50-60 meter rope

Color choice

Comfortable to carry
Cons
Metolius Ropemaster HC Bag
We call it the widest and robust. The reason is the storage space that lets you pack everything inside it as a climber. After packing your ropes, you get more space in the bag.
It asks for extra straps, hooks, or features. Yet, it does all the wonders inside the bag. It's also relatively less expansive. 
You can reduce its volume after packing by using compression straps. The rope tarp is also broader in comparison with many other bags. So, your ropes don't compromise their health by catching dirt.
The bag from Metolius assures its longevity through the nylon material. In a nutshell, this rope bag has perfect value for the money, 
Pros
Long-Lasting

Easy to carry

Fairly wide

Under Budget
Cons
Lacks additional features
EDELRID Rope Bag Drone II
In our list, an apple of most of the climber's eye is the climbing rope bag by Edelrid. It's one of the most sturdy bags to hold your safety ropes. It has a storage capacity for up to 70m rope.
With the zip closure and extra pockets, this colorful bag has zipped-drawstring closure. At the same time, the compression straps help you make it easier to transport. 
It doesn't belong to the daypack's family. Yet, it's a breeze to carry. 
The bag has an extensive rope tarp. So, your ropes receive the same care out of the bag as they do inside.
The bag has undoubted durability. The only missing feature is the grab handle.
Pros
Extra storage

Long-lasting

Comprehensive rope tarp
Cons
Black Diamond Super Chute Rope Bag
The messenger-style rope bag by Blak Diamond is one of the best climbing rope bags. We'll begin with the tarp, which is the most lovable about this bag. The tarp is also larger to keep the rope-aging dirt away.
You pack your 70m rope in it. Half a story! 
You can use it as a complete climbing backpack for it and embrace all your gears. The bag compresses the ropes well with the help of two compression straps. 
The shoulder strap is also padded. Thus, it provides enough cushion to be calm on your shoulder. 
What could you dislike about this bag? The price….!
 Pros
Durable

Extra space

Easy to carry
Cons
PETZL Kab Courier Style Climbing Rope Bag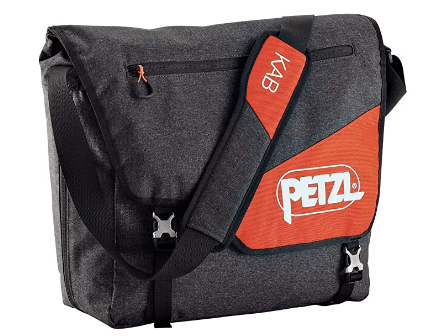 Would you like to be unique? This bag by Petzl can help you stand out.
Looking at the bag, you hardly think of it among the climbing rope bags because of its urban style. Other than its aesthetic style, it's also durable and comfortable. 
With a padded laptop sleeve, the bag specifically addresses the need of the tech-savvy climbers. Hence, it has been engineered after a well-thought plan.
However, the same specialty also puts it into shortcoming. It doesn't allow longer ropes. You can only pack your shorter rope in it. 
The manufacturer has added extendable space through the bottom zipper. Still, you'll need the additional backpack.
The bag is as single as a strap. Thus, it's only for indoor climbers who have a day-to-day gym routine. 
What it means is, you might find it less helpful for your outdoor climbing expeditions.
Pros
Sturdy

Stylish

Best for indoor climbers

It has a laptop sleeve.
Cons
Not fit for outdoor climbers
PETZL Pro Bucket Rope Bag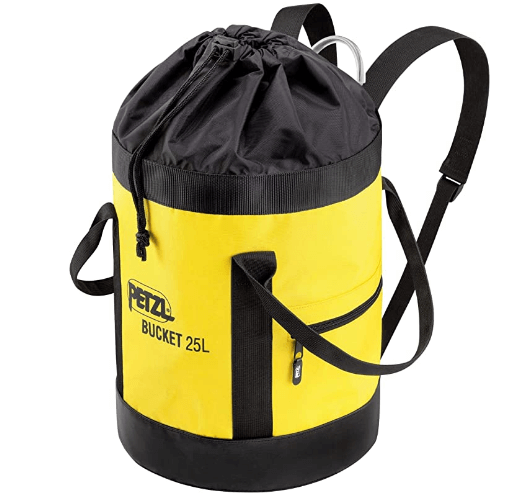 How about another stylish, bucket-style bag? This self-holding bag by Petzl is one of the best climbing rope bags. 
It's available in two different sizes. Yet, you get no other color choice — vibrant yellow is beautiful.
The bag has two shoulder straps to carry it easily on your back. However, they aren't padded. In this way, it can be a bit uncomfortable. 
The drawstring closure adds longevity and ease of access to the bag's opening, unlike the zippers. Again, the compression straps help you with the packability.
The added pockets also help with the small accessories storage. But the bag doesn't make backpacking, anyway. It has limited space, which you can only use for ropes of up to 70m.
Durability? The bag is made of quality waterproof material. Overall, the bag makes a great option among climbing rope bags.
However, it might not hold itself. So you have to put effort into packing the ropes inside.
Pros
Excellently durable

Functional

Easy to transport backpack style
Cons
Not more room other than for ropes
Final Thoughts
Climbing rope bags are the need of every climber when they want to maintain the ropes besides taking them on the climbing spot. Many bags make a good option. However, the one that adds more life to your rope by keeping it in shape can be the best. According to us, the bag by Weaver is the best rope bag. But, if you prefer the bags with a daypack or single strap style, they can also prove excellent.