Are you determined to go with your passion for rock climbing? The first problem you get can be the bruises and calluses on your hand. That's why you look for Handcare for climbers. Well, climber's hand care is an excellent idea.
It's the best thing you can do being in the climbing sport. The reason is, your hands and fingers are your only tool that will get no replacement and keep on repairing over time. 
What a good feeling you get to listen about a tool that needs no replacement but constant care to maintain it! It's a mix of worry and delight.
We know well. It's why we've got you this hand care guide to let you understand your hands, their problems, and solutions, as a climber. Let's get into the meat of the article to find the best handcare tips that every climber needs to know.
Handcare for Climbers: Basic Tips for Climbers Handcare 
Handcare for climbers is a broad idea. Under various circumstances and issues, you need particular care. Yet, first comes the climbers' handcare that continues regularly. Here in this section, you'll know all the tips that pro climbers follow.
Handcare for Climbers: Before Climbing Care Tips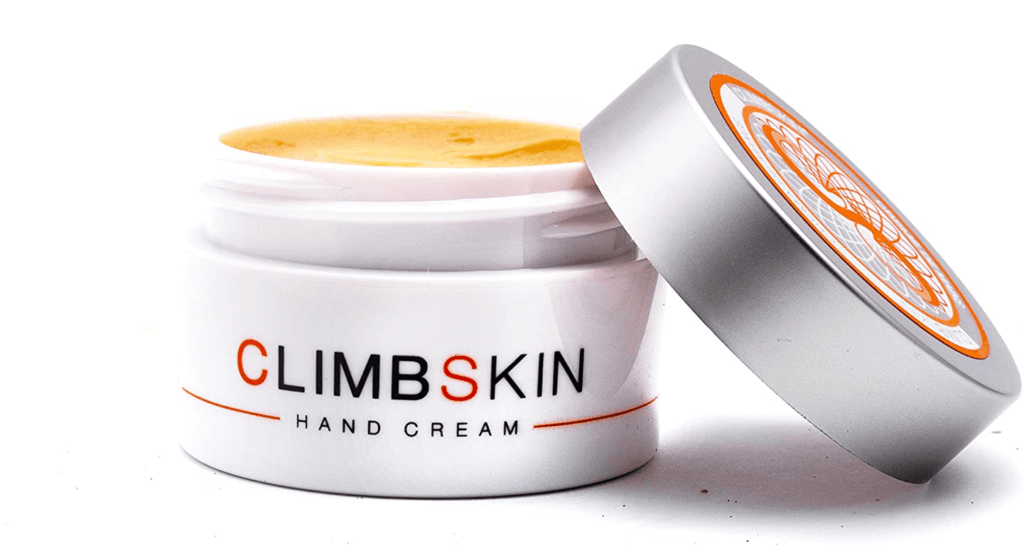 The regular part of your life as a climber are these tips. However, use them as a checklist when you go climbing.
Untrimmed nails are the enemy of your performance

. Not only do the scratches on the walls, but nail breakage can cause unbearable pain to affect your performance. Therefore, trim your nails regularly. 
However, trimming doesn't mean leaving no nails at all. Leave a bit of grown portion: white area. You can also carry a nail clipper in your hand kit.
Moisturize your hands before climbing, preferably 1-2 before it as a basic handcare for climbers

. But don't forget to moisturize the theme right before climbing. It helps you to maintain the elasticity of your hands to grip other gears. 
This elasticity prevents undesired rigidness that can cause more cuts and bruises. However, avoid using wax-based creams because they don't let you use your other digital gears, like cell phones.
Similarly, many people may tell you that they don't moisturize their hands at all. Or they try extreme care against moisture, like letting no water run on their hands, or they use gloves while washing, etc.
It might work for them, especially when they have spent years of climbing. However, when you're a beginner climber, these extreme tips may cause more pain by killing all the skin's flexibility.
To moisturize your skin, you need to use climbing creams which are formulated for climbers. They're grease-free.
Sweat-prone hands are hard to keep dry. Some pro climbers advise using anti-sweat liquid to aim at climbing-friendly dried hands. In the beginning, you can feel anti-hydral quite uncomfortable. 
But when you notice the change in grip, you praise them. So, you can get them slowly. 
Liquid chalks can also be good to help you fight over sweating. 
Handcare for Climbers: During Climbing Care Tips
Your enthusiasm as a climber is highly desirable. But what if it keeps you going despite minor cuts? 
Bad! During climbing, you might overlook your hands. It can cause several issues that stop you from climbing over weeks. To help you continue smooth climbing, here are some during climbing handcare.
Treat your minor bruises instantly.

If you feel any small bruise on your skin, stop climbing. Get your hand care kit and treat your wound first. 
Then, rest until it recovers: for hours or a day. In the beginning, it might take more tie, yet by the time, your wound healing is faster.
Picking the right chalk

isn't a matter of getting friction only. It's also about hand care as well. So, don't compromise on the quality of chalk. But get what's suitable for your hands as well.
Handcare for Climbers: After Climbing Care Tips
As a beginner climber, you face a lot of hand issues. Most of them also appear after climbing. So, here is what you need to look at your hands after the session ends and how to maintain it. It's also a part of climbers' hand care.
Do blisters worry you all the time? They're part and parcel of climbing. We call them blessing because they start developing into calluses: natural skin protects. 
However, you need to keep them smooth. So, everyday filing helps you get the wonderful supportive calluses on your hands. 
You can file your calluses whenever you feel them rip. For this purpose, get your calluses filer in your kit. You can add a pocket-size filer to your chalk bag. But, to avoid contamination, don't share it with others.
What do you use on climbing holds: hands, or feet? Both — they carry germs. So, always wash your hands after completing your session.

Application of skincare cream is also necessary. So, after washing your hands, apply your climbing hands cream to soothe your dear hands' skin.

Have you got the calluses over the hands and also achieved the uniform texture?

Now you need to keep them last. For this purpose, always avoid hot/warm water or prolonged dip in cold water. They'll soften your calluses — your natural gloves.
What helps with speedy skin recovery?

It's a healthy diet. A nutrition-rich diet with plenty of proteins and good fats helps your skin recover besides boosting immunity. In the same way, the needed intake of water keeps your skin naturally moist without letting it over dry. 
Handcare for Climbers: Management of Skin Injuries
Rock climbing always affects your hands. The humid rocks change your skin differently than the rigid dry rocks. Similarly, indoor climbing traits your hands less rigidly as compared with outdoor climbing. 
The humidity and temperature play a significant role here. Therefore, the wounds you receive are not the same that you get previously. 
It calls for on-time management. So, here is how you can get an even harder skin on your paws — in climbing they are no more hands.
As a newbie to climbing, the most problematic is a split. Yet, they're easy to manage and get habitual to them. 
If you get a small split, simply clean it and tape it to continue climbing, for they are frequent. However, the bigger split demands proper rest. 
You might lose heart getting advice for rest, which delays your climbing. But leaving them unattended or little care keeps them opening again and again.
Worn-Down Management Tips
As you begin outdoor climbing, especially at the sandstone, the first thing to notice on your fingertips is the tears like fluid. There isn't any defined way to get rid of it. Except, you can take a long full-day rest to stop it until your skin has healed back.
However, if you compete, you can't afford to stop; and you postpone the rest. In such cases, use friction tape to cover it from your skin kit as hand care for climbers.
Flappers are also highly demanding when it's' about hand care for climbers. The Instant way can by tapping them and continuing your climbing. 
The better option is to let them recover. So, take time, stop and clean the blood. Then, see what is needed. Sometimes these flappers are not manageable on the rocks. 
So, instead of dripping blood, take your way for the surgery. Cut the flipper, clean the surface, apply antibiotic skin ointment and apply Band-Aid properly.
Make your Climbers Handcare Kit 
Hand care for climbers is always on the go when you're climbing on high walls. To aid you with your undisturbed climbing, we've got you how to make a skin kit for climbers' handcare.
Here are some essentials that you can keep in a small pouch on your back.
Edges of splits or flappers always call for timely help. You need to file them to stop turning into bigger wounds. 
It's what a filler or sanding tool does a fantastic job. Sanding tools or fillers are relatively cheaper. 
They're available under varying names: fine-grit sandpaper, manicure files, and sanding sponges. You can get any, but make sure they aren't too thin. 
In the same way, you should not over file your skin. It'll lose the attained rigidity otherwise. 
Alcohol or Hydrogen perOxide
Does grease trouble you much? A simple way to hand care for climbers is to get rid of it using Hydrogen peroxide or alcohol. 
A complete application and rubbing your hands dry your hands at once. If you have oily skin, making it a part of your skin can be a pleasant choice. 
You've already read how essential it's to keep your nails trimmed. Besides this, you also know that removing the flipper is possible through razors. 
So, keep them handy in your kit. But ensure that you keep your razor clean and don't throw after usage. 
You always need athletic, or climbers tape to cover your split. If you ask me what's the only thing that one should have when it's about hand care for climbers, I'll say, " a tape." you can also use it as prevention. 
For example, you see sharp edges and spiky hold. You can readily tape your fingers or a sensitive part. It'll save you from a potential hand injury. 
Among the tape brands, Australian Elastoplast and Mueller are the best. If you've already used some other and found better, you can choose that. 
Hand care for Climbers: Your Ultimate hand Skin Goal
Your hand skin is vital for gripping the harness and holds. You need caring skin. How does it look or feel like? This ultimate answer will help you.
The rock climbing supporting hands have a good layer of calluses built evenly on the palms. Thus, your hands are leathery like a glove. Its; what your guide of hand care for climbers is about.
Final Thoughts
Hand care for climbers is an idea of persistent care that helps you do your climbing with no disturbance. It is also about keeping your hands healthy. In this regard, there aren't particular medical guides. 
Yet, out of pro climbers handcare tips you can manage good hand skin. And our ultimate guide can certainly help you. So, don't forget to share it with your handcare needed friends.