Do you want to know what can be the best belay glasses for rock climbing? You must have direly needed taking care of your neck and spine for long hours of upward sighting can put your health on risk. So, the quality of belay glasses intrigues you before picking one out of them for you. 
To help you decide between the best belay glasses, we've researched over 10 belay glasses and only found 5 best, according to our analysis of several user reports. These cost you nearly $60-100 and you never want to waste your hard-earned money. 
To our surprise, some claims about the utility of specific belay glasses also proved less reliable when we consulted the real-time users' feedback. So, what to do?
Read this article, which will educate you about selecting the right rock climbing belay glasses, besides their complete review. 
Let's get started here.
Best Belay Glasses for Rock Climbing Review
Eager to know about the best belay glasses. We'll review the top five belay glasses. Yet, before jumping to the review, it can be a better idea to scroll down this page and check what standards we've followed when reviewing these glasses. It'll help you make the right choice. 
Well, here we begin with our review.
1- BG Belay Glasses: Best Belay Glasses for Experienced Climbers
There has always been a tie between the BG Belay glasses and Y & Y Palsfun Evo. And, we've also been excited to know which of these will prove best to help climbers with an excellent field of view and avoid neck strain. So, we've reviewed them. And here is our review of BG Belay Glasses.
Field of View
These glasses are our top pick to help the experienced belayers with the neck strain issue while helping the climbers. 
Why? 
These belay goggles can seem less clear if you're new to using belay glasses. However, it's not true. 
It's just the learning curve that every pair of belay glasses comes with, you'll read in our "disadvantages of belay glasses" section. 
Second, these belay goggles have the heaviest frame, which the new belayer might not like. Again, it's not a flaw, but manufacturers' extra care for these "craggy" glasses.
These belay goggles have the heaviest frame, which the new belayer might not like. Again, it's not a flaw but manufacturers extra care for these "craggy" glasses.
Do these points affect the actual performance of these glasses?
No. 
These glasses for belaying have bigger prisms that are heavier. But they provide you with a wider field of view that you can miss otherwise. However, with a larger field of view, the peripheral vision of these glasses isn't good. 
Sturdiness
Not sturdy, but they're the sturdiest glasses. This pair of rock climbing belay glasses features a hard plastic frame with no hinge at all. 
WHY? 
The prism size of these glasses is larger, so they need a robust frame. And, it's well justified, and you can hardly find any complaints about the durability of the glasses.
Fit and Comfort
These glasses have some issues with fitting. If you have a narrow nose bridge, you might feel them fine. 
In addition, the weight of the glasses can be disturbing enough. But, you can have them if you know how to use belay glasses for a prolonged time.
Portability
The glasses are safely portable. You get a shell case for the portability. 
Likewise, the added carabiner and neck strap are bonuses to guarantee this mini climbing gear's safety.
Additional Features
The glasses have a removable neck strap to allow you to hang them. Likewise, they have a carabiner loop to clip it along with your gears. The shell case comes with a microfiber lens cloth to keep your glasses tidy.
Price
These BG Climbing Belay Glasses are not pricey at all. The premium quality of the glasses appears to justify the price fully, and you don't regret the purchase.
Pros
Highly durable

Extended field of view

Added neck strap

Portable

Perfect value for the money
Cons
Heavier 

Bad peripheral view
Our Final Verdict on Belay BG Glasses
For the experienced belayer needing an expansive view of the field, these BG Climbing Belay Glasses are highly recommended. 
You can certainly have them if you do not think they can trouble you because of their rigid structure or weight. They can be best if you don't wear prescription glasses or sunglasses.
2- YY Vertical Belay Glasses Plasfun Evo: Second Best Belay Glasses
Here come the Y & Y Plasfun Evo belay goggles as the 2nd best Belay glasses for rock climbing. Despite being second, they're still the best. How?
They have slightly different functionality for beginner belayers than those from BG Climbing. 
Where and How? 
Read this review.
Field of View
The view field of these glasses is larger than compared with the classic glasses by Y & Y. They call it a double field of view. And, it's useful to be aware of your surroundings.
Vertical Plasfun belay glasses, YY (Blue) Prism quality (BK7) is high for clear and pleasant viewing. Plastic bows that are flexible and resistant guarantee a high level of wearing comfort as well as a long life span fit.  
Sturdiness
It's a pair of resilient glasses despite the hard plastic build. Yes, being plastic frame doesn't mean to be less lasting. Overall, plastic construction only aims at achieving lightweight, which guarantees comfort.
Fit and Comfort
The Plasfun Evo goggles by Y & Y only are fairly comfortable and fit (larger frame). You can use them on your eyeglasses or sunglasses with much ease. They hardly let you feel that you're wearing two pairs, thanks to their weight.
Additional Features
As you can see, these glasses also come with a zipped shell case, microfiber cloth for glasses, and a carabiner loop. But, unlike Y & Y classic, they don't have added a screwdriver, 4 replacement screws. We don't think it's a big deal when you can find spare screws easily on Amazon for a few bucks.
Price
It's not pricey. Yes, you can compare the price with any other excellent quality belay glasses. When you use them, you find you paid right.
Pros
Clear and comfortable vision

Lightweight

No pressure on the nose or behind the ear

Value for money

Durable
Cons
They might not fit the small head.
Our Final Verdict on Y&Y Palsfun Glasses
Y & Y Palsfun Evo glasses are one of the best belay glasses for rock climbing when you want a lightweight, but durable goggle that ends neck pain and allows you to wear sunglasses, and prescription glasses. 
However, on the downside, people with small heads can have some issues with adjustability. But they can choose Y & Y Classic Belay Glasses.
3- Y and Y Classic Belay Glasses
Y & Y is an obvious name to come to your mind whenever you think about the belay glasses. And amongst the best belay glasses for rock climbing, the Classic is on the top. Let's see, are they worth buying?
Field of View
These belay glasses have an excellent field of view and superior image quality. Likewise, the thin frames enable you to get a broader view. 
We love the prism of these glasses which present the clearest view, and the belayer has not to struggle to notice the climber at a distance.
Does it mean the view field is large? No, you can't expect it to be larger, but it's' good enough: it's like regular belay glasses, yet clear.
Sturdiness
It's wrong to expect the belay glasses to be heavier or strong to feel. Their lightweight helps climbers to wear sunglasses or eyeglasses besides their belay goggles.
So, the Y and Y Classic belay glasses comprise a thin metal frame with silicone padding on earpieces and nose. 
Do they compromise on sturdiness? 
Yes, they are a bit fragile: they demand careful handling. 
Fit and Comfort
Y and Y Classic belay glasses feel comfortable on your nose because of the silicon padding. The thin frame further makes them lightweight. The design of these glasses is appreciable to let you combine them well with your prescription glasses. 
Portability
These glasses are portable. Thanks to the sturdy carry case, a glasses cord, and carabiner. 
Additional Features
The Y and Y glasses make you feel happy when you unbox them. You get additional replacement nose pads, alternative nose pads, screwdriver and 4 replacement hinge screws, and a microfiber glasses cloth. 
 If you're only putting the glasses away for a moment, the velcro closure means you can stow the glasses quickly without using the zipper. It's a great value to let you take care of your glasses and hope they will last far longer.
Price
These best rock climbing belay glasses don't come cheap. But you hardly regret the money you spend.
Pros
Portable

Field of view, with excellent clarity

Comfortable 
Cons
The glasses are stiffer and thin.
Our Final Verdict on Y&Y Classic Glasses
Having the Y and Y Classic belay glasses isn't a waste of money. They're high-quality belay glasses for belaying under challenging walls. You'll only need to be careful with the handling.
4- Metolius Belay Glasses
Here come another great lightweight belay glasses in our list for best belay glasses for rock. Though they are not the cheapest belay glasses, yet they're rocking the floor. 
Are they really so? Why not give a read to this review?
Field of View
The Metolius Upshot Belay Glasses' prism quality is a little lower than other costly glasses on the market. The prisms on the Metolius Upshot, made of optical quality glass, perform an excellent job of keeping track of our climber at the crag, with just a slight loss of clarity on longer climbs. 
Similarly, using the glasses at a greater distance cannot get you a clearer view of the climber in the rock face. Yet, the prisms in the Upshot feel lighter than other glasses and seem to strike a good balance between the prisms and the frame.
Sturdiness
When you hesitate to bring glasses to the crag, these belay glasses by Metolius can be your top pick. Tossing or abusive use has the least effect on these glasses. And, the reason is their heavy-duty plastic.
Fit and Comfort
The glasses have an excellent design to fit your head, nose bridge and over your right eye wears as well. In the same way, the thin plastic build, despite its durability, keeps you comfortable when you're playing for hours.
Additional Features
The belay glasses by Metolius have a zipped case and strap to attach it with a carabiner. However, it doesn't include any other accessories like extra screws, or screwdrivers. They're pretty similar to many other belay goggles.
Portability
The Metolius belay goggles are also portable because of the carry case, and of course, their excellent quality plays a role in easy and word-free portability.
Price
The price of these belay glasses is satisfying. They don't overcharge you.
Pros
Sturdy

Extensive field of view

Highly Portable

Reasonable price
Cons
Our Final Verdict on Metolius Belay Glasses
Metolius Upshot Belay Glasses can be a good option when you want to try some lightweight and comfy belay goggles from some brand other than Y & Y, which also come with an incredible field of view.
5- PitchSix EyeSend Belay Glasses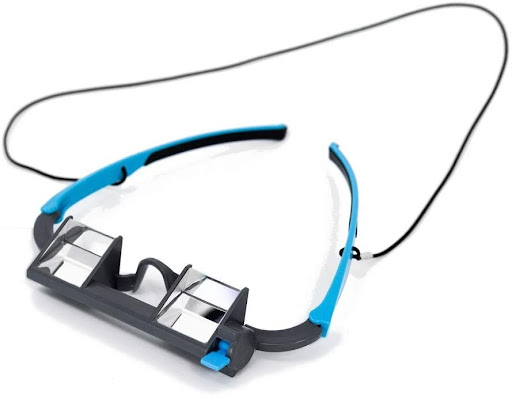 PitchSix Eyesend glasses is new among belay glasses with a unique feature of view field adjustability between 120 degrees, unlike many other belay goggles. We found it surprising and thought about evaluating these glasses' performance. 
We've n't been surprised that despite the manufacturer's declaration that these glasses are supreme, the real-time user experience from different forums has been different. 
Does it intrigue you? 
Let's read the review.
Field of View
Unlike most belay glasses, the PitchSix belay glasses have wider prism adjustability between 60-120 degrees to offer comfortable vision flexibility. Are you impressed to know this? It's the only fault that many users have found. 
Just ignore the unverified purchase; most of these glasses-wearers have been unsatisfied with the "horrible shift in the view they experience with these glasses. 
In our "belay glasses disadvantages section," we've discussed that they have a learning curve with their view fields, and regular belay glasses are still hard to get used to. But with these, the glare creates a terrifying experience. 
The prism is not so transparent that you should spend an extra $20. The prism size is 25X13 mm, which is neither too small nor wide. 
You can easily adjust the prism with the adjustability lever on the left side of the glasses.
Sturdiness
The belay glasses by PitchSix have good quality plastic frames. So, you might find them long-lasting.
The protection around the prism is also good to ensure durability, and we liked it!
Fit and Comfort
For the fit, the pair of belay glasses sit well on your nose. They are lightweight. So, you'll not be irritated by wearing belay glasses for a prolonged time. 
Additional Features
The belay goggles by PitchSix have a few enhancements in design that help with the overall user experience. For instance, the integrated neck strap ensures that the glass doesn't fall if they slip accidentally. In the same way, you've not to put them in the case instantly when you're not using them.
The case is a basic zippered unit, with an attachment clip like the one on the case for the Plasfun Basic. 
Portability
These bailey glasses are easily portable. 
How? 
They come with an aesthetic zipped case. The carry case also has a carabiner to hang the glasses with your harness.
Price
The price can be another factor not to consider these glasses, especially when you know that you're going to have a clear peripheral view with these plastic glasses. The prism adjustability, neck strap, and "Made in USA" can charge you an extra $20 for these glasses. Would you have them?
Pros
Sturdy

Adjustable peripheral view

Portable
Cons
No spare parts included

Pricey

The peripheral view comes with a drastic shift.

It can take a lot of time to get accustomed. 
Our Final Verdict on PithSix Belay Glasses
The glasses by PitchSix are captivating for innovation in the design to improve peripheral view availability. Yet, it's just an experiment, especially when they're pricey by 25%. 
We don't recommend them.
What do belay glasses do?
Belay glasses are special glasses with prismatic lenses to catch a view of upward sight and deliver to your eyes without demanding you to raise your head.
The belayer, the climbing partner, stays under the wall and controls the climber's rope: friction and tension to aid him climbing. Like climbing, belaying is also time taking, and the belayer has to crane his neck to help his friend, which often results in neck pain. 
It can cost him health: neck sprains are common. The concept of belay glasses emerged to help the belayer observe his climber friend without keeping his neck upwards. 
With a good pair of belay glasses, you keep your head straight and look forward. Prisms get you the view of a climber.
What are the benefits of belay glasses?
The belay glasses have got you not a list of benefits or advantages, yet those 1-2 are huge to make them incomparable. These are:
The adjustable prism glasses for belaying keep your neck from wrenching. Otherwise, you can hope to get yourself spotted through a C-shaped curve in your neck in old age (it can be terrifying).

The special glasses for belaying are a must-have for they take care of your neck and let you actively continue your belaying and climbing activities.

$$ belay glasses prevent you from spending $$$$ costs at the hospital if you get your neck or spine harmed.
Thus, the advantages of using the pair of belay glasses are significant, and you can't undermine them for a few disadvantages which only require "get-used-to."
What are the disadvantages of belay glasses?
Belay glasses come with a few disadvantages, which don't keep climbers from getting theirs. However, we'll let you know what those are.
Belay glasses are notorious for limiting your field of vision. Resultantly, you have to make an effort to keep the binocular clarity that stresses your eyes.

The restricted field of vision keeps you unaware of the surroundings, and your climber can be at risk: though the reports are.

Without belay glasses, it's relatively easy to check the climber's progress. However, you have to keep your movement highly disciplined. 
Otherwise, you can miss the field of view ( you have to be still). Thus, it can be monotonous besides being hazardous. 
The belay glasses work for catching the climber's view only, right? What if something falls from the wall, including your climber?
You'll need to manage the situation! 
Yet, it's difficult to manage such a situation when wearing prism glasses.
To get habitual with a pair of belay glasses isn't easy. Sometimes they can cause dizziness as well. Although the prism presents the dominant view, the prism's edge shows you a peripheral vision of the surroundings. 
Shift and double in images can confuse you. However, many climbers don't complain about it. Why? It didn't affect them a lot.
To sum up, being helping gear, the prism glasses for rock climbing don't come with "all is well." Yet, for the utility, you love them and prefer to learn their usage instead of ditching the idea of having yours.
Are belay glasses worth buying?
Yes, belay glasses for rock climbing are absolutely worth buying. They keep you engaged in your hobby by cutting the risk of developing any disfiguration in your bones and muscles: neck and spine. 
By spending $$ on belay glasses, you earn comfort and a healthy body which help you pursue your dreams of belaying and climbing.
How should you use belay glasses correctly?
The belay glasses are good. Yet, the proper usage can help you get the most out of them and help you avoid their disadvantages; here are a few tips about using a pair of belay glasses.
Only use them when you need them.

The best time to use belay glasses is when you're pretty sure about your environment. For example, at the gym where you don't fear that anything can drip, you can use them. 
In contrast, under the natural wall, in an unknown environment with possibilities of hazards or un-secure footing, avoid using the belay glasses, or only use them when you're tired of looking without them.
You need not to wear the belay glasses when you can easily spot the climber without making a C-curve in your neck. When he's high, you can use the glasses to catch him.

Besides using the belay glasses, also maintain communication with your climber.
Belay glasses give you the advantage of looking at your climber without stretching your neck. By using them carefully, you can turn into their fan soon!
How should you Choose Best Rock Belay Glasses? Standards to Follow.
There aren't many options for getting belay glasses for rock climbing. Yet, before deciding on any, evaluating those glasses on certain standards can help you get your best pair of glasses for belaying. 
We've also evaluated these best belay glasses on these standards. What are those? Let's have a look.
Field of View
Glasses shouldn't be so expensive, yet any pair of belay glasses are. It's because of the purpose that they serve. So, when you're buying belay glasses for you, make sure they offer you maximum utility: field of view. For instance, the glasses with large prisms allow you to have a broader view and thus keep you intact with the surrounding environment, though still limited.
Likewise, the belay glasses should also accommodate your sun or eyeglasses so that you do not have to remove them first. 
Sturdiness
The device or gear costing you heavily shouldn't last short. During our research on belay glasses, we didn't like many glasses for they weren't durable or sturdy. 
Material like plastic reduces the weight, but it compromises the quality of your best glasses for belaying.
Fit and Comfort
The glasses you wear would be pleasant to feel, as a rule of thumb. You can sense it after a few minutes if they're pressing or losing. So careful, you're going to spend hours with these glasses. So, they must be fit and lightweight to prevent any heaviness or pressure. 
Some glasses are also clipped glasses you can wear easily over your prescription glasses or regular glasses.
Portability
We've found the small gears are difficult to take care of during probability. Your expensive glasses also fall under this category. 
The glasses with a carry case with excellent built and some clip to let you hang them are easily portable. And, of course, this portability will ensure longevity as well.
Price
Price can determine when you want to hit the "add to cart" button. Yet, it shouldn't influence the quality of your purchase. We'll advise you to use premium quality instead of inferior quality cheap glasses: you'll only get what you pay for.
Remember, not all the time is the price a standard to judge a product. Like, some glasses claimed hard-to-find features or enhancement, and for that, the price was $20 higher than any other best belay glasses. However, when we evaluated their sturdiness, those glasses didn't meet our expectations. Thus, the higher price tag was of no use.
FAQS about Belay Glasses for Rock Climbing
What are Y and Y belay glasses?
Y and Y are excellent quality prism glasses to help rock climbers belaying. These glasses are available in plastic, stainless steel or metal frames with varying designs you can pick according to your need.
Can belay glasses go with prescription glasses? 
Yes, it's absolutely fine to use the belay glasses when you also own prescription glasses. They'll not affect the functionality of your eyeglasses.
Final Thoughts
Your best belay glasses for rock climbing can make belaying your partner much more comfortable and safe, and almost everyone who buys a pair of belay glasses believes it was money well spent.
The purchase should not cost more than $100, and there are solutions for any budget. Even if you choose one of the more costly pairs on this list, it will be far less expensive than a trip to the doctor or physical therapist to treat persistent neck pain.
---
*This page may contain affiliate links. I get commissions for purchases made through links in this post. As an Amazon Associate, I earn from qualifying purchases. View our Affiliate Disclaimer.