Do you want to know what can be the best grip strengtheners for climbers? Using a grip strengthener besides your basic climbing training is a brilliant option. Training grip and finger strength can help you strengthen your hands, fingers, and forearms to handle the pressures of climbing, which every climber needs.
Many best grip strengtheners for climbers are available out there, which can be difficult to choose according to your needs.
When hunting for a grip strengthener, search for one that has an adequate level of resistance for your body, and ergonomic design remains easy.
We've chosen 7 of the best grip strengtheners for you to help you find your best option among these. Let's get into the reviews, and know more about hand grip strengtheners.
1- Longang Hand Grip Strengthener: Best for Money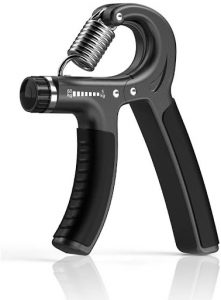 The Longang Hand Grip Strengthener is an under-budget tool for your grip strength. It's available for $8 only. With its knob, you can quickly modify the resistance. 
You'll be able to increase strength and improve without having to buy a new grip strengthener because it offers resistance ranging from 11 lbs t-o 132 lbs to make it matchless.
Although it is not as small as versions such as the Gripmaster Pro, Iron Crush, and PowerFingers, the Longang is still portable and convenient to use at the gym.
The metal, plastic, and rubber build is not as long-lasting as some of the other options on our list, especially when you compare it with Captains of Crush Gripper. So, if you think you'll be using it for the longest period by changing the resistance levels, you might be daydreaming only. 
What we advise is, don't think it durable, yet still, for the money, it's a value option. As a bonus, you also get a 360 days warranty. So, for one year, this best grip strengthener again gains you much.
On the downside, it's louder than other items and creaks when in use. It may not be suited for use at work or in a quiet environment.
Pros
Wide resistance range

Excellent warranty is enough to put your hands on it.

Portable
Cons
Less durable gripper

Louder
2- Hand Grip Strengthener, Finger Exerciser, Grip Strength Trainer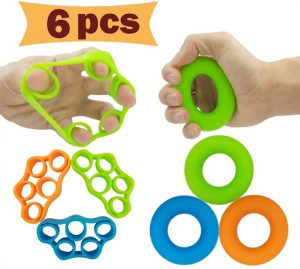 Most handgrip strengtheners aim at the squeezing, but you'll also need some to do stretching exercises.
Made of high-quality silicone, this washable grip strengthener is suitable for climbers to use regularly.
This finger strengthener builds up your wrists, enhances your finger dexterity, and increases the amount of force your hands can deliver while lowering tiredness during rock climbing. 
Its rally value is between 30 and 50 lbs. So, it can help balance your grip and growing muscles.
It's also portable and small enough to put in a purse or pocket. You may do repeats while driving, at work, or anywhere!
Whether you're working or exercising, you overuse your gripping muscles while under-using your expanding muscles. Yet, it'll allow you to expand your hands.
It's for everyone, including musicians, golfers, computer workers, tennis players, baseball players, rock climbers, weight lifters, or if you drive..
On the downside, the stress ball and the stretcher can be smaller if you have gigantic hands. The balls can be too small. 
Similarly, the stretcher can be hard to get on the fingers during grip strength training. So, when you use them with gigantic hands, please don't say they broke. 
In short, they're better for kids, teens, and females.
Similarly, the stretcher can be hard to get on the fingers. So, when you use them with gigantic hands, please don't say they broke. In short, they're better for kids, teens, and females.
Pros
Excellent for grip strength seekers from various professions

Washable

Portable

Suitable for teens and females
Cons
Not durable

Not for big hands
3- PROHANDS Pro Hand Exerciser, Finger Exerciser For Each Finger
THIS IS ONE OF THE BEST GRIP STRENGTHENERS FOR CLIMBERS, REMEMBER!
Before getting into the review of this grip trainer for climbers, we've to declare it because we found many users complaining about its resistance level. 
Of course, they belong to various fields like musicians and other athletes. Yet, this adjustable hand gripper has proven of great help for the climbers, especially those who wanted to start the strength training for hands and target individual fingers. 
Exercise each finger alone or the entire hand; it can individually isolate or work each finger for strength, agility, and endurance. Resultantly, you can develop exceptional hand, wrist, and forearm strength.
You'll love this spring-loaded tool a lot for its durability. The ABS plastic, stainless steel springs, and certified Santoprene combine to make it the most robust.
Since it's the entry-level model, it has an additional palm cushion, and the PRO is our most advanced model for professionals and motivated individuals.
Its gradually increasing tension levels allow you to track the strength progress. 
If we consider it for climbers only, there is nothing bad about it except that it can be uncomfortable if you have really big hands!
Pros
It's specifically for climbers who need to build grip strength.

Long-lasting

Perfect for beginners with hand and finger training
Cons
Little uncomfortable

Not for gigantic hands
4- Dynatomy VariGrip Sport (VGSP), Adjustable Resistance Grip Trainer

Climbers know how hard it is to climb on the wall and catch the holds. Sometimes they feel their specific fingers need more strength or others are weak and can't tolerate higher pressure. If it's the case, what can help them more than Dynatomy Vary Grip strengthener which. 
Its resistance versatility has made it one of the best grip strengtheners for climbers for average strength needs and injury rehabilitation. 
Its adjustable resistance lets you choose the resistance level that each finger needs. Mostly, the users can doubt it, "how much range will this tool offer." Well, it ranges from Medium to Extra-Heavy. What a pick for climbers or any level. 
It not only improves your strength, endurance with a range of motion but also enhances your response time. 
How can we forget to appreciate the design of this best grip strengthener for fingers?
The base of a grip strengthener can be problematic, and Dynatomy knows it! It's why they've made it extra-wide and extra-thick to disperse the pressure evenly. 
Likewise, the cushioned fingers are exceptionally pleasant, and the spacing is enhanced over other hand exercisers. As a result, it fits a larger variety of hand sizes. VariGrip Sport also features a reversible molded grip and textured base for developing and maintaining calluses. 
It's lightweight to be portable. So, you can take it with you by stuffing it into your bag. 
By now, it's good, then what needs improvement? Understand the tension level and choose one wisely ( it has light tension). 
For instance, the lowest setting is obviously comfortable, but the highest is just "heavy." So, for advanced training, it might not satisfy you. But it's great for beginners and intermediate climbers.
Pros
Excellent for beginner-to-mid-level climbers' grip strength needs

Varying resistance range

Durable

Portable
Cons
5- Wrist Blaster – Forearm, Hand and Wrist Exerciser
The Core Prodigy wrist training roller can be fantastic gear for your forearm muscles' strength and coordination. 
This forearm roller from Core Prodigy comes in 1 inch and 2.5-inch cylinder dowels, 1-inch dowels with 2.5-inch spheres, and a short 3-inch sphere option to let you gain strength by involving your muscles from many angles.
Thus, this forearm strengthener trains your underutilized muscles and lets you reach ultimate stamina and strength. 
We liked this grip strengthener's flexibility for resistance that you can alter by adding or removing weights.
What about the material? If you're one to think about it, here are two things:
What about the material? Are you thinking about the construction and material quality?
Here are two things: 
It comprises excellent quality wood.

It has a durability issue when used in challenging situations.
Adding weight over 15 lb can put it at the risk of breakage. In a nutshell, it's incredible gear to train your wrist and forearms, but with weight limits. You can have it if you've moderate training needs.
Pros
Best for forearm strength along with grip strength

Can offer resistance of up to 15 lb

High-quality material
Cons
Can't withstand aggressive use
6- Climbing Pull Up Power Ball Set For Grip Strength
The LoGest Pull-Up Power Ball grip training set is for you if you're a pro climber. What makes it special is its professional-level design with high-quality materials, which are nothing but built to last much longer. 
It comes with ready-to-use tools set; you need not look for accessories. The package includes two climbing balls, their hanging straps, and two carabiners. 
Furthermore, the manufacturers have also included a carrying bag to let you take them wherever you want. Thus, you don't miss your training sessions when you're not at the gym.
This hand training ball set has thoughtful engineering behind the design, which specifically facilitates the climbers, unlike other grip strengtheners, which aid the athletes.
It targets the fingers, palms, wrists, and forearms to help you build grip strength while performing pull-ups and fitness routines.
For shortcomings, the set has only one. Please don't take it easy! It's pretty challenging among many best grip strengtheners for climbers. So, pick it if you have not already trained your hand and fingers for strength. 
Pros
It builds complete grip strength.

Long lasting

Perfect value for money 
Cons
It demands a higher force.
7- IronMind Captains of Crush Grippers- Best for PRO Level Strength
IronMind's Captains of Crush Hand Gripper has been trusted by climbers, powerlifters, and other athletes since 1988. It's the simplest design of this hand gripper that makes it long-lasting and simplistic to use from our list for the best grip strengtheners for climbers.
You can believe Captains of Crush Gripper to be unbreakable as compared to many other rivals. It also offers maximum, non-slip grip because of its alloy steel construction combined with billet aluminum. 
We liked it the most because it's available in 11 varying strengths that range from 60 lbs to 365 lbs of resistance. Thus, beginner and experienced climbers can choose it according to their hand and finger training demands. 
On the downside, because of non-adjustable resistance, you'll have to get a new gripper as you advance and gain the strength it aimed for.
Without a doubt, this model is popular. Yet, the reviewers with little hands have complained that the design has not been comfortable for their hands. 
It's why we don't think this grip trainer can make an excellent choice for teens or female climbers. 
Pros
Build to last for decades

Fantastic resistance range availability for grip strength

Non-slip grip

Perfect for advanced climbers
Cons
Small hands might not handle it.

The range of tension is not for extreme training needs.
FAQS about Grip Strengtheners for Climbers
 How should I use a grip strengthener?
It's pretty obvious that you can start training with a grip trainer. Yet it's critical to take it slowly and let your body gain strength over time – especially if you are a beginner level climber. So, do it gradually:
Most grip strengtheners come with free exercise advice, and you can use them.

Typically, people begin grip strength training three times per week and work their way up.

If you've never used a grip strengthener before, begin with a low resistance level, following the manufacturer's instructions. Remember, you should never ignore any warning sign if your body tells you. If it happens, stop the exercise.

Before beginning any workouts using a grip strengthener to rehab an injury, consult with a physical therapist or doctor because a grip strengthener can aggravate an injury if used poorly.
When should climbers use grip strengtheners?
The grip strengtheners are not suitable for youth. Their fingers might not bear that demanding pressure and it can cause injuries. 
However, the climbers who have trained their hands for catching holds and climbing on the walls can gradually begin with hand and finger strengtheners.
How do rock climbers strengthen their grip?
The rock climbers strengthen their grip by using hang boards or hand or finger grip strengtheners. Yet, these training tools or gears should be avoided at an early age.
Do grip strengtheners help with climbing?
To answer your question right away, grip strengtheners do work and they can help you improve your performance. However, they act as add-ons to your climbing routine by helping you train your flexor and extensor muscles. 
The extensor muscle groups are overlooked during a regular climb, so focusing on those is always a good idea. However, focusing on the flexors isn't a bad call either–the tougher they are, the faster and lengthier your climbing sessions will be. 
Hence, the stretchers target antagonist muscles. Yet, beginner climbers should avoid any gears to strengthen the hand or finger grip.
What is the difference between a grip strengthener and hang board?
Hangboards and grip strengtheners may appear to be serving the same training purpose. Though they both help the climbing training, they target to train somewhat different muscle groups in your hands and fingers. So, you cannot use them as an alternative.
Hangboards target the tendons in your fingertips. Grip strengtheners, however, target hands, forearms muscles or train individual finger muscles through squeezing or stretching actions. 
It's why hanging boards are better for strengthening finger' tendons, whereas grip strengtheners help with overall fitness, warming up, and injury rehab and prevention.
How many types of grip strengtheners are there?
Grip strengtheners are categorized into two types: 
Compression grip strengtheners need you to close your hand

Expansion grip strengtheners require you to open your hand. They work on the antagonist muscles.
Thus, the primary difference is your hand's movement when handling them.
How do you choose the best grip strengtheners for climbers?
Grip strengtheners of both types: compression and expansion are beneficial, but remember that they target specific muscle areas because of motion that causes pressure on these muscles. 
The best grip strengtheners for climbers that need you to contract your grip help to strengthen the specialized climbing hand muscles, whilst those that demand you to open your grip target opposing muscles, which can aid in preventing common climbing injuries, such as those caused by overtraining.
Final Thoughts on Best Grip Strengtheners for Climbers
Choosing the best grip strengtheners for climbers will help you enhance your grip strength and lower your risk of injury as a climber. Whatever product you choose, begin cautiously with grip strengthening exercises to enable your body to get habitual to the new training routine.
For developing your hand and finger strength, it's crucial to remember that there is no product on the market that can substitute for real climbing.
However, you can combine these frequent climbing workouts with some gym time. However, if you have suffered an accident, see a qualified professional instruction-providing doctor before utilizing any of the gadgets we mentioned above.
---
*This page may contain affiliate links. I get commissions for purchases made through links in this post. As an Amazon Associate, I earn from qualifying purchases. View our Affiliate Disclaimer.