Are you hunting for the best tents for rock climbing? The rock climbing tents are the need of every rock climber who wants to challenge those high walls. 
Yet, getting the perfect, lasting, and protective tent can be tiresome, especially when you don't know how to choose the right rock climbing tent.
Your worry will end here. The reason is, we've not only got the best rock climbing tents, but also this complete buying guide. Thus, in no time, you can get an ideal tent for your nets mountain expedition.
What to do? Just give a 20 mins read to our guide. The waiting time ends, and here we go….
How to Choose Tents for Rock Climbing?
A restless night at a cliff can be the worst part of your rock climbing expedition. The nightmare can be the next day when you'll have no sufficient energy to accomplish your goal. In such a case, the only way is to know the proper way to get the best tents for rock climbing.
Here are the things you must know before heading towards your purchase.
What are rock climbing tents?
In a word, tents for rock climbing are "bomb proof." They are not only robust but also aggressive against the weather. Usually, they are made of excellent quality material.
For rock climbers or outdoor boulderers, the tent selection can be tricky. Why? 
Usually, mountaineers or ice climbers have to spend the night in snow-covered mountains. So, they'll need extra protection against weather, storms, and winds. 
In contrast, rock climbers need tents for less extreme weather. So, they should look for a tent that is better for summer, spring or fall.
 What are Rock Climbing tents' types?
As mentioned above, selecting the best tents for rock climbing primarily depends on the weather or season; the tents are of these types.
Three-season tents are for all seasons except the severe winters. They're the most favorite among rock climbers. These tents are:
Lightweight

Doubled walled with mesh and rain fly.
Thus, they equally help you with ventilation and unseen rain.
Four-season tents are specially for the winters. So, their material and design particularly help you against the wind and snowfalls. These tents are:
Highly durable

Bit heavier

Vented with the help of zipped or meshed windows.

Spacy

waterproof
Thus, they deliver the desired performance to keep a climber safe and sound.
They serve best for the late fall or early spring. So, they are a combination of 3 and 4 season tents. They have the fetched design for both 3 and 4 season tents. 
Thus, you can alternate the ventilation, or warmth options using a screen or meshes. They can also make a good option for the rock climbers who often climb the high walls.
Can be heavier

Vented 

waterproof
Let's break the tents according to their dimensions, for you'll also have to choose between the single wall or double-wall tents. Of course, if you know them not, you can be confused. But if you know, you can make the best purchase, ultimately.
What are Single-wall tents?
Single wall tents are the simplest and pretty specific for a season only. For example, the four seasons tents are single-walled.
Pros
Ease of set up

Lightweight

No flapping

Perfect for winters

Suitable for winter
Cons
Ventilation and breathability issue
What are double-wall tents?
They have no double walls. Instead, to aid breathability, these tents shave files or meshes. So, you can easily use these tents in winter.
Pros
Vent

Minimal condensation

Suitable for wall climbers
Cons
Complex installation

heavier
Some other Factors you must See in your Tents for Rock Climbing
By now, you must be knowledgeable about the uniqueness of any tent. Yet, the story doesn't end here. Before adding a tent into your cart, checking these factors will help you avoid "return" headaches.
The heavier tents are only a few pounds. But they become tense when on your back. So, as a rock climber, ice climber, or mountaineer, you must weigh the tent. 
The fancy that can be lucrative. You might count on the benefits. Yet, the simpler offer the highest utility. Does it mean you should not get tents with double walls?
No, it only means that you must be sure of what you need and how you'll manage your tents.
The tent fabric and the other accessories are also noteworthy when you need a tent. The fabric density affects the weight of your tent. It's why some tents of similar size can appear heavier, while others might not. The tent's material is classified according to D (density) and DWR (durable water repellent coating like silicon).
Likewise, your mounting poles can also be of aluminum, steel, air material, or fiberglass. So, their weight will be. Hence, the material can also add to the weight of your tent just as the size does.
How many of you should be inside a tent? It has a lot to do with the text size. At first glance, single-person tents might seem nice. But, they can be useless if you have a big athletic body or some gears with you. 
Unless you're a girl, it's better to have a tent for two. You can choose a larger tent if you want to invite your friends for late-night chit-chat.
Tent doors allow peaceful movement. For example, if you have two doors, the members in the tent can move outside either way. 
It looks pleasant, but it's not. The reason is, the other doors also add weight. Similarly, these windows or doors can be hell in windy conditions or making a tent weighty. 
The management of gears is also problematic inside these cams. So, have these tents with bigger sizes so that you might not feel troubled.
Tents come up with an extension, which we call vestibule. It lets you keep your gear outside the camp safely. They are like sheds. The vestibules are useful when you camp in rain, snow, or fog.
Tents also offer additional storage. For this purpose, they have an inbuilt gear loft (mesh platform), loops, and pockets. Almost all the tents have these facilities. 
Usually, the tents come with footprints. The footprint is a sheet that you can spread on the ground. 
It helps you with a clean surface. A footprint is made of waterproof material.
The footprint is a treat. Yet, make sure you can't use the same footprint with every tent for they're model specific. Otherwise, by using an irrelevant size, you can invite rainwater to stay with you at night — unwelcome guests.
How easy is your tent to set up and use? It's all about its livability. The max facilitation of the tents for rock climbing with minimum weight is called liveability. Modern tent manufacturing is also focusing on more enhancements.
Doomed shape or steep side? You have seen tents with varying shapes, then which is good for you? A tent with a steep shape is far better than a less inclined fall. It's why the mountain tents are steep.
So, when you're an ice climber or climbing in cold weather, think about having a tent with more poles for stability.
It might not be a primary concern. Yet, you can end up with no purchase when you need a budget option. In such a case, with thorough research, you can get a good rock climbing tent for money without compromising on the quality. We've also added under-budget tents for rock climbing.
Hence, you can pick an excellent rock climbing tent that is season-related, lightweight, long-lasting, breathable, waterproof, roomy, liveable, and under budget.
You can get an ideal rock climbing tent for you by worrying about all these factors.
7 Best Tents for Rock Climbing 2021 with Reviews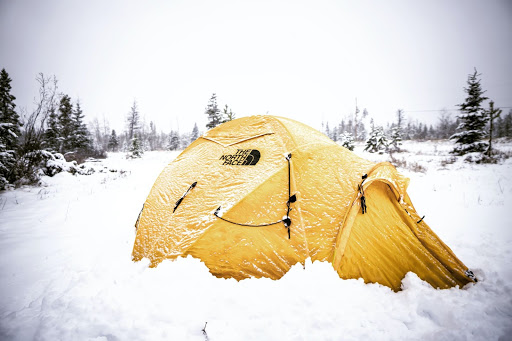 How much confidence do you have now when it's about buying tents for rock climbing? You're sure. Now you can pick the right mountaineering tent for you. So, in our collection, we've reviewed some hot selling tents for climbers of various sizes. 
How have we done with our review? We've consulted the real-time users' opinions about these tents and their authenticity. Thus, we've come up to help you make an unregretful purchase. 
1. Coleman Sundome as the Best 3-4 Season Rock Climbing Tent for 2 Person
One of the best tents for rock climbing is this 3 season tent by Coleman. Available in various sizes, the tent certainly makes the best choice for all rock climbers who are ambitious to conquer mounting walls in the rock climbing season.
The dome shape tent is certainly durable because of polyester fabric. It's also waterproof.
The tent has poles of fiberglass, which are also lasting. You won't fear any bending will cause beagle. You also receive a treat with this tent — it has a storage bag.
The screen panels of the tent are inbuilt. So, you need not remove or replace them. 
Yet, the same mesh is also troublesome when covered because they don't regulate the heat inside. Your tent can be colder or hotter.
The tent is also easy to set up because of instant attachment clips. It also has extra storage pockets to take care of your mini essentials. 
The tent also supports you with electrical ports. So, you feel comfortable using your lamps and generators inside it.
On the downside, though the tent is for 3 seasons, it can barely withstand the wind. So, you might need some tips to keep it alert.
Pros
Lightweight

Effortless setup

Larger screen panels

Great water resistance

Size Availability
Cons
Not good resistance against wind

You will miss ventilation.

No added footprint
2. KAZOO as the Best 4 Season Rock Climbing Tent for 4 Person 
Do you climb in the cold season? You must need a 4 season tent. It's why we've got you the tent by Kazoo as one of the great picks among tents for rock climbing.
The tent has enough room for 4 persons. So, it can also serve the best for 3-5. The beautiful yellow-colored tent is made of quality rip-stop Oxford material. 
Moreover, the aluminum poles are equally stronger. Hence, it tolerates any harsh treatment from water, snow, or wind. The double walls of the tent do an excellent job.
To ensure ventilation, in case of need, the tent has a larger porch, double mesh windows. It also has a top vent. 
So, you never fall short of a festive air. The very porch also allows you to leave your gears without caring much about the rain.
Besides these, the interior of the tent is also well designed. It has extra loops and pockets to let you store your dear essentials.
For setting up, the tent comes with all the essentials. Hence, it takes only a few minutes only.
The tent also has a storage bag. Thus, the portability is also breezy.
Shortcomings? What can you expect from such a heavy-duty tent? It's heavier than well.
Pros
Perfect as 4 season tent

Beautiful, locatable color

Airy setup

Excellent ventilation

Waterproof
Cons
Heavier

No more sizes available
3. ALPS as The Best Mountaineering 3 Season Tent Lynx 1-Person Tent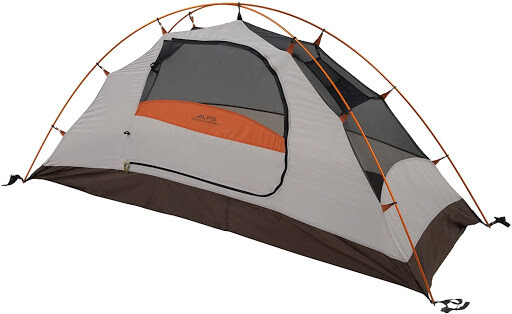 Do you need a rock climbing tent for your single? This tent by ALPS can bring you the memorable experience of the spring to fall season. 
Let's begin with the assembly and installation of the tent. It happens within minutes because the tent has a quick two-pole aluminum set up with all the accessories.
The design of the tent is fully ventilated with its mesh windows and door. If it lets air in, it lets none of your essentials go outside. How? It has storage pockets as well.
The tent is also lightweight despite being water-resistant and anti-UV. However, heavy rains can be troublesome.
For durability, the tent is certainly matchless. Not only the material but the seams and zippers are also flawless. 
Indeed the tent makes an incredible choice. Overall, it has also got some improvements. For instance, it's not for a bulky body, tough for skinny and shorter.  Moreover, don't think of it as among the lightest tents for rock climbing.
Pros
Perfect for females

Long-Lasting

Quick installation

Enough ventilation

Good resistance for light-average rain
Cons
Not for a large stature

Little heavier

No added footprint
4. ALPS as the Best Mountaineering Tasmanian 4 Season for 2-Person 
Did you read it for two people? No, it's for one as well, if you have got a co — considerable physique.
The tent by ALPS is an excellent 4 season tent for 1-2 people for the coldest weather. The design of the tent speaks so — it's steep. So, you never fear rain, winds, and heavy snowfall.
With a free-standing aluminum frame and polyester fly, two vestibules, and vigorous material, the tent demands less effort for setting up. But it has a learning edge.
The vents of the tent are zipped. So, you can get some air if needed.
The sidewalls of the tent also have mesh pockets. In the same way, the gear hammock in the tent's ceiling also helps you take care of your gears or hang the lamps.
To sum up, the tent pleases you. But we observed some desired improvements. 
The seams of the tent aren't weak. Yet, they appear less lasting.
In the same way, the packing of the tent inside the bag is effort demanding. If you're not in a hurry, you won't mind it.
As the tent is for winters and mountaineers, it's necessary to dry it first.
Pros
Superb for winters

Sturdy

Zipper facilitated ventilation

Excellent waterproof material

Sound aluminum poles
Cons
Hard to pack in the bag

Heavier
5. Pacific Pass Tent for 2 Person as the Best Rock Climbing Tent Under Budget
Do you want some care, but you also care for the money? Don't worry.
We've got you this Pacific Pass tent as the most under-budget tent among our collection of tents for rock climbing.
The joyful news is that this tent is available in different sizes. So, you can evenly meet your need for the room. Besides this, the size variation only adds a few bucks to your budget. 
Speaking of the material and longevity of the tent, it has  150 mm waterproof material to allow you to carry on your rock climbing adventures with rain predictions as well.
The tent has added pockets, mesh, and E-ports to let you enjoy a safe climbing trip. The tent also brings a carry bag for portability.
For installation, it doesn't surprise you by quickly popping. Instead, you need to scratch your head. Likewise, though the material is good, it's fairly cheap compared with all the tents for rock climbing on our list. 
However, winds don't annoy this tent. So, in the windy season, it can be a trustworthy partner.
For the drawbacks, it has many as the cheap products have. The fiberglass poles have no safe-to-handle finishing. The tent is also smaller — perhaps for females only. 
Pros
Superb for windy places

Good ventilation

Waterproof material

Value is equal to money
Cons
Thin material

Poles have unfriendly, poor finishing
6. Coleman Steel Creek Fast Pitch Dome Tent with Screen Room, 6-Person
Have you got a family of climbers? Your rock climbing adventures can be full of great family time if you get this big Coleman tent from our pick-up tents for rock climbing.
With fiberglass poles, steel spikes, and poly guard material, the tent has been made to last for years. And it does.
The mesh pockets, the E-port, and the hanging loop bring you and your gears equally. We couldn't help loving its extended porch. It's wide enough to let you enjoy your coffee and watch the outdoors while sitting in the shade. You can also use this vestibule for your gear's safety as well.
For the construction and material of the tent, it's doubtless. You hardly ever complain about it.
The tent has a screen room which is the actual worth of the tent. It's completely airy and ventilated. However, the openings by the bottom of the screen room make it worse when it doesn't keep rain or mud away. So, you have to manage it in an emergency.
The tent is airy. What does it mean? With wind, it can also allow wind in. Thus, it'll be extremely noisy or alarming.
Pros
Incredible for summers and nearby seasons

Durable

Highly breathable

Excellent choice for climbers' family
Cons
The Setup is foxy because of the larger structure.

Clips can break

The lower opening can allow mud.
7. ALPS 4 Season Rock Climbing Tent for 6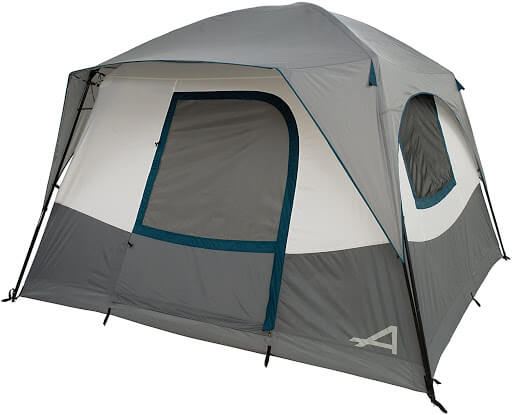 Nothing is as pleasurable as the company of good friends. When you get a call for group mountaineering or ice-climbing, you might long for a tent that can let you also enjoy the friends' company. 
To help you with your cold weather, climbing days, and nights, we've got you this roomy tent among our picked tents for rock climbing.
Made of high-quality double material, fiberglass poles, and a double-walled structure, this tent by ALPS can be your most favorite tent.
Setting up the tent is full of ease. A single person can make it stand up. 
The tent provides you with loveable protection against weather and wind. Hence, it's a true 4 season tent.
The hub-style tent is taller. So, you can easily move inside or hang your gears. But, for a shorter person, rolling the fly can be hard.
The fly of the tent is foldable. Thus, you can manage the air inside the tent very well.
To buy, you only buy this tent and no other accessories. It includes complete installation support in the packaging.
Overall this tent by ALPS is superb. Yet might feel its material or poles less sturdy. However, they are durable and supportive.
Pros
Fantastic for cold weather

Durable, despite looking thin 

Breathable with zipped screens

Excellent choice for climbers' groups
Cons
Set up is tough for shorter folks.

Few storage pockets
Final Thoughts
Your rock climbing passion always demands shelter. In such a case, only the tents for rock climbing can be desirable. At the same time, a carefully picked rock climbing tent or mountaineering tent can ensure a seamless expedition with all comfort. 
Among our selection of tents for rock climbing, you can choose any tent according to your season or size needs. They all are incredible. Let us know which you love the most!