Those high walls of rocks to climb, build a sense of achievement out of patience, endurance, and hard work in your kids. Thus, your kids learn to survive looking high towards their goals.
I'll say that bouldering is a matchless activity to teach your kid the ultimate lesson of life. Besides this, the physical strength that he gets is ideal. Therefore, most of the parents, like me, want to get answers to all the questions that keep on worrying them.
To help you know everything about rock climbing for your kids, I've got you a detailed guide. Your strong, happy, confident, and winning kid is just a read away. So, keep on reading soon you'll be a fan of kids rock climbing, and helping your kid conquer high walls of challenges in every way.
What is rock climbing for kids?
As a fun-oriented activity, rock climbing is a sport. In the sport, the kids learn to climb up, down, or across the climbing rocks or wall.
The participants have to reach their goals without losing their grip on walls. We call it a tough sport, for it focuses on mental and physical coordination at the same time.
For any viewer or beginner, the sport seems to be highly challenging and tough. Yet, by the time, the sense of achievement, determination, and thrill make the kids love their activity.
Some amazing benefits of rock climbing
Rock climbing is a grand activity, it benefits your kid both psychologically and physically.
No four or five qualities can tell you why to take your kid for climbing rocks. Therefore, we'll be exploring all the potential benefits of rock climbing for your kid.
Physical benefits of rock climbing for kids.
The entire body of your kid coordinates to help him overcome the obstacles, hold the supports and reach the target. In this way, it improves the fitness of your kids by working on every limb and muscle.
Physical coordination is the mission of every activity. Like any A-grade physical activity, rock climbing allows the brain, hand, feet, and eyes to coordinate in climbing.
Psychological benefits of rock climbing.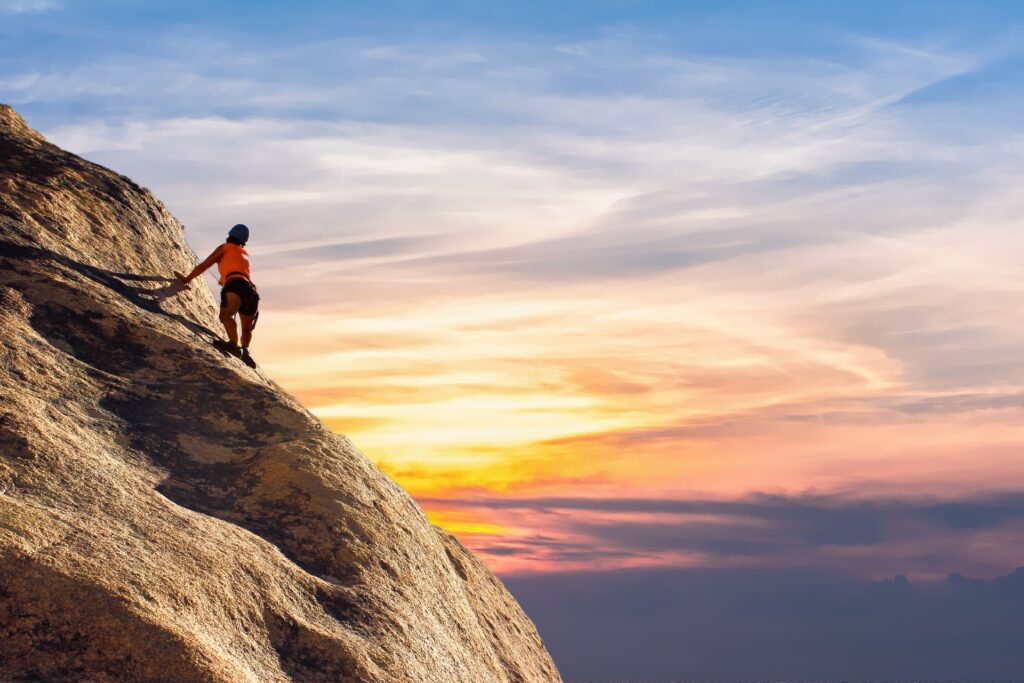 To begin with the physical usefulness of bouldering, it's of great value. So, we'll be listing some of these benefits here.
Can you tell your kid where to grab while standing below him? No…It's his own decision that he takes to reach the top end of the wall. The continuous process of decision making boosts his confidence.
If he falls, he falls out of his own choice, miss handling. Thus, bouldering helps your kid understand how to be responsible for his actions. In this way, the activity is matchless to create a sense of responsibility in him.
Though challenging at first glance, the bouldering helps your kid to learn problem-solving skills. How? The climbing walls are like metal puzzles. By practicing more and more, your kid learns the most favorable ways to help them reach their goal with less risk.
Rock climbing produces determination in your kid. Once learned how to climb the bouldering wall, if you ask your kid to postpone the activity for some reason, he'll never. It's because he is more determined to move towards his destination.
"Focus wins." We know very well. While struggling to maintain a balance between hands, feet, and eyes, the kid learns to focus on the obstacles, ignoring everything else around him.
Heights are always scary. Why?
Hanging away from the gravity, it's hard to move ahead. The bouldering lets your kid learn to rely on additional supports, putting his fear away. Hence, he learns to remain hopeful and active at the time of loss and fear.
Studies show that proprioception activities help with memory in young ones. Thus, being a proprioception activity, it lets your kid grow in academics as well through boosting memory.
Close connection with nature makes the learning process more natural, automatic, and full of fun. Besides this, the spiritual benefits of nature are also valuable.
What is the perfect time for your kids to start rock climbing?
Is it too early to start rock climbing? Is it too late to take my kid climbing rocks? When can I take my kid to begin rock climbing?
These are some common questions that parents ask me. And I tell them, "take him or her for rock climbing when he is older enough to follow the instructions."
In simple words, the age is that of 5 years. It's the age when your kids apprehend the instructions and safety rules.
Therefore, the gyms also ask you to bring your kid to the bouldering training center when he is a minimum of 5 years old. Yet, there isn't any upper age limit to start bouldering.
If you think that your 2+ kid has done bouldering at home, and the gym should allow him there. Still, it is risky because he might be sufficient for his cognitive skills.
He will need extensive supervision during the bouldering. It might not be possible for the instructors to take a lot of care of him.
What are the suitable rock climbing places for your kid?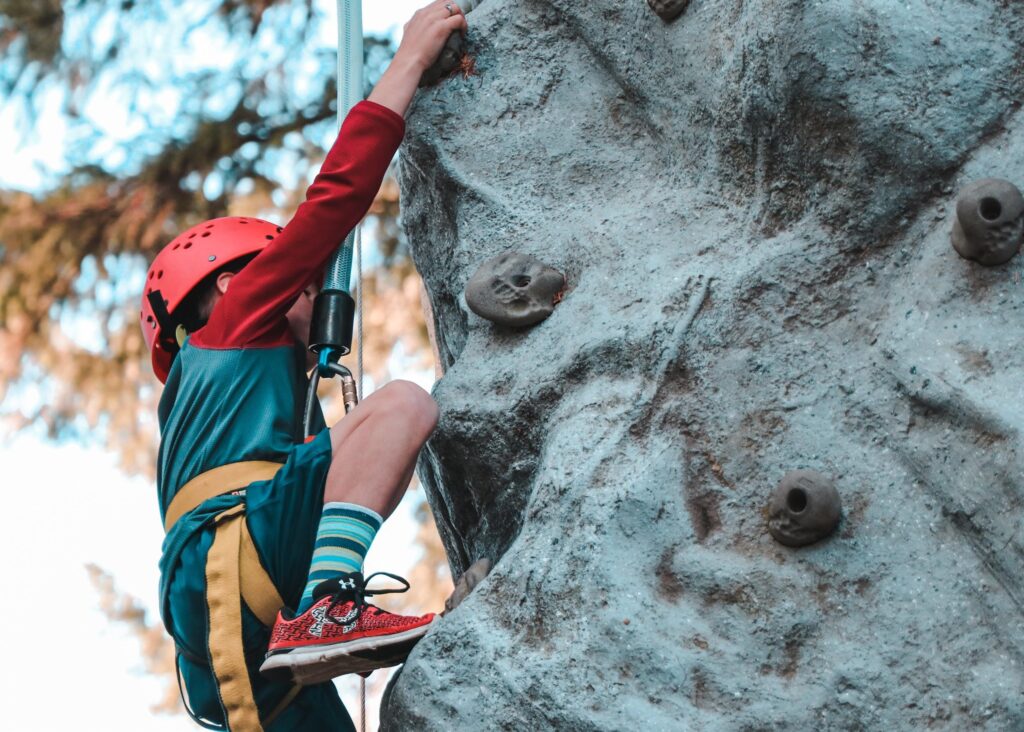 Do you want to take your climber to some suitable outdoor places for bouldering? No doubt, the USA is the home of climbers.
You can find climbing places across the USA for your kid's climbing needs. However, for kids, you've to take them to the indoor gyms.
In case you're yourself a climber, you can make sufficient arrangements to help your kid climb outdoors. At a younger age, it's a marvelous idea to visit theme parks which let your kid parks enjoy climbing and exploring nature.
The ultimate purpose of the climbing place is to teach your kid how to climb. Therefore, you can't afford a regular visit to nearby rocks or parks.
Thus, indoor rock climbing for kids can be a better choice. The climbing gyms have especially constructed walls to offer the actual climbing experience. Once trained at a climbing gym, your kid can move for outdoor climbing more safely.
At gyms, the instructor carefully assesses the learning needs of your kid. Thus, he helps him focus on his deficiency by providing special activities. So, I'll advise you to consider the best climbing gyms, when you want to raise a stronger kid.
To bring full time, handy climbing experience to your kid climber, you can also make indoor climbing walls. For this purpose, you need not look for a grand area, you can use any indoor or outdoor space which is less crowded.
Rock climbing classes for kids
Take your kid to the gym and let him do bouldering… Is that true? No… Your kid has to enroll in a bouldering course that matches his training needs.
Joining a climbing gym, you certainly get access to different bouldering courses. Several institutes offer a variety of bouldering courses to train them.
Such courses include from beginning to advanced levels of bouldering for your kids. Thus, you can choose any course that your kid will fit in. Some of these courses can be as follows.
1. Bouldering courses for beginners
The beginner level courses are for kids, who have some or no home bouldering training. The bouldering classes are highly necessary for they prepare your kids for advanced level bouldering.
In these classes, your kids also learn to use and practice all climbing gears more skillfully. These courses are more fun-oriented, to help your kid develop his interest in rock climbing.
To allow a fun-filled experience, the gyms also arrange rock climbing kids' party or rock climbing games for kids. The institutes also arrange mega rock climbing events to invite anxious adventurers.
2. Rock climbing courses for mid-level young boulders
Unlike beginner-level courses. These classes provide an intense level climbing experience for your kids who already have got enough expertise.
These classes usually last for hours. In such a type, of course, your kid gets an opportunity of the team working. For example, the gyms can arrange rock climbing kids' parties on their birthdays, or design different rock climbing games for kids. Thus, he receives better psychological development including decision making, self-reliance, patience, focuses, and sportsmanship.
3. Outdoor kids climbing camps
The bouldering camps mainly focus on polishing the climbing skills of the kids with real-time climbing. Such courses introduce your kids to actual climbing challenges near nature and also help them with their social developmental needs.
In climbing camps, the kids meet other young climbers with different accomplishments. To motivate your kid to the highest level, you can send your kid to these camps.
However, the climbing institutes organize these camps occasionally during vacations or mild seasons. So, next time you can search for a nice climbing camp for your kid online to help him enjoy the zest of climbing.
4. Private climbing coaching classes
Not every kid is the same, nor his learning needs are.
When you sense that your kid wants to emerge as a professional climber, it becomes inevitable to help him. So, climbing gyms and institutes also help your kid with coaching classes.
In the classes, private coaching identifies the challenges that your kids face, physically or mentally, and helps them overcome them.
A close connection with the mentor lets your kid maximize his potential.
Bouldering for Toddlers and Kids: Safety, Tips, and Rules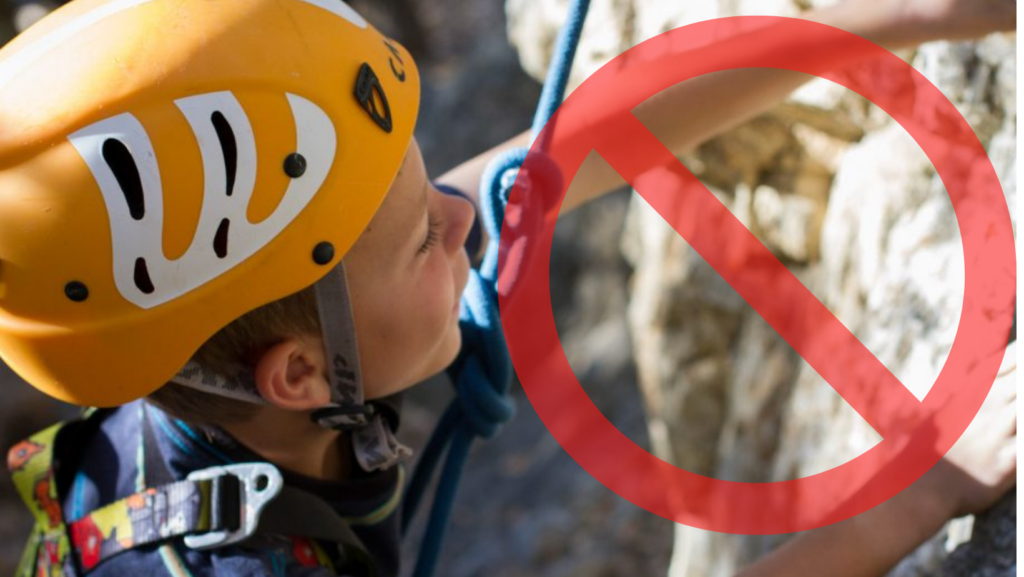 You know bouldering is famous now. However, it's also full of risks of falls, etc.
So, just like any other sports, some safety rules help you enjoy and take part in the activity properly. Therefore, there is much emphasis on following the bouldering safety rules.
If you're a parent who is training the kid for bouldering at home first, teaching him following the rules will prepare him for the gym practically.
Safety rules to teach you, bouldering kid or toddler, at home
Here are some bouldering safety rules. When your kid or toddler is bouldering indoor or outdoor with you, you can teach him to follow certain rules.
Don't boulder too high at first. Become habitual till a limited height through persistent practice, then set a higher target for yourself.
Avoid break falls using your hands, feet, or shoes.
Call for a spotter if you're going to take a risky move. Here, as a parent, you can be available for him to support his landing. Yet, you must teach him to call for it first.
Don't boulder under or over any other boulder. For this purpose, at home, you can restrict his climbing area if he's doing solo practice.
Land at a safe place, by avoiding risky or uneven surfaces. The same rule you should practice as a spotter.
Don't place any belongings, gears, or other hazards at the landing area. So, keep the landing area clear. When you're a parent as a spotter, avoid sitting in the fall area.
Monitor the ongoing activity around yourself, including other climbers and walls.
Here are some other rules that you should start teaching your kid when you think you'll send him to a bouldering gym.
Running sounds natural for children because they become too excited. However, it can not only endanger themselves but the gym staff and other climbers too. Therefore, during the bouldering at home, teach your kid not to run around during that specific training time.
Climbing without your permission means an unexpected move, which can cause any problem. Therefore, teach him to seek permission whenever he wants to climb because the same he'll need to follow at the gym.
Discipline is the essence of any sport. To ensure the safety of your kid through discipline, the gyms don't allow the climbers to violate their lane or side. The same rule you can make your kids follow at home by making his specific bouldering area on the wall too.
While practicing at home, the kids yell and scream as fun, and you also do so to cheer them. However, at the gym, it's distracting for other boulderers. So, you can teach them to control their noise or screaming at home.
How many times, out of excitement, do your kids try to climb barefoot? You'll probably say, "often." However, it's against the gym rules. So, get proper bouldering shoes for him and make him wear these shoes while climbing an indoor wall.
Touching the gears or belongings of clothes is unwanted at bouldering gyms. So, it's also necessary to teach him the rules at home.
Rules that you need to follow with your kid at a climbing gym
You'll be with your kid at the climbing gym. So, there are certain rules that you'll also be following at the gym. These rules are:
Don't allow your kid to mess up with other climbers. So, keep your kid away.
Just like your kid, you're also not allowed to walk under other climbers on the wall.
Monitor your kid during his climbing to spot him at the right time, and correctly.
Keep your kid restricted to his age group in his area only.
Follow the specifically defined rules by the gym as well.
Schedule your visit to the gym when it is less crowded. It's safe for your kid.
There is some free time, of course. During that time make sure that your kid doesn't bring any drink or edible near the wall or mats.
Rock Climbing Essentials for your Sporty kid
Every sport has an attire. Is it for fashion or just etiquette? Noooo….!!!
These essentials support the player during the sport a lot. The same is with rock climbing.
The players have to use specific kids' rock climbing gears that let them move successfully towards their goal.
In rock climbing, several gears are part of your expeditions. These essentials include a helmet, harness, climbing gloves, climbing holds, and clothes.
Unlike adults' gears, these kids rock climbing gears are not easier to get. Yet, after excellent research, you can buy them for your kids.
1. Rock climbing harness for kids
During climbing walls, for the safety of your kid, a harness is the most important gear. Having a kids' rock climbing harness will help to learn optimum usage of the harness during climbing. Besides this, you can also teach him the real-time usage, adjustment of the harness as well.
As the kids are younger, they need more support. So, I'll advise you to get a harness that supports the full body. Attaching the harness with the rope at a higher body level will serve for better safety.
Best Rock climbing harness for kids
[products category="226″  columns="4″ limit="12″ orderby="popularity" order="DESC"]
2. kids rock climbing shoes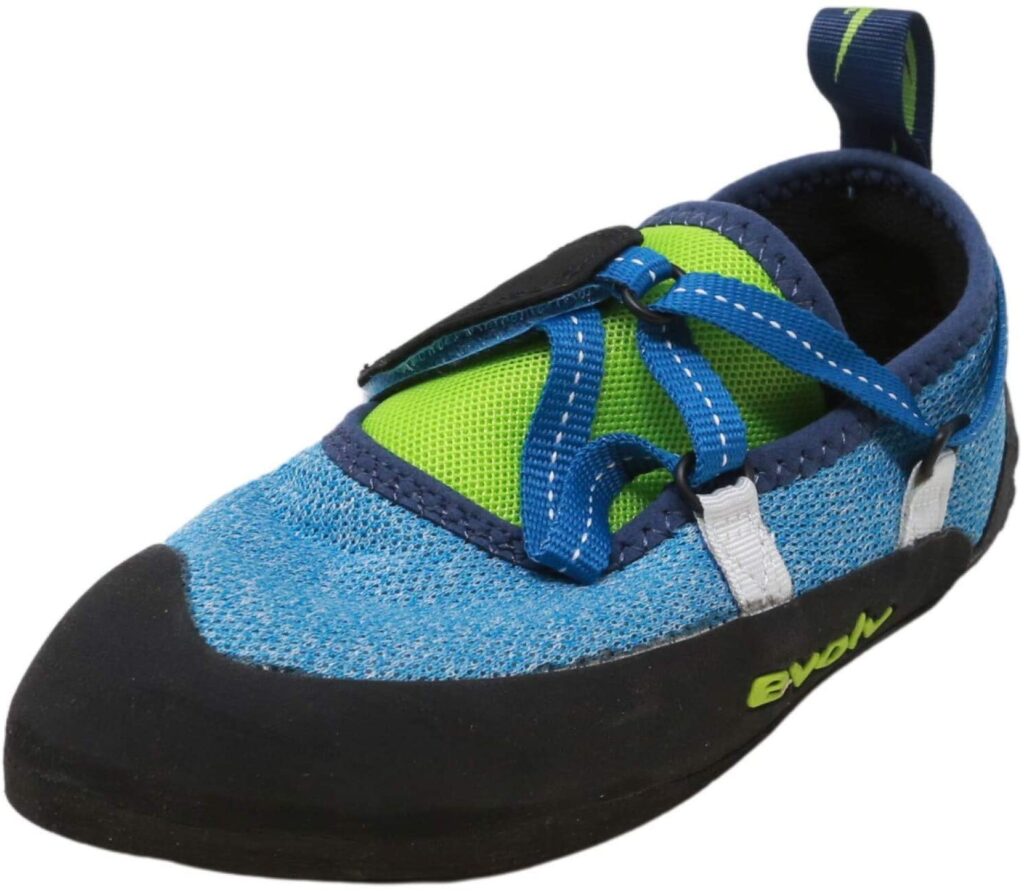 In the beginning, the kids climb barefoot, or with socks. Yet, heel strapped, wide shoes with a strong rubber sole are necessary for your kid. Rock climbing shoes for kids are not fancy fit shoes. They are quite comfortable.
For a toddler, it'll be hard to get climbing shoes, so using socks will be fine. But, as soon as some kids size shoes fit them, get one for your kid.
Best Rock climbing shoes for kids
[products category="174″  columns="4″ limit="12″ orderby="popularity" order="DESC"]
3. kids rock climbing helmet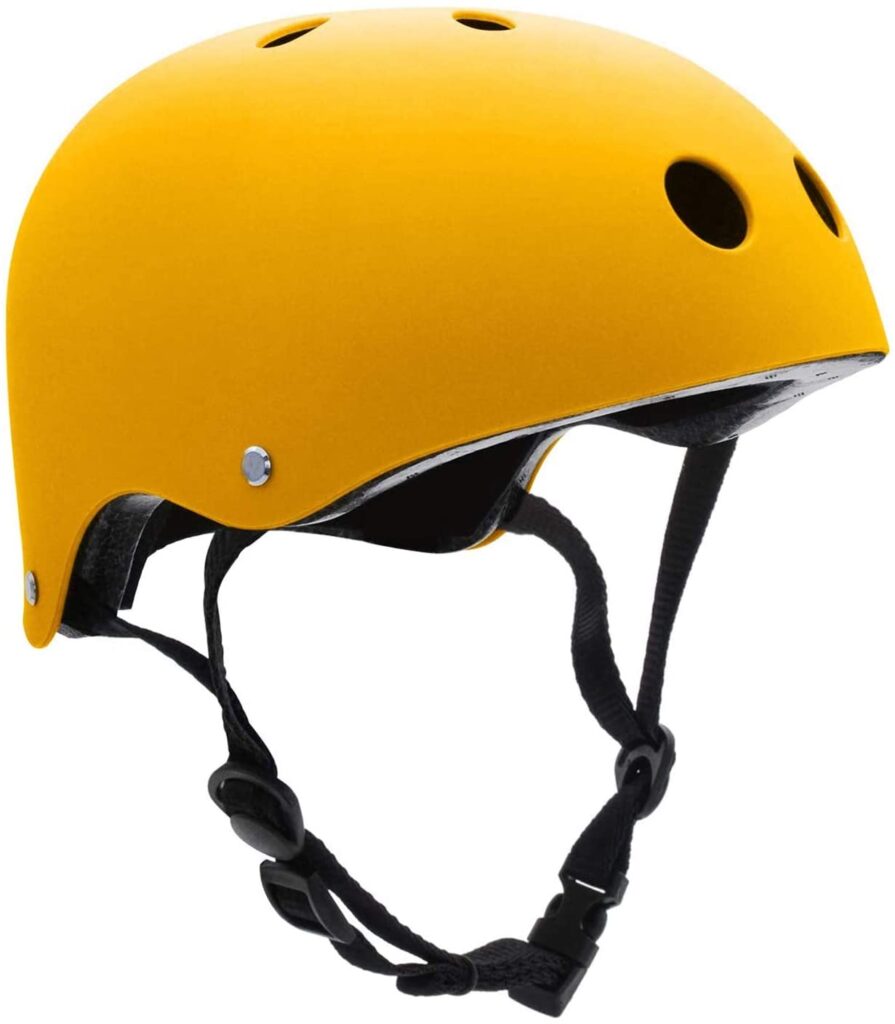 Kids rock climbing is not an ordinary sport. There are chances of injury if your kid falls. Similarly, while moving upward, any edge of the wall can hit the head too.
Therefore, using a helmet can prevent accidental injury. To help your kid wear a helmet, you can get a helmet of his size. These lightweight, molded helmets are easy to adjust.
Best Rock climbing helmets for kids
[products category="709″  columns="4″ limit="12″ orderby="popularity" order="DESC"]
4. kids rock climbing gloves
Climbing gloves are highly useful. The gloves prevent any injury while holding the rigid rocks. In the same way, the gloves also allow a better hold.
You might not see many kids wearing gloves while climbing the rocks. They find it hard to wear gloves. The reason is, they haven't been habitual for them. But, keeping the benefits of using climbing gloves in view, you can get climbing gloves for your kid.
Best Rock climbing gloves for kids
[products category="663″  columns="4″ limit="12″ orderby="popularity" order="DESC"]
5. kids rock climbing holds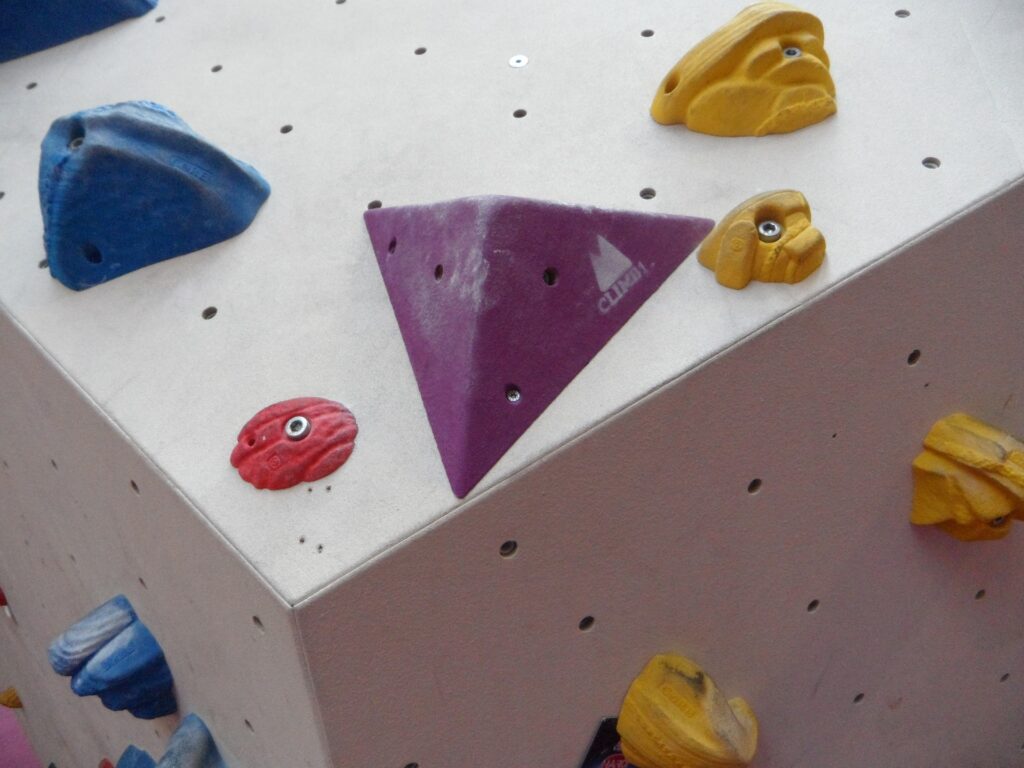 Another essential of your kids' climbing training is climbing holds. These climbing holds are very easy to buy.
You can get any of these kids climbing holds to fix your indoor wall to provide a handy bouldering experience at home.
Using these holds on your kids' rock climbing wall, help your toddler develop flexibility and strength from an early age. Thus, they can easily join their climbing gym.
Best Rock climbing holds for kids
[products category="663″  columns="4″ limit="12″ orderby="popularity" order="DESC"]
6. kids rock climbing clothes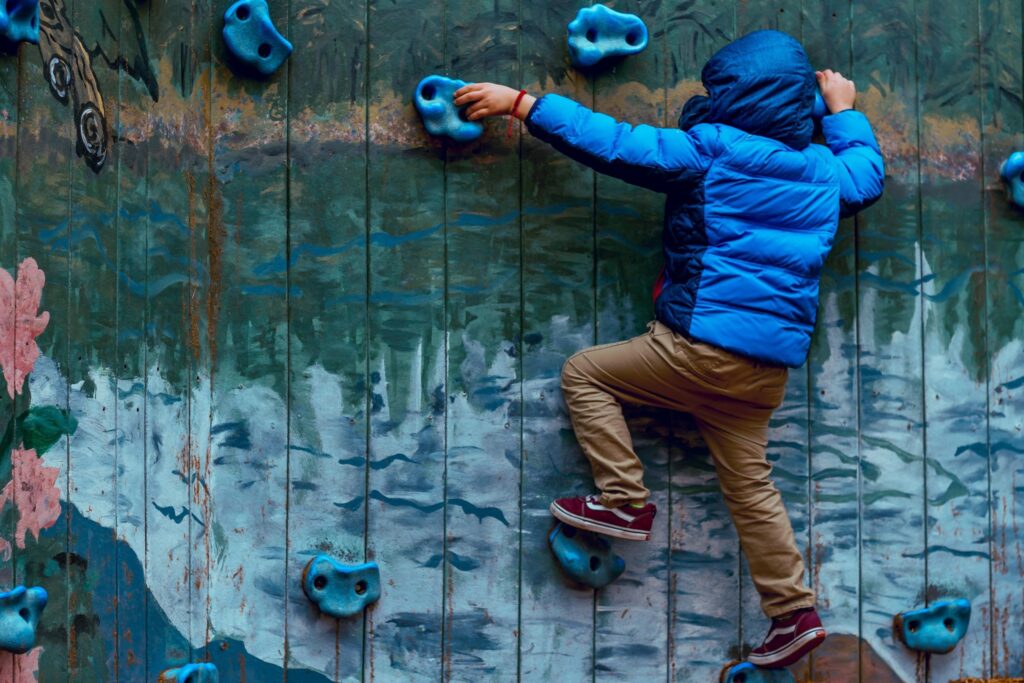 There ain't any strict rules about wearing any kids' rock climbing clothes. As a general rule of thumb, your kid can wear any cloth that doesn't cause problems with climbing.
In winter your kid can wear warm clothes, with leggings, etc. While, in summers, wearing shorts is better.
Types of rock climbing gym for kids
What idea comes to your mind when you listen about a rock climbing gym?
It's usually that of an indoor gym of high walls, or you'll interpret it as a rocky wall at some national park… Yet, it's a piece of limited knowledge. The climbing gyms are of two types.
●  Indoor rock climbing gyms for kids
Indoor climbing gyms are enormous areas with walls aiming at flourishing the bouldering needs of kids. They make indoor climbing walls of plywood or plastic.
In the same way, you can have different levels of difficulty besides enchanting themes. The bouldering facilities allow the kids to maximize their rock climbing skills safely. Therefore, you can see safety ropes to let the climber connect it with their harness and land safely or connect with the spotter.
You need not worry about his safety. Yet, at an indoor climbing gym, you need to sign an injury waiver as well.
●  Outdoor rock climbing gyms for kids
Unlike outdoor climbing, gyms are difficult to find. The reason is the weather. Considering the seasons, the outdoor gyms have to spend a long time in closure for rain, fog, and winds, etc.
Therefore, to bring you max, real-like bouldering experience, the premium gyms have innovatively built walls of great heights.
So, once trained in the gyms, your kid can be ready to move towards famous crags in the USA. At the crag, it's necessary to follow the local climbing etiquettes as defined by the authorities.
However, if you're a climber, you can also start climbing with your kid. For this purpose, follow the safety measures that you have read in the article.
Rock Climbing Walls: you can build for your kid now
Do you think you should wait to let your kid enter a climbing gym if he loves climbing? Not necessarily… You can help your kid learn climbing by building a wall.
You can build your climbing wall from these ideas. You can also carry these walls outdoors, or make fixed walls.
Types of climbing walls: Which should you make
For climbing, you can't bring a mountain to your city or home. Similarly, not everyone can afford a climbing gym, mostly because of busy schedules as well. In such a case, you can build a climbing wall for your kid.
For a regular training of climbers, climbing walls are of great importance. You have not to leave your home or drive for miles to reach your favorite rock for climbing.
The rock climbing walls are of two types. By knowing the difference, you can easily make your ideal wall for your kids.
1. Indoor Climbing walls
For beginners, indoor rock climbing walls are highly valuable. Without caring about traveling, weather and time, your kid can practice on the wall whenever he wants. The indoor climbing walls have fixed holds for hands and feet for various challenges.
You can prepare a climbing wall for your kids by fixing the kid climbing hold on the solid concrete wall. Thus, your kid can also have more fun indoors.
For your toddler, can also check kids' rock climbing wall kits for sale. Thus, you'll not have to make any.
2. Outdoor Climbing wall
Does your kid love to spend more time outdoors? You can build an outdoor climbing wall for him. Making an outdoor climbing wall is just like an indoor wall.
The difference is only that you can make it portable, or build on any backyard wall. Thus, you'll help your kid enjoy more outdoors.
Hence, deciding on what type of wall or walls you should make will help you build it with more clarity.
Tips for building climbing wall: Indoor and outdoor
To build an activity and fun-oriented wall, I'll be sharing my tips with you. Following these tips, before starting climbing a wall building will help you work more easily.
Educate yourself about the climbing wall materials and their pros and cons. For example, for your kids' training purposes, a realistic wall will be better.
Choose your climbing wall design A good design will decide will be more engaging for your kid.
Think about the height of the wall. A higher wall will cost you more. While a small wall will lack challenges. Thus, your kid will lose interest with time. So, a moderately high wall with a variety of challenges is good.
To check on the budget, study different climbing features you'll be adding. For example, the addition of self-supporting structures, rock realism, the height of the wall, and climbing features will affect the cost of construction.
A climbing wall isn't like an ordinary wall. You need sufficient area for slabs, overhangs, and belay ledges. Therefore, allowed depth also incorporates the height of the wall to help a good climbing experience. Similarly, you also need space for fall zones and traffic.
Using the right flooring material is also essential. Instead of looking for aesthetic flooring, use material that resists fall shock.
How to build the indoor or outdoor climbing wall: Learn step by step
When you want to give more recreational and growing opportunities, you can build indoor, or backyard climbing walls for your kids.
To build your own indoor or outdoor climbing, follow these steps.
1. Choose the location
Once you've decided how the wall will help your kid's climbing needs, now you need to choose a suitable location for the wall.
The indoor climbing wall can be, in the child's room, an extra room, vacant basement, hall, or any area with no or less traffic.
While, for outdoor, you can use the walls of your garage, garden backyard as well.
2. Size of the wall
For your young climber, a vertical wall of 6-8 feet height is enough. To build an overhanging, you'll need a wall area of 8-14 feet high. Still, it's not a strict limit, because, for a toddler, you can decrease the height by half.
Yet, keep in mind that you should place the climbing holds at a suitable height from the ground, so that your kid may not climb unnoticed. Similarly, make a plan about installing holds as well.
3. Choose the material for your kid climbing wall
You can build your DIY climbing walls from two types of materials, wooden or concrete.
Wooden climbing wall for kids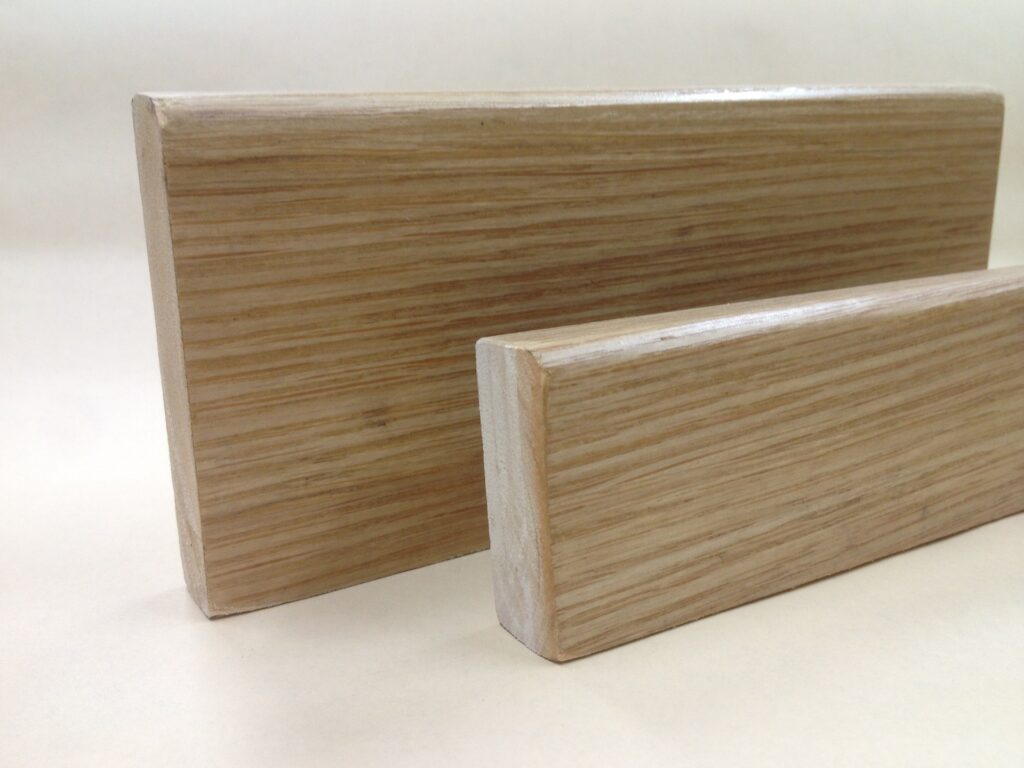 To build a wooden rock-climbing wall for kids, you can use plywood or OSB boards. Among these, OSB is stronger and pocket friendly. Yet, because of moisture absorption, it has less longevity. To fight the weather, you can paint the wall as well.
Concrete climbing wall for kids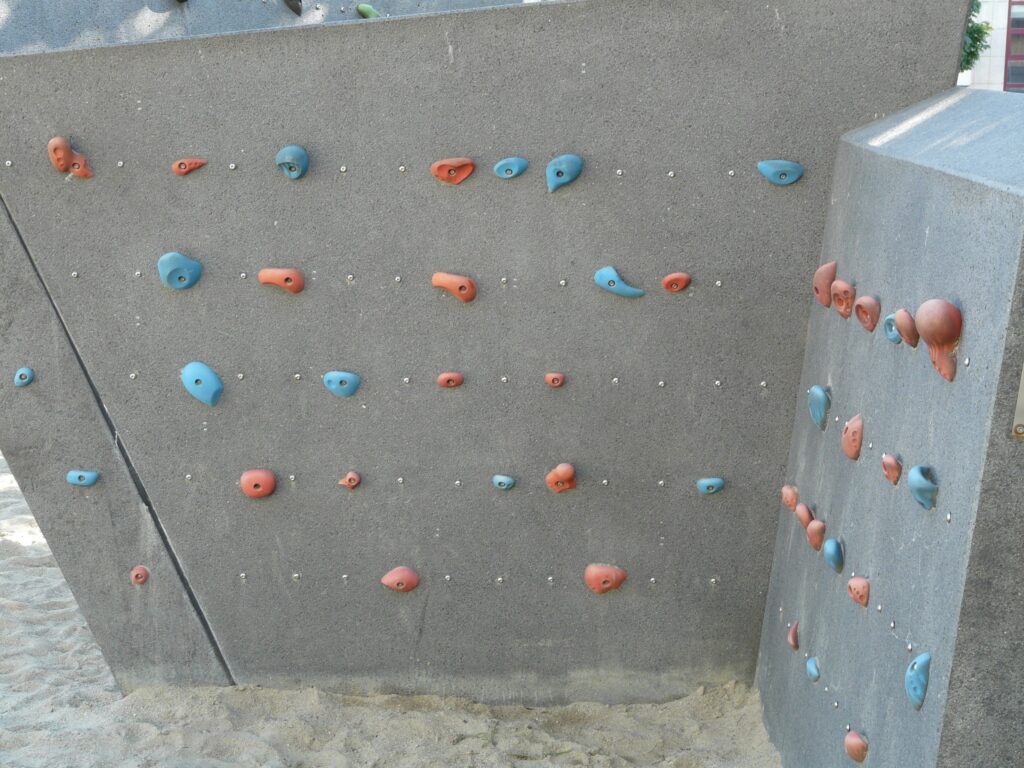 You can also make kids climb on concrete walls. For this purpose, you'll install the hotels on the wall directly. To install hold on a concrete wall, get concrete drop-in anchors.
4. The climbing holds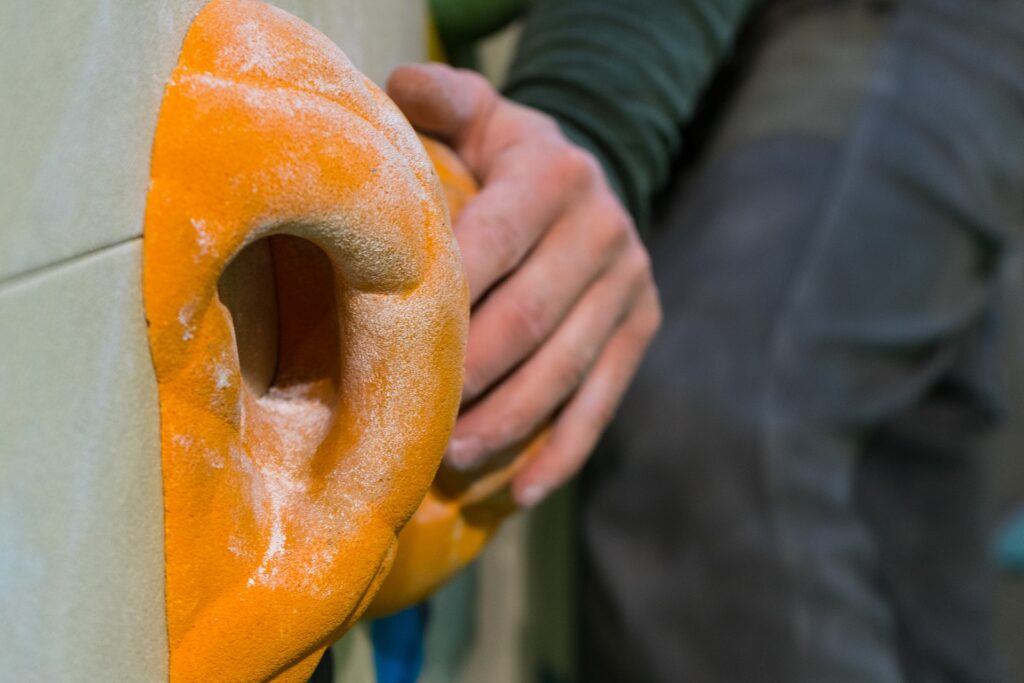 The right holds for your kids' bouldering walls are essential. Therefore, getting suitable kid climbing holds will help you a lot.
You can either get the hold as loose pieces or buy them inside the bouldering wall kit. For a kids' climbing wall, enchanting and bright holds are advisable.
Similarly, you can also check your budget. However, I'll advise you to consider the quality first.
When you look for buying climbing holds, there are usually two types of holds you can get.
The screw holds are attachable on concrete and wooden walls, both using small screws. Yet, they are easier to install and go with the concrete walls better.
The blot-on-nut holds are more likely for wooden walls. The reason is, you install the nut behind the bolt that passes through the entire wall.
4. Select the climbing route
Climbing routes are of great importance, for they let you train your young ones according to the skill needs. The correct route will equally provide the meaning opportunities for developing grip, control, and balance.
5. Get the right tools for building kids' climbing walls.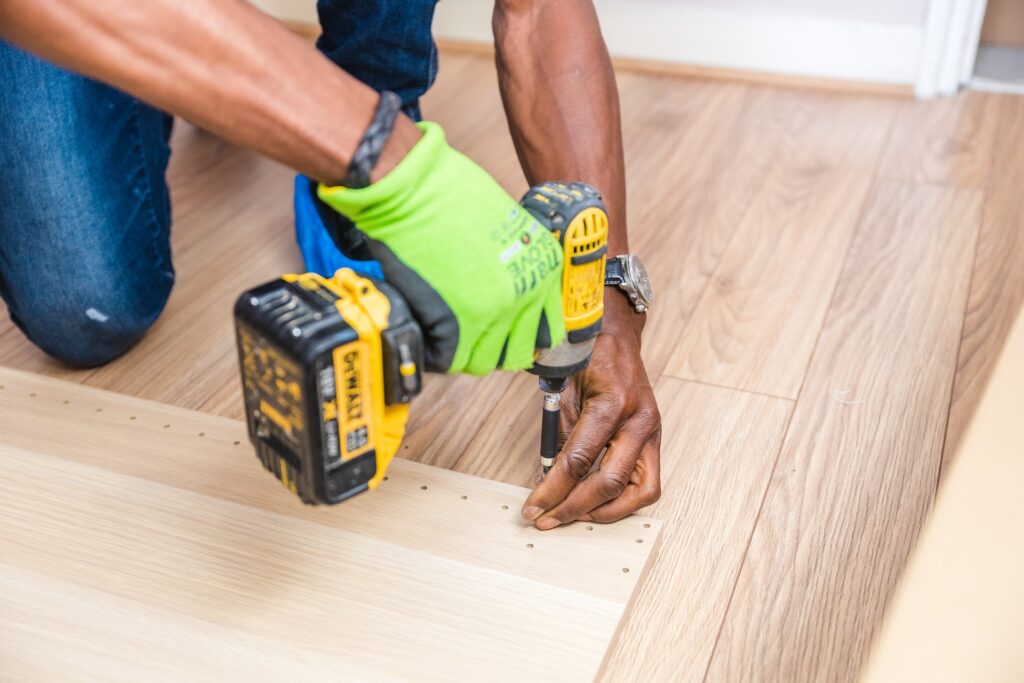 Next, you're to collect relevant tools for construction. Among these tools, you'll need:
A measuring tape
A saw (if you want to build wooden bouldering)
Drilling machine
Nut driver and screwdriver
Hammer
Besides these basic tools, you'll also need other tools including pliers, etc. So, I'll advise you to keep your toolbox handy.
6. Build your wall
Now it's time to build your wall.
To build a wooden bouldering wall for your kids at home, you can first install holders on the board. Then fix the board on the wooden frame you've built for the wall.
Finally, install the board on your wall. For more clarity, you can follow this easy bouldering wall building tutorial.
For building bouldering on a concrete wall, you can start by preparing the wall design. Then, install the holders according to your design. You can simply follow this video as well.
7. Don't forget these safety measures.
Though you've got enough of how you can build DIY bouldering walls for your kids at home. It's highly necessary to keep some safety measures in view, to help a safe bouldering experience.
You understand how drastic and unsafe it can be if there is any loose screw on the bouldering holds. So, not only fix them properly while building the wall but also check on the wall during usage.
Splinters on the wooden wall can also cause injury to the hands of your young ones. So, select the safer wood.
A safe fall or landing zone is the basic need of a bouldering experience for your kids. For a safe landing during the early training, you can install a crash pad in the fall zone.
FAQs about kids rock climbing
Can little kids be good rock climbers?
Yes, young children make good rock climbers. The reason is that motor development is the fastest at this age. Hence they learn bouldering easily.
How can my kid learn rock climbing?
You can teach your kids bouldering by providing them the right gears and their climbing wall. Following the safety measures is also crucial.
For, an unsafe experience can make your kid avoid bouldering in the future. Similarly, make sure that you motivate your kid by giving him unique challenges and rewards as well.
Can a kid climb chimney rocks?
Though Chimney Park is for adult adventures, yet the young climbers can also enjoy climbing rocks there.
How many holds will I need for a kid's rock climbing wall?
The number of holds depends on the age and the toughness of the challenge. Yet, you can place 10 holds/sq meter. To add variety to the climbing experience, you can add more holds and mark them separately for each new challenge.
How much will it cost to make a climbing wall for my kid?
A climbing wall costs you according to the area, level of training, and material of the wall. So, if you're building a climbing wall for your kids, it won't cost more than $200 to $1000.
What type of wood is the most suitable for making a kid climbing a wall?
High-quality plywood is suitable for building indoor or outdoor climbing walls.
How can I get my toddler to climb the wall?
You can teach your toddler to climb at home by giving him a small climbing wall at home. However, for a joyful experience, supervision is equally important.
Similarly, if you are a bouldering parent, you can take your toddler with you to motivate him for bouldering. However, you must take some care of his needs and let him also enjoy it.
Is rock climbing hard for my untrained kid?
No, rock climbing is not about the age limit. Your kid can learn rock climbing at any age if he has core strength.
Is a rock climbing gym hard to afford?
A quick answer is "yes." Yet, see that the gyms cost you according to their services, which includes the wide spaces, safety facilities, and your program duration.
In short,
"The harder you train, the stronger he'll grow."
Childhood is the perfect age to let your kid learn. To optimize learning, rock climbing is an ideal activity.
By making proper arrangements and taking your kids, you can help him become a successful climber on the rocks of life as well. A good strategy and practice are all that you need.
By providing him with indoor or outdoor climbing walls, visiting rocks, enrolling in gyms, your kid can learn to explore the best. So, when is your kid going to start his best training as a rock climbing?