NO, no, you aren't confused about what moderate climbing shoes are. You just want to expand your knowledge on how moderate climbing shoes help in climbing; what can be the best time to use them; what are the best moderate climbing shoes; when should you pick them, and how to choose them? 
The reason is that it isn't complex. Well, whatever be your intent, you're at the right place to learn about these full support crack climbing shoes. In our short guide, we'll be helping you with all that you have been seeking; here we begin.
I get commissions for purchases made through links in this post. View our Affiliate Disclaimer.
What are Moderate Climbing Shoes?
The moderate climbing shoes are easy to identify. They're generally known as intermediate or crack shoes. The name "crack shoes" suggests that you can use these shoes to climb via crack: the skill you learn at the intermediate stage of climbing. 
First

, they're not flat at all like neutral climbing shoes. 

Second

, they're not too down-turned like those aggressive shoes with a 90-degree toe curled down from the knuckle. Hence, they come with a slight inward curve. 

This curve runs more towards the heel to allow you to move your entire forefoot freely. Thus, they provide sensitivity to your forefoot to move through the cracks and climb vertically. It's the reason they're also called crack shoes.
Structure and Design of Moderate Rock Climbing Shoes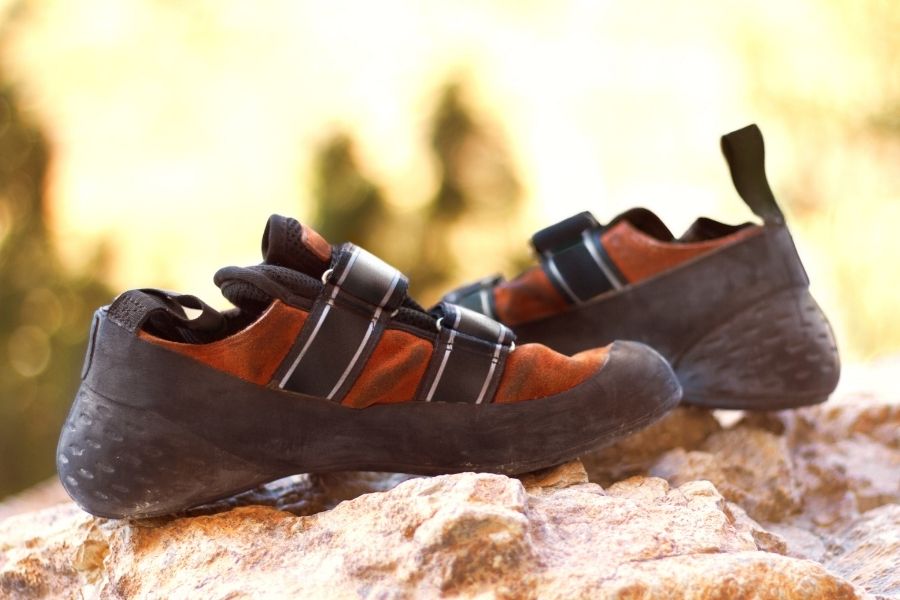 As said earlier, the intermediate climbing shoes are not flat, yet these further explanations about their structure can help you know more about them.
Neutral shoes have thicker soles as if they were some sneakers. Yet, the moderate shoes for climbing have thinner soles than neutral shoes and are thicker than aggressive shoes. 

The outsole of moderate shoes has sticky rubber for optimum grip between cracks. These shoes also allow you to smear.

The slight downturn shape also helps with catching the footholds of larger size.
Some additional features also enhance your experience with your moderate rock climbing shoes. For instance, the closure system of shoes can bring you greater ease:
The lace closure

is expert-recommended, or it allows you to keep your shoes on your foot for a longer time and let your feet breathe securely by losing the laces.

Velcro straps

are excellent when you have to remove your shoe on the wall in no time — .

Slip-on shoes

are for you if you are moving towards an advanced level of climbing and you have to switch between aggressive climbing shoes and your crack shoes in no time.
What are Intermediate Climbing Shoes Worth Buying?
Yes, intermediate shoes for climbers are worth buying at any level of climbing. The reason is, soon you end up with your beginner's level, and you need to climb on vertical routes using cracks and larger footholds. At an advanced level, no matter how complex your route is, at some points, you need to interchange your shoes for comfort or climbing.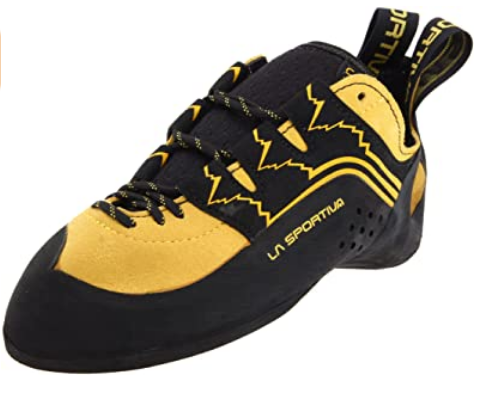 What can you expect from a perfect all-day crack shoe? It's what these La Sportiva stand for. 
The La Sportiva Katana Lace is a workhorse at crags across America for various factors. The slightly angled toe and moderate asymmetry allow you to hook into pockets and use the smallest edges. 
Despite the drop, this shoe keeps your foot reasonably flat, which is excellent for cracking and all-day comfort. The heel fits, and when coupled with a firm P3 midsole, it feels like your entire body's weight is appropriately directed into the toe. The 4 mm Vibram XS Edge grips almost anything it comes into contact with. 
This shoe keeps your foot in a forceful, moderately curled stance. This stance allows for hooks on the steeps without altering performance on technical vertical terrain.
When it's about cracking, you usually go for a high-top with a flatter sole that is broader than slender. The Katana is our obvious preference for challenging granite climbs where crack jamming is frequently disturbed by challenging face climbing or boulder issues.
It doesn't have the flashy aesthetics or intricate velcro closures of other models. Still, it delivers an unparalleled combination of performance across a wide range of climbing techniques and wins our trust.
The Kira offers everything you need in the best moderate rock climbing shoes for women with no extra bells and whistles.
The Evolv Kira is a fantastic all-around shoe. These Velcro slippers come with a moderate drop to help you hang on steeper sport climbs, but the general design is not overly aggressive, making them a perfect shoe for long days on low-angle hills. 
They feature a well-padded tongue and robust rubber on the sides, making them suitable for crack climbing. The shoe is flexible enough to be torqued and easily twisted into cracks. However, The Kira is not an appropriate shoe for finger cracks since the toe box is not tapered at all, making it difficult to insert a tiny part of the toe into the crack.
Because of their relatively flat design and asymmetrical toe box, these shoes are a great compromise between an aggressive model and a novice climbing shoe. Hence, they're perfect moderate climbing shoes. However, on the downside, they can run small. So, be careful with the sizing.
FAQs
What is an Intermediate Climber?
Understanding the climbing difficulty levels can help you better understand the shoe category. It's the climbing route's construction, location, and the nature of its challenges define the difficulty.
Different systems like American, British and Australian define it with various climbing grades. So, the American rock climbing grades system, also known as Yosemite Decimal System(YDS), the climbing level can be understood as:
A Beginner

would go from 5 to 5.4 climbing difficulty.
An intermediate climber

would climb from 5.5 to 5.8 difficulty.
An expert climber

can show the expertise 5.9 to 5.12.
Likewise, a super expert

or Elites can attain 5.12 to 5.14.
In this way, the intermediate climbing shoes can be a dire need for climbing somewhere between 5.5 to 5.8, while a must have for an expert climber too.
Do aggressive climbing shoes hurt more than moderate shoes?
Yes, the aggressive climbing shoes hurt the feet compared with the moderate shoes. It takes significant time and patience during the break-in period and later on as well. The reason is their smaller size (as per recommendation), and 90 degrees curled toes.
When should I buy moderate climbing shoes?
After consulting your rock climbing coach at the gym, you can get your pair of moderate rock climbing shoes as soon as you've got the know-how of climbing with the easiest routes. Yet, if you're practicing out of the gym and have to climb via cracks, you need these intermediate-level shoes.
How should I Choose Moderate Rock Climbing Shoes?
Choosing the right climbing shoes can be a matter of effort and research concern. To help you pick suitable shoes, we've listed sizzling as an essential point to take care of:
The moderate shoes should fit snugly to a climber. Unlike the aggressive shoes, these should be a little smaller than your actual running shoe size, for you'll not be aiming at the curled foot.
The Shoe material like lined leather, unlined leather, and synthetic can also influence your purchase. Yet, other than the unlined leather, the rest of the two options can be excellent, for they'll not alter the shoe fitting.  
Final Thoughts
Moderate climbing shoes are more needed among rock climbers, from beginners to pros. Everyone needs them. So, the best idea can be to have yours without a second thought.
---
*This page may contain affiliate links. I get commissions for purchases made through links in this post. As an Amazon Associate, I earn from qualifying purchases. View our Affiliate Disclaimer.
---
Shop Related Products
[products category="131″  columns="3″ limit="30″ orderby="popularity" order="DESC"]
---