Picking the right climbing chalk is as essential as choosing the climbing rope or some other rock climbing gear. Security and safety are the results of your techniques, expertise, and the availability of quality gears. Therefore, as one of the foremost rock climbing necessities, you need the best rock climbing chalk.
Yet, what helps you have your ideal chalk? One likes this, the other like that; then who is right? Perplexed……???
We'll let you know because we've researched and found popular rock climbing chalk brands. Just read this complete guide on climbing chalks. Let's sail for 20 mins, comprehensive read.
Best Climbing Chalk Buying Guide: How to Pick Right Chalk?
What makes the best climbing chalk? Is it brand or the user opinion you can find here and there? Nnnno…!!
The fact is you have to analyze many aspects to make the ideal purchase. So, for the first place, consider that not all the chalks are the same.
Furthermore, you also can't do much experimentation for the best climbing chalk. Of course, it will cost you money and effort as well. So, let's see what information we have to assist you with the correct selection.
Climbing Chalk Styles and Types: which is for you?
Climbing chalks are of various kinds. They are of multiple dryness strength.
Besides this, you also have choices for the non toxic, eco friendly, softer or harder chalks. Therefore, have a look what basic variety you get.
1. Block Chalks
Not hard to identify, the most common type of climbing chalk is the block chalks. It has Magnesium Carbonate as the primary material.
You need not rub your hands on the chalk. Instead, you can fill it inside your chalk bag after breaking it into powder.
The block chalk is less expensive and also compromising your skin sensitivity. Likewise, it also creates clouds of chalk dust.
What is better for the positive side of the block chalks? You can crush it according to your need and consistency.
You can have thicker or the most delicate gripping powder out of it. Thus, you'll have control over density and wastage.
2. Loose Chalk
No complexity this time…!! It's the simpler version, the powder form of Magnesium Carbonate.
You end on crushing the block chalks, getting this. However, what consistency you get depends on the manufacturers. Still, you can choose what you like.
For sensitive skin, you need to see whether the loose chalk is pure magnesium carbonate, or it has some added drying substance for the sensitive skin. Yet, for the Sweaty hands, you can choose vice versa.
In the same way, loose chalk is hard to apple. If you take a handful of the quantity you can form clouds around you. Yet, when you use chalk balls, the uniform application is a challenge.
3. Liquid Chalks
They're trendy among professional climbers. Why?
Not because of the fashion, but the effectiveness and ease of firm grip.
Liquid chalk is a mix of Magnesium Carbonate and Rubbing Alcohol(C3H8O). Thus it's easy to apply, not dusty, for you to help visibility while speed climbing.
Another faster drying version of the liquid chalk is the cream chalk which comes with a combination of water. Thus, it's thinner and prone to quick drying.
Your liquid chalk also cuts on wastage and tracking marks on rocks. Yet, the liquid climbing chalk is drier. So, if your youth is sensitive to extra dryness, look for some other options, though you've fallen in love with it.
What to look in your Best Climbing Chalk?
Can you buy loose chalk, liquid chalk, or simple block chalk? No… Here are some further criteria to check what makes the best for you.
Before adding any chalk to your cart, you can further consider the following factors:
The texture of the chalk is a significant point to keep in mind. Mostly the chalk powder is super silky or has a mix of chunks according to the ratio. So, if you're a beginner, try both and see what suits you.
The price might influence your decision. Therefore, we've got you chalks, which vary in cost. Yet, it can never be the primary element for you to prioritize safety.
Your unique skin type can determine what type of chalk you should get. For example, if you have more sweaty hands, you need more drying chalk. Likewise, for sensitive skin, you can't focus on the chalk that is safer to use.
How much coverage your chalk powder gives to your hands directly affects your hold. So, while choosing the chalk, also the max coverage.
How to use the Climbing Chalk in the best way?
There isn't any learning curve when it's about chalk — take and rub. Yet, when and how much you should have, it's necessary to learn. So, you need to follow some basic guidelines for chalk usage while bouldering.
White power is easy to trace on the wall. Yet, what if you have to cut traces after you? Bad….!!!
So, avoid applying more than enough. Still, your traces give you a hint about the quantity or over-usage.
Want to know the exact quantity? Dip your hand to get chalk and find sufficient dryness; it's good. Likewise, see that you're not dropping too much chalk powder.
To apply the chalk powder, dip your hands into the chalk bag and rub your hands one by one inside the box, catching the powder in each hand. Thus you'll not puff chalk dust around.
To your surprise, not every climbing area allows the use of chalks. So, be cautious about the instructions. However, if you're a dynamic climber, look for other areas to not undermine your climbing.
Best Climbing Chalk for Sweat-Free Secure Grip
The purpose of every drying agent like chalk is to guarantee the desired hold. So, here is our best rock climbing chalk list.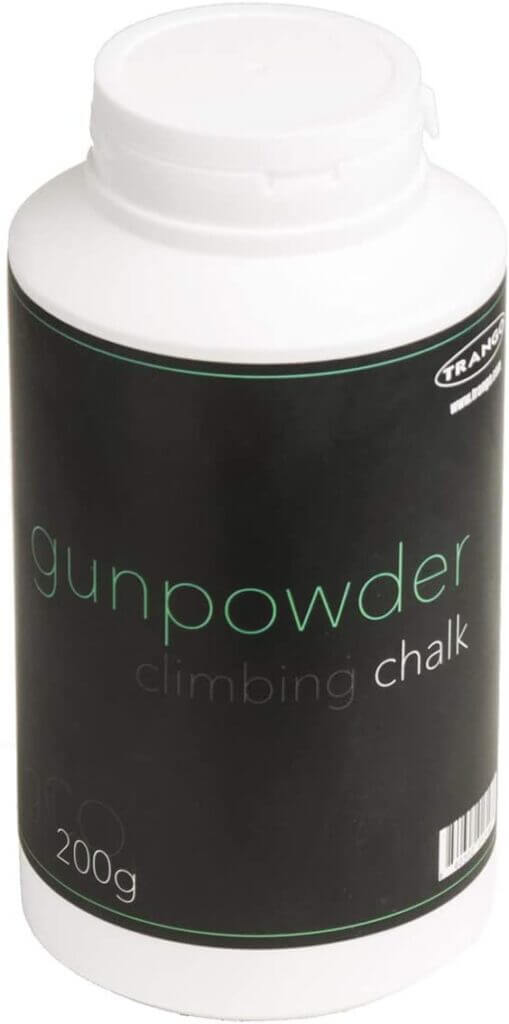 With the most refined texture, superb hold, the loose chalk Gunpowder by Trango is the first to claim its authority in our collection. The premium quality chalk powder is well known for its groping performance.
The application of the powder is relatively easy. Besides this, it dries out in no time.
The bottle packaging brings the comfortable dust-free application easy.  Of course, it gives an edge to the Gunpowder.
How common the hand cracks are, resulting from chalk powders…!!! Yet, the Gunpowder by Trango also takes care of your skin.
So, you don't feel severe dryness on your hands. The core texture of the Gunpowder is fine. So, you won't find any chunks — your priority will get it.
Pros
Extra Smooth
Pocket Friendly
Skin Friendly
Not very loose on hands
Con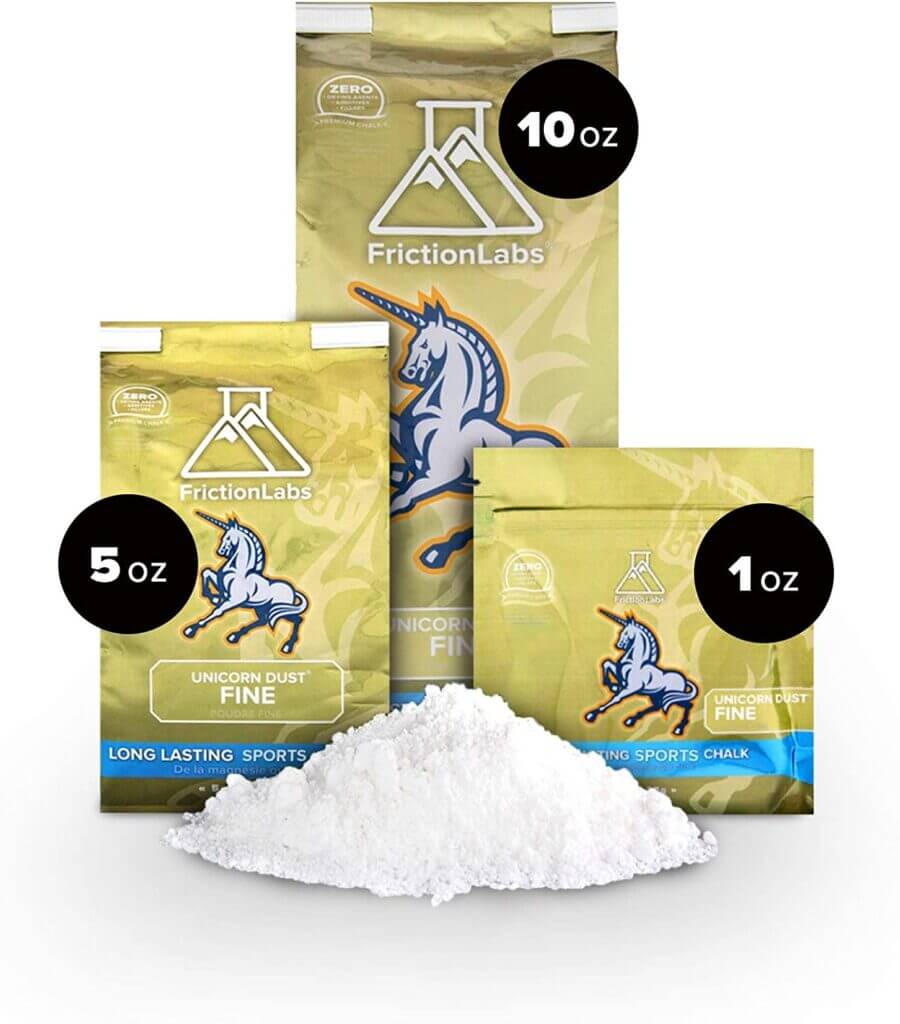 What to grab when you're an advice climber and want a powder that lasts longer on your hand? It's the Friction Labs' Premium chalk powder.
The powder makes a perfect choice by drying the excessive sweat on your hands. With no addition of Silica and drying substance, the loose powder is kind on your skin. Thus, you find no resulting skin peeling.
What gains so many fans for this 2nd best climbing chalk? It has three variations of textures. Hence, you can have which you like the most.
You got to know the value that you get out of this Unicorn climbing chalk? So, expect that you'll pay for the worth. Therefore, it's comparatively costly.
Pros
Rests good on hands
Takes care of your skin
Available in different textures
Con
Have you got a passion for climbing and sensitive skin at the same time? Your quest for the anti bruise and skin-friendly chalk ends now, for we've got you the Primo Chalk. It has Epsom salt and essential chalks to fight against the typical cruel dryness of the Magnesium Carbonate.
Thus, it's also antibacterial besides being eco-friendly. Because of the essential oils, it also has a lovely fragrance for your nostrils.
As this best climbing chalk for kids comes in three different sizes, you can buy what fits your needs. However, it's a bit expensive — not more than your skin.
Pros
Very caring for your skin
Anti-bacterial
Stays on hands for a longer time
Con
Again another best, eco-friendly liquid chalk is ready to be a jam on your delicate skin. The alcohol-free fast-drying formula aids ideally with your fast climbing expeditions.
The chalk stays longer on your hand. In this way, you need to apply more after a shorter time. For the fastest drying property, you'll love this liquid chalk in summers and humid conditions.
For the performance, the chalk does well. Yet, you might need to combine your chalk with the loose chalk to gain a powerful hold. Again, in comparison to other liquid chalks, it has better coverage.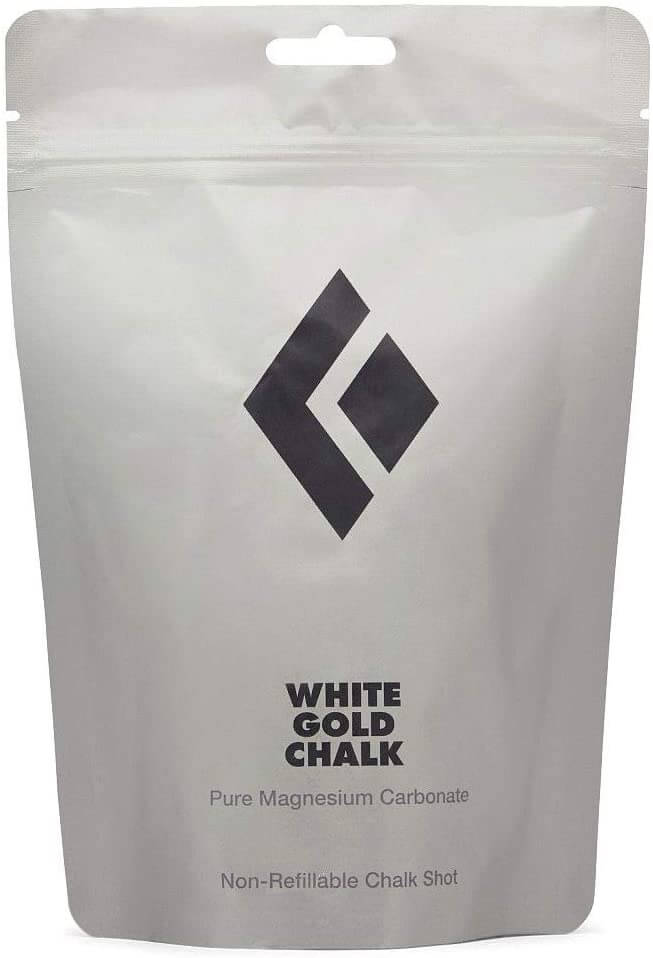 Not all hands are the same. Some are too sweaty to find any dryness on the planet. Thanks to Black Diamond for bringing you loose chalk that fights the wetness very well — natural only. It's what makes it ideal for chalk for outdoor climbers.
Do you think it's loose powder? It mainly has blocks that are crushable according to your need.
Do you know how they have added this extreme dryness to this loose chalk? It's only through the purity of the magnesium carbonate. Yet, if you haven't any sweetness issues, don't go for it. You might not like that intense dryness.
Pros
A superb choice for the dryness seeking hands
Value the price
Con
The availability of balls makes the even application hard.
It seems that Friction Lab has been the winner in bringing you the best climbing chalk. It's true. Therefore, the colorful chalk is another top climbing chalk here.
Whether you are struggling with your own sweaty hands or the moist rocks, this chalk ball will perform the best. Without drying chemicals or Silica, the powder by Friction Lab is a friend of your skin. In addition to this, it's toxicity-free.
Therefore, it's also equally suitable as climbing chalk for kids. You can use it anywhere from the hang board to the ropes or walls. It never disappoints you.
The smooth powder is easy to apply on your hands because it comes in a refillable ball. However, you need to apply it repeatedly to ensure that powder spreads equally on your hands.
Pros
No toxic additives
Suitable for all ages
Provides a great hold
Smooth
Con
The application is uneven because of the ball.
Want an anti-sweat whole of Magnesium Carbonate chalk in bulk quantity? The Salty Lance loose chalk offers you a big deal of extra hold on rocks and rope.
The packaging includes a portable bucket with the chalk-filled bag inside. So, you can take it with you for your outdoor or indoor climbing expeditions.
Not only is the powder affordable, but it also has an excellent quality among the under-budget options.
We'll recommend getting loose chalk powder if you are a regular climber and you need more quantity of the chalk under the budget. Overall, it's a silky sort of powder.
Pros
More drying
Very Kind on skin
Not a burden on your pocket
Con
It might not make an excellent choice if you like a chunk mix.
Final Thoughts
How peaceful a climber is while conquering the vertical walls and strenuous routes depends on the grip. All the gears ultimately work to aid a worry-free grip. So, the best climbing chalk also becomes inevitable here.
Among our selected climbing chalk, you can get the one according to your skin, body, and grip needs. You'll never mind the price at first instance.
So, your white rock crimping partner is just a click away. Let us know which you find most valuable among our collection by commenting below.