Youth is eager to climb aggressively. You can help your passionate climber above 16 strengthen his finger by getting him the best hang boards.
The Climbing hang boards are great for training the fingers for an ideal hold on the rocks and the cracks. Yet, how to do hang board training is also a big concern.
Therefore, besides getting you the best hangboard 2021, we'll also be sharing a detailed guide on how to find the best hang board and how you can have your hold mastery at home.
It'll only take a few minutes to meet the strength against the challenges on the walls. So why not read for 20 mins and become an excellent rock climber with an undefeatable grip through your hang board?
Who does this article Mean for? Warning.
Do you know that the National Center for Biotechnology in the US does not recommend the hang board training under16? So, you can give a read to this article if your climber is above sixteen or about to be soon in coming years.
Even if you're unsure whether your kid should still have the hangboard and what exercise he should do on the hang board, you can read this article. By getting him the best hangboard a bit earlier, you can motivate him to be a talented climber.
●  Can a Kid Use a Hangboard?
As discussed earlier, the health specialists do not recommend the kids start the hangboard at an earlier age or till 16. It certainly has reasons like tendon injury, less botheration for the safety measure, and figure joints' permeate damage.
It's why the kids should not hang on boards. Yet, for occasional use, under the elder's supervision, they can use the hangboard for motivation and fun.
●  When can a climber begin his Hang board training?
Hangboard is one of the most effective training exercises for strengthening the fingers and hands. The training on hang boards results in matchless mastery on the climbing walls.
Yet, you cannot just hang on the hangboard, feeling it irresistible. Instead, you need to spend sufficient time in regular exercise for up to 6 months to look forward to hanging board training. Thus, when you are an experienced climber with a great fitness routine, you can add a hang board.
Tips for safe Hang boarding
To have a pleasant start with hang board, here are some tips:
Fix your hang board only higher when you leave it while hanging your feet don't receive a big jerk. So, it should end in landing, not falling.
How your fingers catch hold in the hangboard predicts the safety or the injury. Therefore, have an open-handed grip with upper body form. Then focus on your core workout.
Before hangboard, warm up your body thoroughly.
How to choose your Best Hangboard?
Hangboard training is not new to the climbers. Yet, how to have the best hang board can be a big concern. So, what makes an ideal hangboard?
●  Level of difficulty added through design.
The one that allows you a good grip for hanging up to 20-3 seconds to build a purposeful strength. Don't get fascinated by most people who use a hangboard for the pull-up — a crazy usage. So, think of it as a finger stretch builder, not your ego.
In short, if you want to focus on your finger strength building, then any basic and less complex hangboard is ideal.
●  Hangboard Material Type
For the material, the hangboard comes with two options. You can select the wooden hangboard with ease of mounting and a smooth surface. You can have a polyester resin or polyurethane hangboard with a more textured surface. However, to mount the latter demands more effort.
●  Hangboard Hold Type
The hangboard is available with jug sizes, ease of hold, and overall buildability. Hangboard jug sizes and shape determine who should see them. For instance, the beginner's hangboard has pockets or jugs of 20-50 mm depth. In contrast, the less deep jug below 20mm is for the rock climbing dexters.
On the hangboard, you also get a pincher and slopers for micro muscles' training.
The Best Hangboard 2021 for Finger Training.
Here are the best hangboard 2021. Some hangboard will serve the expert climbers who have a hangboard in their routine, while others will make a good option for the hangboard beginners.
TRANGO's robust hangboard is the best hangboard 2021 on our list, with multiple pockets and hold spaces. The famous rock climbing coaches Mark Anderson and Michael have designed the hangboard.
The hangboard allows the user to choose various levels of difficulty to train his fingers. The mid-distance diversity between the pockets helps the climber select his pocket according to his body size.
Thus, the hang board is evenly suitable for male and female climbers. Your kid can also have a joyful swing while passing by. The design of the hand board specifically targets the stress reduction on your shoulders and arms.
The hangboard also serves the same way for you when you can challenge your body with varying widths of the hangboard and train harder. The hangboard has an anti-slip texture to help the perfect grip while hanging.
Installation of the hangboard requires effort. Besides this, you also have to get the mounting hardware because the manufacturers have not included it in the packaging.
Pros
Anti injury design
Excellent hold
Varying sizes of pockets to help a beginner to expert level finger training.
Cons
Have you listened to any updates on the design of a hangboard? No…!!! However, the Metolius 3d hang board has developed over the years. The makers have always focused on the exercise addition to progression-centered edges and grips development.
Why is this model so popular? Along with design and finger training toughness, the hangboard is quite pocket-friendly.
The design of the hangboard also aims at minimizing the force on your arms and elbows. Hence, an intermediate-level climber will love it.
This hangboard is the most used among the climbing community for intermediate-level rock climbers. As you know, the grip is the primary feature of any hangboard; the Metolius Simulator hangboard lacks the desirable hold. So, you need to apply the climbing chalk first.
In short, as the runner-up among our collection of bets hangboard, 2021, the hangboard is a terrific choice for mid-level climbers.
Pros
Value for your money
A wide range of pockets and holds
Varying sizes of pockets to help a beginner to expert level finger training.
Cons
The texture is not good.
Not for aggressive climbers
Easy to mount, one of the cheapest hangboard is this Get out hangboard. Don't think that it will deliver you something extra, for it hardly means for it.
It is only the cheapest hang board. So, it's a basic hangboard. If you want a hangboard for your kids' introduction to hangboard, you can get and set up this Get Out hangboard.
The texture of the hangboard is like that of the Metolius simulator. Thus, your beginner-level climber will attain a good hold in the pockets.
As you can see, this hangboard has few holds and four-finger edges. So, if you're an advanced climber, you don't have sufficient holds.
What the designers aimed at while designing this hangboard, it's vague. The reason is, the hangboard hardly has 4 pockets, below the number of your fingers on your hand.
Hence, if you're a beginner, the hangboard is for you. Yet, for the strength-seeking training lovers, we recommend looking for other options.
Pros
Cheap
For the beginners
Good texture
Cons
Do you need an all-rounder hangboard? This Project by Metolius is ideal for you from our list for the best hangboard 2021. It's easy to locate at the gyms.
Light on your pocket, this hangboard is drivers more than you spend on it. The hangboard comprises the graduate pinches, a good range of pockets with mixed depth and angles.
Who should use this hangboard? It is for intermediate to advanced climbers. The hold sizes are wider for the elite climbers, however.
Similarly, the project's small edges are too deep to earn some appreciation from the advanced climbers. Though the hangboard is for top or intermediate-level climbers, beginners also find them easy to hang because of the RPTC.
The hang board's design contains well-planned progression-centered jugs for the finger's training—the semi-curved beneath the surface of the hangboard results in an inward pull rather than a straight.
Overall, the hangboard is excellent for intermediate climbers.
Pros
Offers progression
Cheaper
Cons
It doesn't make a superb choice for intense finger training seekers.
Have you got a fondness for wooden textures? The Metolius Wood Grips Compact II hangboard will bring you smoothness of wooden texture and a range of holds.
Again, it's a combination of well-placed smaller holds. Besides this, the hangboard is also suitable to install in smaller spaces.
At first glance, you see that you have got a lot of holds. Yet, a few will serve you. Thus, despite having a hangboard, your training is very confined. In this way, you can get the Metolius wood hangboard for your kid's motivation or a beginner's off-and-on introduction to hangboard, but not for skillful climbers.
Pros
It matches the interior well.
Great hold and texture for wooden grip lover
Cons
Not enough pockets or jugs
Will Barely suffice a climber's finger strength training.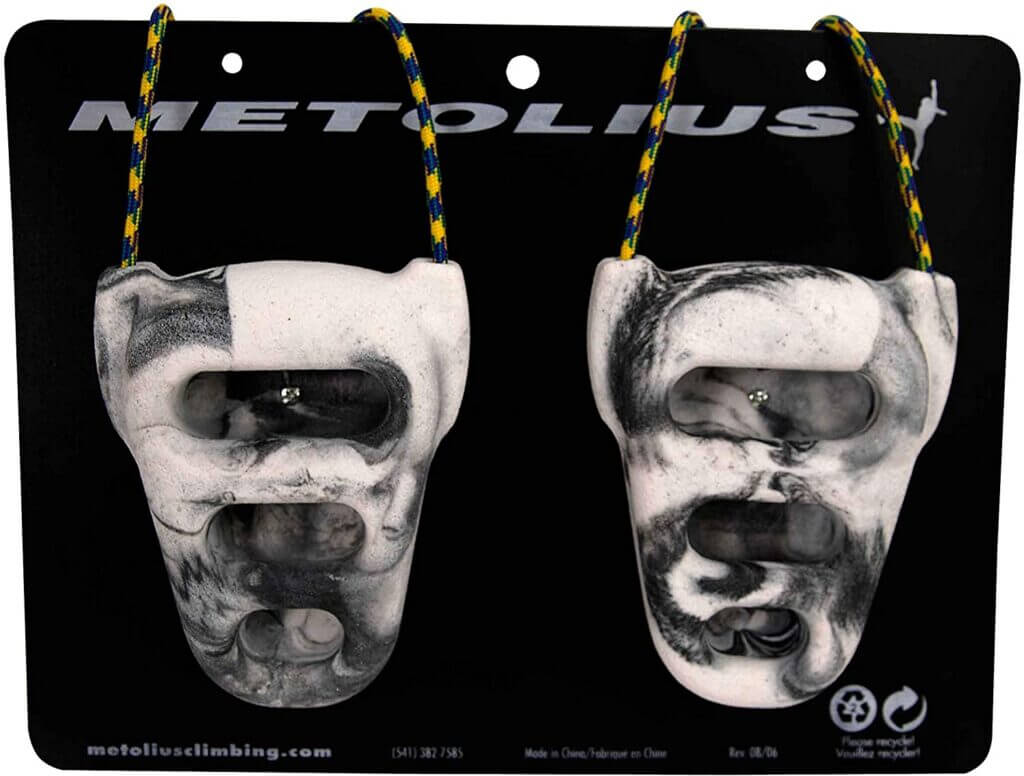 These are the best hanging Rock Rings on our list for the best hangboard 2021. But don't be overwhelmed to take these holds as the overall best.
If you don't get some ideal space for the mounting boards, these hanging hangboard rings will be a good choice. If you analyze the rings, they offer you the hold space for 4, 3, and 2 fingers with the space customization between the rings.
Yet, how these hanging rings will affect your position — the mounting hangboard is better. It looks like a few pull-ups and moves you can do with these rings. However, the good news is here.
Should an intermediate climber try them? No… the Rings are for the proficient climbers instead.
The hangboard will be great for ergonomic pulls and equivalent training. Besides this, the portability of these rings helps you follow your training plans with no care of space. Thus, they are also cost-effective to cut on an extra portable hangboard.
The price you have not to spend lavishly on the rock rings is far less expensive among our best hangboard 2021.
Pros
Cons
Not for stand-alone training
Do you need custom tooling with a simple Rung? The wooden Metolius Campus Rung is excellent from our best hangboard 2021 selection.
You can install these Rungs according to your preferred spacing. Thus, you can have your jaw. The freedom of size selection allows you to enrich your hangboard training with your creativity.
The wooden texture of the Rung will aid your hold during standard finger training: Stand-alone. With these Rung, you don't get any drama of the holds or pockets.
Furthermore, it also prevents you from the range of hold and pocket depth built-in hangboard offers. So, you can head towards limited and consistent moves. Hence, your training session remains particular.
However, the same quality also becomes a drawback for those who want control on the hold depth to intensify their finger training sessions.
Pros
Portable
Good for the expert
Cheap
Cons
Not for stand-alone training
Final Thoughts
Hangboard training, in every way, helps you gain the stretch that you need on the demanding walls of rocks. By having your hangboard from this collection of the best hangboard 2021, you can make your way towards an unbeatable forte.
These cheap training gears are a one-time investment to assist you with your physical endurance building plans. The ultimate purpose of the tools is to train climbing lovers. So, get which you like the best. Let us know about it by commenting below.