Want to know which rock climbing chalk bag is easy to use, durable, portable, and manageable? Finding the best chalk bag can help you with worry-free climbing on the walls and boulders. To help you find the ideal chalk bag for bouldering, we've reviewed the chalk bag. Let see which makes an excellent choice for you. Here we go.
How to Choose Best Rock Climbing Chalk Bag: Expert Guide
Do you know how to pick the right chalk holding bag for you? Our guide will help you not only for this time but for the future as well. Have a read about what quality you should see in a chalk bag.
● Durable
Can you afford to change a bag every month? You need to pick a durable chalk bag. Sturdy material and good stitching make a bag durable.
● Lightweight
By getting a robust bag doesn't mean that your climbing chalk bag could be heavier. Similarly, fancy materials and belts also make the chalk bag heavier. It means they can be hard to carry with the chalk inside. Especially when the kids have to take the bag. So, check that the chalk bag is, though impressive, yet lightweight.
● Reachable
Longer belts are also hard to manage. The bag with adjustable straps is easy to manage with the harness belt. So, try to find the bag that allows you the adjustment according to your need. In the same way, the bag should have an optimum opening, width, and depth. When you put your hand inside, it provides optimum space to roll your hand with the chalk. Otherwise, you'll have to manage the chalk's application out of the bag — dusty clouds.
● Water Resistance
A waterproof bag of ripstop material is better than any regular bag. It helps you carry your bag along with your belt. So, at damp places, you have not to pack your bag inside the bag. Your water-resistant bag is a permanent bucket for your chalk. Hence, you can leave your chalk in the bag over the months and keep on filling it.
● No chalk Eater
Yes, I say the bag can be a chalk eater because the bag with the organic material is prone to absorb much chalk. In contrast, a bag with a waterproof, thick inner lining like polyester prevents chalk absorption inside the bag. Thus, your bag doesn't turn into a chalk ball.
● Effortless opening and closing
Imagine, you're hanging on a wall, you need chalk, and your bag refuses to open — frustrating? When you pick a bag, make sure that its zippers are smooth and run 1000 times. Thus, you'll have a relaxing experience to focus on your climbing walls more.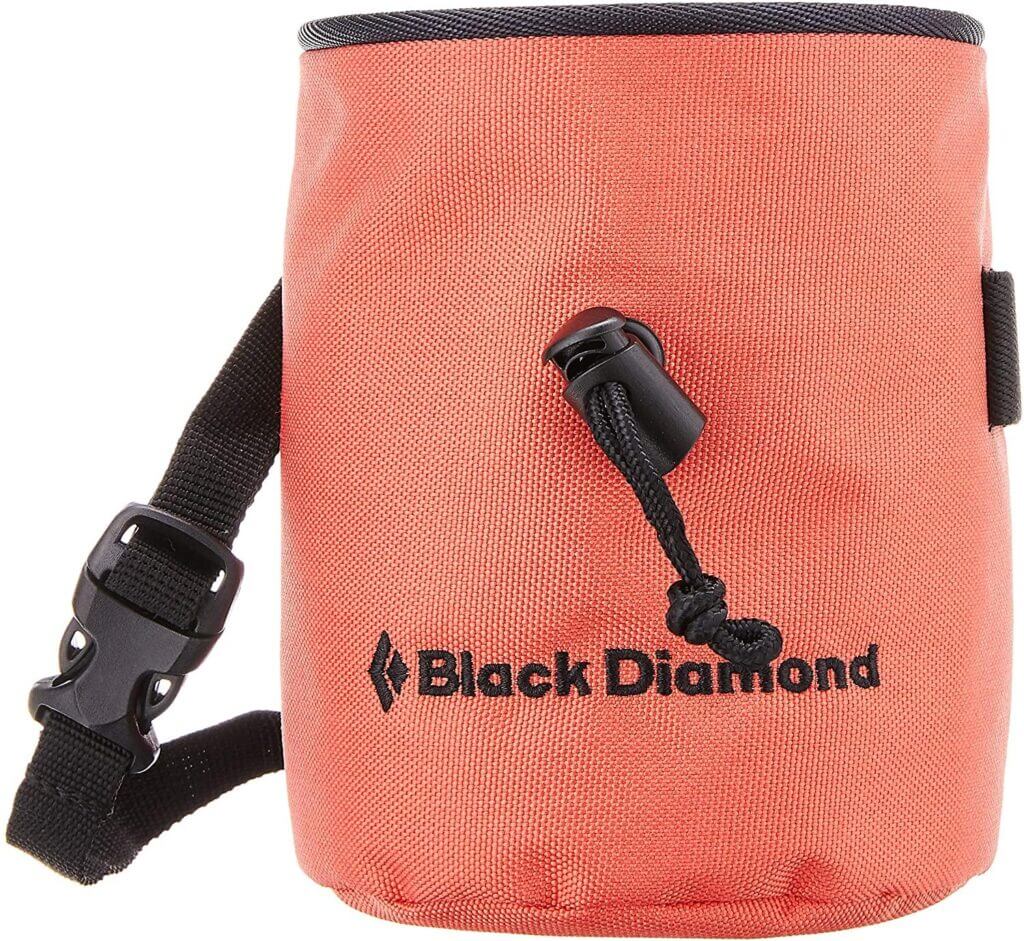 The best rock climbing chalk bag in our collection is the bag by Black Diamond. Available in 5 different colors and varying sizes, the bag is a
brilliant choice. It has waterproof, long-lasting, 100% synthetic material. Besides this, the drawstring supports the inner opening. Hence, your interaction with the chalk is spill-less. In the same way, the bag's rim has a flexible ring. Thus, it stays open at your back to allow on-time chalk application.The bag has an adjustable belt. So, you can manage it in every way. You find suitable.
The bag comes in a variety of sizes. The fitting size for your hand will discourage a dusty chalk spill. Do you love cleanable bags? You can wash and clean this bag easily. So much to love. Then what are the shortcomings Nothing but pricey.…yet, you'll find it valuable accordingly.
Pros
● Lightweight
● Water-resistant
● Made to bear the fraction of rocks
● Wider
Cons
● Little pricey,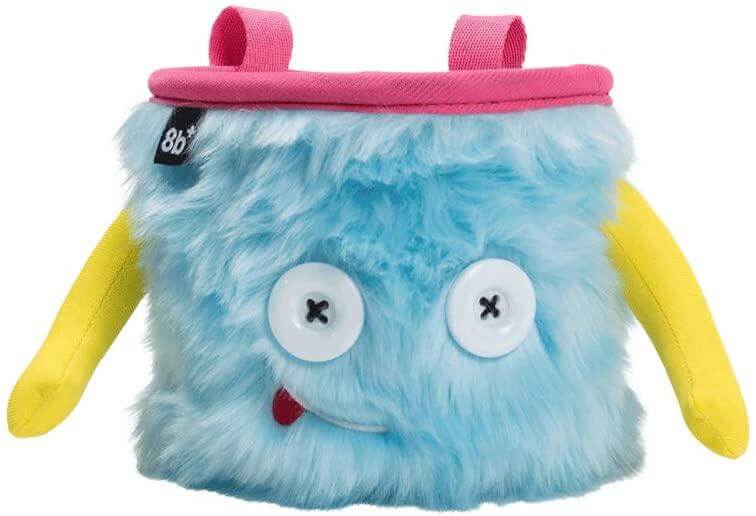 Cuteeeee….!!!! Do you see it according to the standards we put forward in our previous section? Those are for this bag, yet few.
The reason is, the bag is more than a chalk bag. In this way, this cutest bag is marvelous to give your rock climbing crazy kiddo as his
first bag.
The bag by Jivan is available in over 36 designs besides the cool designs. So, you can ask your kid which he likes the best to have.
The outer fleece is exceptionally lightweight. Hence, you need not worry if it'll be heavier to carry.
The material of the bag is water-resistant because of 100% polyester. Thus, you'll also find it easy to clean. For the dimensions, the bag is relatively wide. So, your kid will not have to struggle to roll his hand in chalk inside. The bag certainly makes an excellent pick for your kid and girl, except the drawstring is longer — cut it to manage.
Pros
● Cutest
● Long-Lasting
● Drawstring wider opening
● Water-resistant
Cons
● Outer fleece can catch dust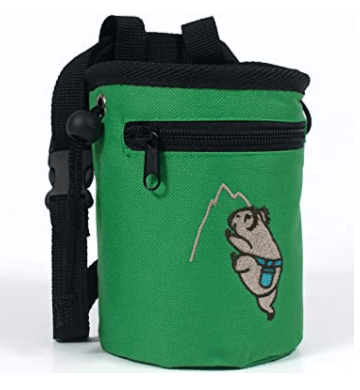 Another excellent bag came in our list from the Craggy as the 2nd best rock climbing chalk bag. It's a 100% polyester material bag with a wide opening. The draw closure allows you complete control until the
product lasts.
The adjustable belt helps you carry it easily. The rock climbing chalk bag also has a mini pocket to accommodate your small essentials. Is it water-resistant? The Craggy have made it to never care for water. Its 100% synthetic material also helps with convenient cleanliness.
As the bag has 4 inches opening and 6 inches depth, it's a perfect choice for the kids. The small hands will feel comfortable inside. Downside? No, it hasn't any.
Pros
● Durable
● Waterproof
● Drawstring opening
● Good for kids
Cons
● No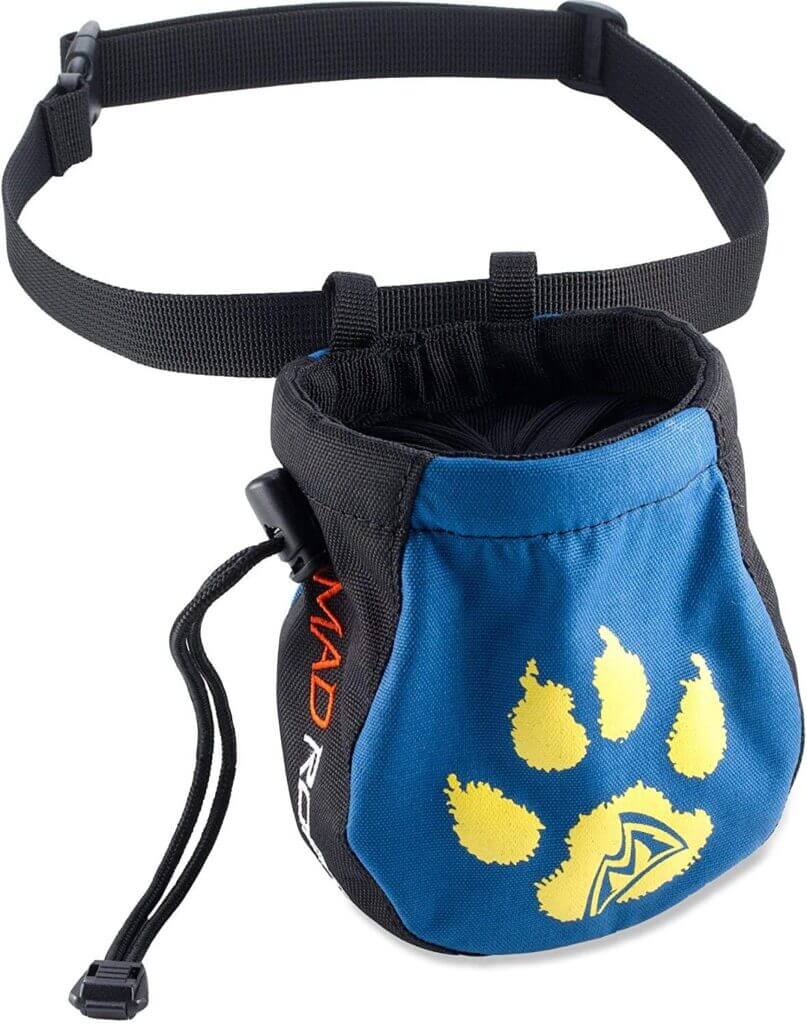 Do you need a bag for your early climber? A bag with waist support is excellent for your kid.
Therefore, we've picked this MAD ROCK's rock climbing bag for chalk. It has a waist belt. So, besides being accessible, it's comfortable to manage.
The bag with cat paw is also a favorite of cat lovers. Unlike the stiff gigantic bags, it's a flexible bag. At the same time, the drawstring opening helps with the chalk accommodation.
Though the bag is durable and lightweight, it is not a breeze for cleanliness — the inner fleece lining holds chalk for not releasing again. Hence, maintain a regular cleanliness routine with your bag.
Pros
● Durable
● Drawstring opening
● Excellent for kids
● Comfortable management because of the waist belt
Cons
● Chalk absorbent
● Hard to clean
5. Two Ogres Essential-Z Climbing Chalk Bag with Belt
Available in two colors, the durable bag by Ogers is an excellent quality chalk bag for rock climbing. The bag has a superb depth of seven inches beside the 5-inch opening. Hence, the chalk application is more effortless.
Nothing fits well on rocks except the durable material. Yet, it can spill chalk if you don't close it completely. It's why the bag has 600D material to bear the hard friction of walls hanging by the waist.
It also has a small packet. So, you can keep your mini accessories like keys and cell phones. We liked the drawstring opening of this bag again. The reason is, it lasts longer than the zippers.
The rock climbing chalk bag also has an excellent belt. Overall, you can manage it easily during the expedition.
Pros
● Durable and rugged wearing material
● Drawstring opening
● Good for teens
Cons
● Few options of color
● It needs full closure to avoid chalk spills.
6. Elite Sportz Equipment Rock Climbing Chalk Bag for Teens and Adults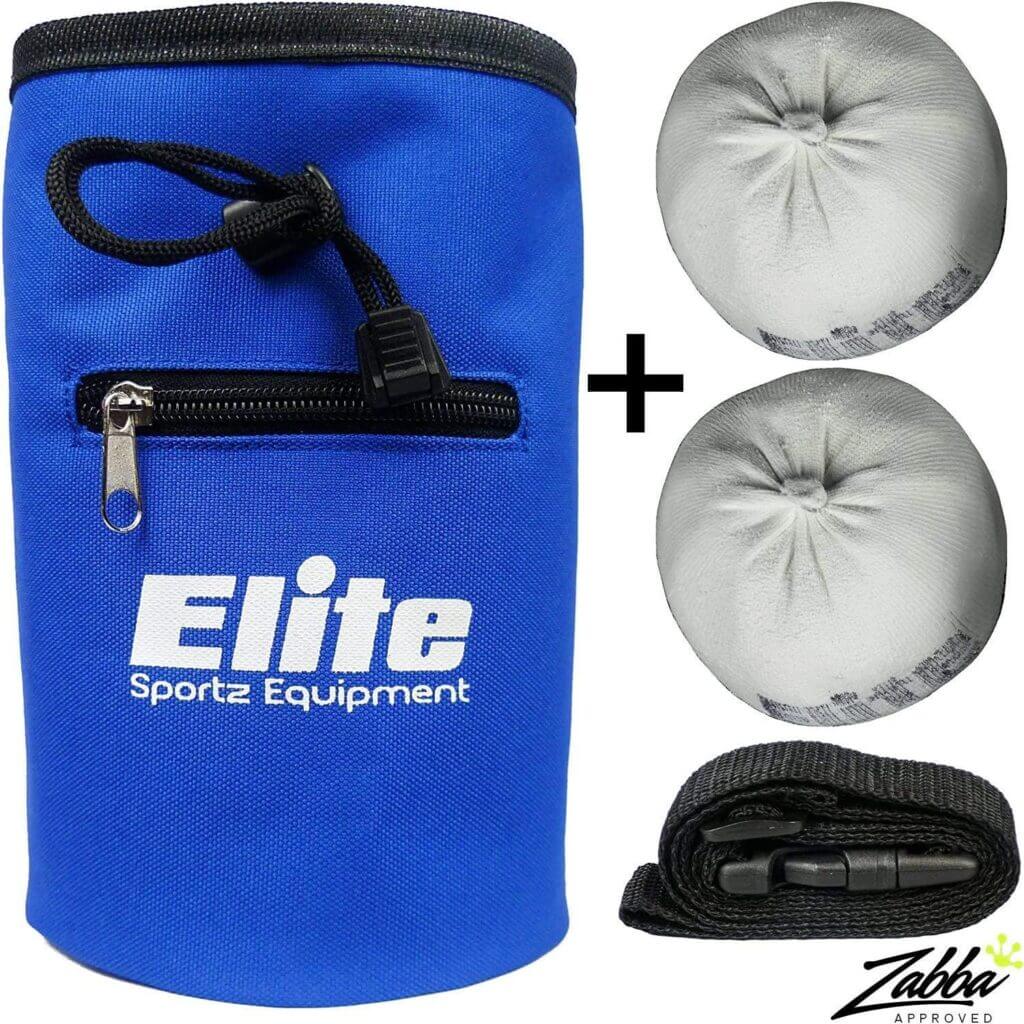 The Elite Sports' rock climbing chalk bag is another top pick from our experts. The bag has made its place because of the quality promise from the manufacturers. And the good news is that it has met the 85% of the climbers' expectations. So, here is how we have found it.
The adjustable belt of the bag also makes it helpful to carry or wear.
The strap is long-lasting. Like Premium quality chalk bags, the bag by Elite Sports has a drawstring string closure. However, it's stiff to pull. Aw yes, it also has a small pocket. So, your mini essentials will be
safer inside.
The bag is also waterproof. Thus, humidity or water vapor will not haunt your chalk stock. You also receive a gift of two chalk balls — a good relationship builder. Overall, it's a good rock climbing chalk bag. However, it is heavier and extensive.
Pros
● Durable
● Drawstring opening
● Good for adults
● A good policy for product return
Cons
● The closure string is hard to pull.
● Not lightweight.
● Few colors available, besides no size options
Final Thoughts
Rock climbing chalk bag is one of the primary gears among your collection. A good, cooperative chalk bag helps you with great relaxation for your adventure. When you look forward to getting your favorite chalk bucket, have one that is sturdy and easy to use. Let us know which bag you love the most by commenting below. Don't forget; these bags can also be a perfect birthday gift for your dear ones who have a taste for bouldering.