Rock Climbing for kids Types Benefits and Tips: Are you wondering why and how your kid should take rock climbing as a sport or activity? Having more knowledge about rock climbing for kids, you can start your kid's training at home and plan to send him to a suitable rock climbing gym.
Bouldering is a demanding activity. Yet, it's a popular activity among health-conscious parents who want their kids to spend more time outdoors instead of screen.
Now it's time to stop worrying because we've got a detailed guide on kids' rock-climbing types, benefits, and tips. So what to do? Give a 10 mins read to our guide; you'll put much confidence in rock climbing as an ideal sport.
Types of Rock Climbing for Kids
You have seen climbers hanging by the rocks, indoor climbing walls, ropes, and snow-covered mountains. But where will your kid be climbing? Rock climbing for kids has many types.
According to his level, your kid can adopt the one that he likes, or he will have to proceed from one type to another. So, let's have a look at how many choices you can make.
1. Indoor rock climbing
You can see the indoor rock climbing as high walls of holds with different styles of challenges, with no weather care. Indoor rock climbing involves two participants or groups of climbers.
Yet, does indoor rock climbing for kids have any other types? Yes, it has.
Top roping involves rope climbing with one end of the rope fixed at the top. While the climbers hang with the rope, and the belayer controls the rope. As the belayer supports the climber standing at the ground, unlike actual climbing, not at the cliff, we also call it bottom roping.
Lead Climbing focuses on the management of rope by the Cimber himself through quickdraws, not the belayer. Thus, it's more advanced and technical. Your aggressive climber will practice it.
Speed climbing is time-bound climbing. And intermediate-level kids climbers love the competition. Thus, it's more motivating.
Indoor dry tooling focuses on mimicking the ice climbing using special shoes and particular ice axes. The ice ax will not have a sharp pick but rubber loops that climbers will use to hook the hold. Thus, with the same wall, your kid can practice the ice tooling.
Indoor bouldering involves climbing practice on artificial climbing walls, boulders, or small rocks aiming at low area climbing. The bouldering needs no ropes. So, the climber can descend from or land on a crash pad.
The boulderers can climb higher, climb down or reach the top, as per the demand of limits.
2. Outdoor rock climbing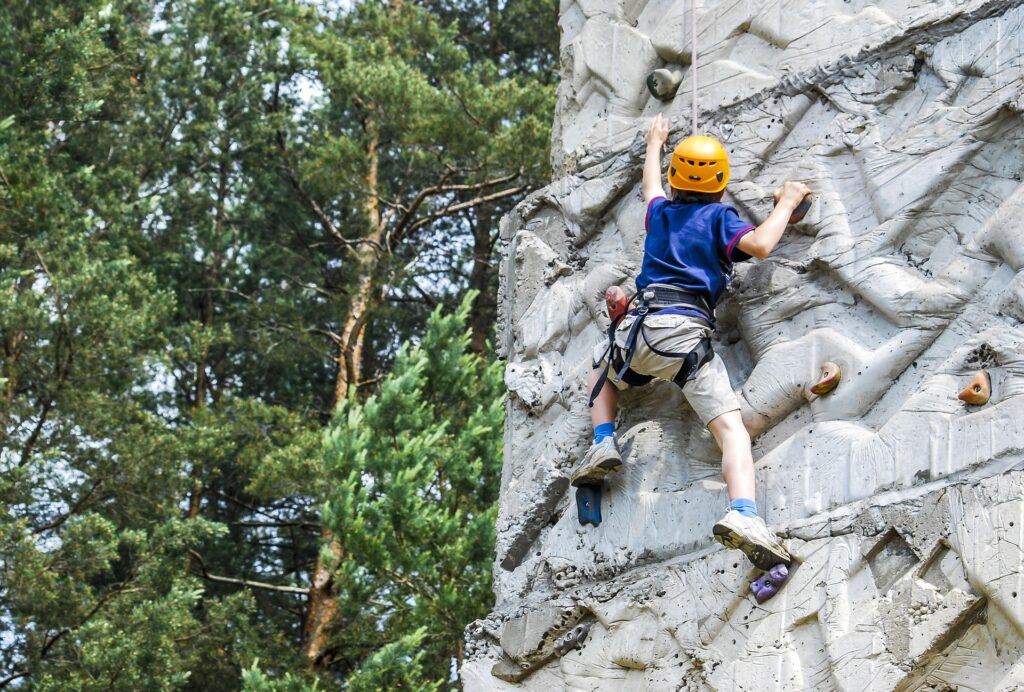 Just like indoor climbing, your kid can have a variety of outdoor climbing activities. So, your kid will progress from one type to another.
Sport climbing is the first step towards outdoor rock climbing for kids after indoor climbing. In sport climbing, the kid climbs, seeking support from the bolts fixed at the rocks, using his quickdraws.
Trad climbing is one step ahead. It's lead climbing. Here, the first climber will place his removable bolts or protections. The second climber will remove the protection following the route. Thus, the climbers leave no holds on rocks — nature stays safe.
Outdoor bouldering is also like indoor bouldering. The difference is only that of the location of walls or natural rocks. The boulderers take their crash pad or mats with them on the site for a safer landing.
Hence, climbing involves a variety of indoor and outdoor activities that your kid can excel in.
Why should kids climb rocks? Benefits of kids' rock climbing
Rock climbing for kids is adventurous and demanding, then why should my kid take it to? The answer: life is too.
Rock climbing is matchless, for it prepares kids for life through their equal mental, physical and social development.
Physical health benefits of rock climbing for kids
When you make a careful selection of diet for your kid, you want a healthy development. Similarly, by choosing an activity, you want them to grow healthier and more robust. For this purpose, rock climbing helps with many benefits.
●   Enhanced coordination
Rock climbing involves the coordination of hand, feet, and vision. Thus, the excellent coordination of muscles and organs helps in the development of refined motor skills.
●   No gym full-body workout
You'll find no activity that diminishes the need for a gym. Yet, with rock climbing, your kid gets a full-body workout and excellent strength training. Thus, the development of his core muscles and bones is at its max.
●   Matchless flexibility
Swinging, catching at holds, and struggling with rocks infuses excellent flexibility in your child's body. Hence, he attains an athletic body.
●   Improvement in balance
Your kid progresses a remarkable ability to balance himself while fighting with the rock pockets and ropes. In this way, rock climbing for kids is highly valuable.
●   Great cardiovascular activity
Rock climbing also improves the organs' health. It boosts the heartbeat rate during the struggle. Thus, cardiovascular and lungs' health also gets better.
●   More efficient immunity
Rock climbing incorporates physical health to improve the immune system. Hence, your kids' body gets better resistance against diseases.
Psychological benefits of rock climbing for kid
Besides physical development, rock climbing benefits your child with his brain health and cognitive improvement. Some of these benefits are here.
●  Relieves stress
Heavy assignments and scores demands always keep kids under pressure. In such a case, a heavy activity with much need for focus helps the kids be mindful and leave the worries aside. Similarly, rock climbing helps relieve stress in your kid by releasing norepinephrine.
●  Helps mental development through a meditative effect
You'll be sending your kid to school, meditation class, sports club, and gym? No, you don't need it.
Rock climbing allows kids to have extreme focus. In this way, besides enjoying a sport, the child learns the primary lesson of meditation: a guide.
●  Builds self-motivation
Most of the time, the climbers look forward to the rugged rocks without competing with others. Thus, your kid becomes goal-oriented and ambitious. Hence he can excel in other fields of life as well.
●  Problem-solving and decision-making skills
You can't teach your kid when he is swinging by a cliff. He solves the complexities of rock climbing and makes his own decisions. In this way, what he learns is all about adapting the right strategies and choices.
●  Excellent memory to outdo academics.
Studies have shown that intensive activities with more demand of focus and time help working memory. Thus, the kids also perform superbly in their academics.
●  More confident child
Overcoming the challenges, the kid gains matchless confidence. He feels he has conquered life — you want so. The very spirit and confidence help him move unshaken in life later on as well.
Social benefits of rock climbing for kid
Excellent cognitive and physical development are indeed outcomes of rock climbing. Besides these, your kids get social benefits.
●  Cooperation and coordination
Rock climbing is a sport of dependency as well. The kid has to trust his team members as well, like the belayer. In this way, he learns to trust, coordinate and cooperate with others at an early age. Thus, you can help your child become an active member of society as well.
●  Teamwork, fair play, and friendship
Your kid becomes a part of the climbing team by adopting rock climbing for kids. The friends help, cheer, and celebrate the success of their fellows.
Being a part of top competition and realizing the need for cooperation, your kid learns the importance of fair play. It also helps your kid establish friendships on a deeper level of trust — long life needs.
●  Communication skill
With no excellent communication skills, your kids can hardly excel in life. Therefore, the development of communication skills from an early age can help me strive. It is what rock climbing does for your child.
Exchange of statements and commands between the climber and the belayer during such a hard time with total clarity is excellent for communication skill development.
Benefits of kids rock climbing for special children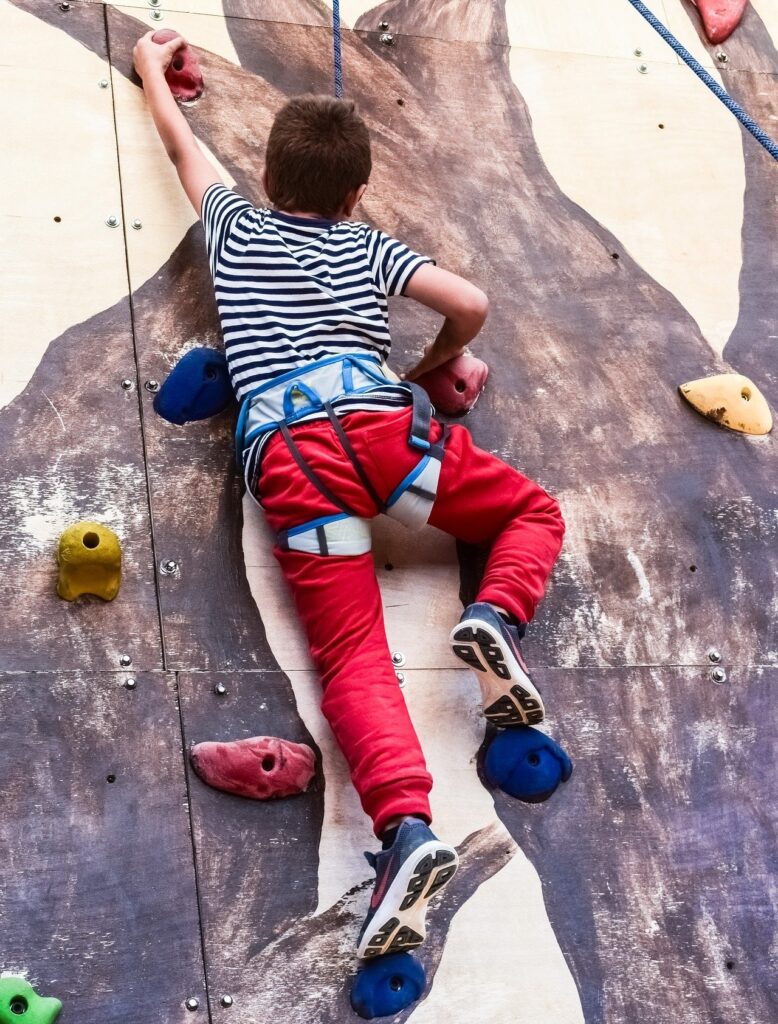 Can rock climbing help your child with special needs? Yes, of course…
Here is how magnetic sport can help your kid overcome physical or mental challenges.
●  Sensory development
Kids with sensory disabilities need a specialized activity to allow them out to improve their senses. For this purpose, rock climbing can fit the best, for it helps the kids to uncover their potential through repetitive use of senses, motivation, and focus.
Hence, a kid with sensory needs can take rock climbing — no matters whether he is struggling with vision or speech.
●  Physical disabilities
Should a kid with a physical disability take rock climbing? You must have seen physically special children becoming part of more demanding activities and taking part in Olympic games.
The reason is vigorous sports like rock climbing strengthen every muscle and organ of the body. Hence, it can improve the muscles' strength, flexibility, and movement. Instead of spending time in seated activities, vigorous sport can help your child better.
●  Cognitive disabilities
Can you expect me to say that rock climbing for kids can help them improve their cognitive disabilities? Yes, you can.
For any child with a disability, kinesthetic learning is necessary. Rock climbing fully involves the function of the brain in cooperation with limbs. Hence, your kid learns decision making, problem-solving, and overcoming his fears of insufficiency, in the true sense.
● Speaking or communication disabilities
Kids with communication disabilities can overcome their problems by processing and responding to the instructions during the play. When the kid is engaged physically and mentally, he can forget about deliberate efforts of overcoming his issue.
In this way, he'll remain much concerned about staying motivated to achieve his goals and use his communication as well. The repetitive communication will help to condition his speech ability.
Kids Rock Climbing Safety Tips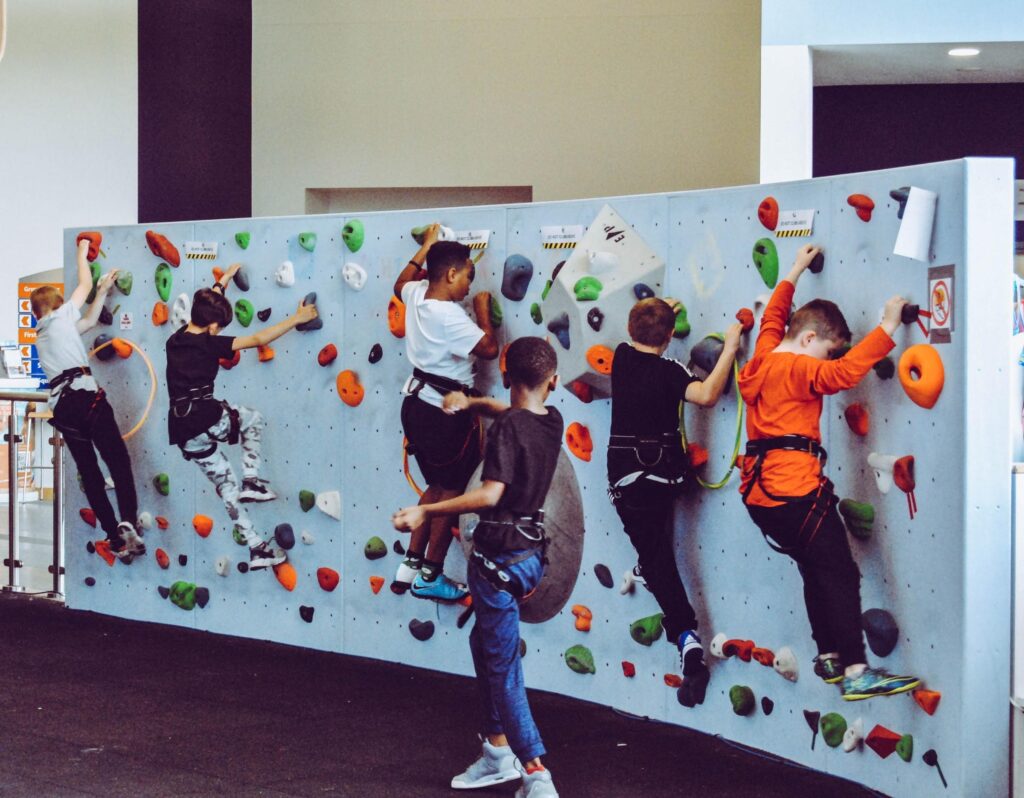 Is your kid a climbing enthusiast, and you keep on worrying about the safety tips you can help your kid adopt at home?
The climbing passion does not rest at the gym simply. It begins from home when your child is a toddler, and so on…
You also get him an indoor climbing wall at home or climbing toys as a toddler to support him. Therefore, you look for rock climbing safety tips when you teach your kid rock climbing.
Making your child disciplined helps him move for outdoor or indoor climbing comfortably as well.
Pre rock climbing safety tips
Your kid might be bouldering indoors or at nearby rocks. To start each climbing session, make your kid follow the rock climbing safety rules first. For the rules, you can also make a checklist. So make your kiddo:
Check all the rock climbing gear, shoes, and the helmet for any type of wear or tears, no matter whether these are new or old, or you used them last day.
Check all his ropes for any knot, deformation, or damage.
Check the climbing wall holds for any loose screws or breakage. No matters how confident you're, a check is better than a severe injury.
Use the shoes specifically for climbing only, for he'll need support for pockets.
Inspect the floor for a safe landing, e.g., placement of crash pads.
Tie his figure-8 knot.
Check the ropes and knots properly. Also, carry more rope during outdoor rock climbing.
Rock climbing safety tips
As your kid heads towards rock climbing, the proper indoor rock climbing rules are necessary to follow. The same is when you take him outdoors.
Nothing is more harmful than overconfidence. Teach your kid to use all his necessary equipment: harness, rope, helmet, and shoes. Though for a toddler, wearing shoes is less desirable, you can get him rock climbing shoes and a helmet as soon as the size is available.
Never allow your kid a fast adventure.
Kids love the monkey business. However, it can lead to non-seriousness — unaffordable. So, make your kid use his wall supports instead of a rope for rest.
At the initial stage, a practice of falling and landing is helpful, for it needs any time. Therefore, from the age of a toddler, help your kid learn proper falling.
Kids usually try to check the rocks by breaking them. Let your kid not do so. It can cause injury to the feet or hands.
While climbing, make sure that your kid has the rope by the side of the leg, not between the legs. A free placement makes the rope control easier.
If your kid is just practicing climbing at your built indoor climbing wall, he must use his harness, rope and helmet, and other gears. The reason is the discipline begins from an early age, which prevents unwanted situations.
Get your kid to practice break after fixed intervals because fatigue can cause more dangerous outcomes.
Kids want to boulder high. However, don't allow high bouldering at the initial stage.
Kids are prone to idle hand play. It's too dangerous. So, keep a check your kid doesn't play with his harness belts, ropes, or holds, etc.
Rock climbing safety tips: Parents must care about
Here are some more safety tips for rock climbing for kids, you need to take care of, especially outdoors or at the gym.
Kids, being zealous, try to make less safe moves. Teach your kid to take the climbing decisions seriously and safely.
Always stand as a spotter to help your kid fall. And also, teach your kid to call from it before landing.
Restrict your kid's climbing route to prevent bouldering under or over another climber. This way, you can avoid an injury because of a fall or rock breakage.
Placing the climbing gears near the wall is a tremendous mess in fall zones. So, get your kid put them in the proper place, away from the wall.
When your kid is climbing outdoors, be mindful about the whole environment: your kid and other climbers as well.
It sounds nice, like cheering and screaming. However, at a place where focus wins, avoid your kid making such yelling. For this purpose, your first step will be from home.
Whenever your kid climbs at home or outdoors, he must seek your permission. It'll keep him noticed.
My child loves to run as much as he does climbing… However, it's more disturbing for others and himself. So never let your kid run around. If you are climbing outside, you can engage him with some other activity away from the wall if he isn't climbing.
Don't allow your kid to enjoy his food near the wall. The wall is for climbing only.
The climbing rules for climbing kids' parents are also likewise. You can help your kid become a lifelong climber by teaching your kid to follow the rock climbing discipline from an early age.
Bottom line
Rock climbing for kids is a perfect prep for life. Your kid attains all the benefits of climbing physically, mentally, and socially, which can help him become a winner in the race of life. So, you can start his climbing lessons from home and broaden his learning outdoors if you teach him proper safety rules and tips.