Do you want to make the proper selection of kids rock climbing holds for your kid's climbing wall? You cannot merely get the holds.
There are many holds available online yet, the options vary. You need to know how and where you'll be using the holds. The reason is the hold varies in shapes and sizes, material beside the area you'll use to place the holds.
It's why we've got you the full guide to get suitable climbing holds. You can pick the climbing holds by reading this guide for the next 10 mins. Let's get started with our detailed guide.
Best 15 rock climbing holds
[products category="208″  columns="4″ limit="16″ orderby="popularity" order="DESC"]
I get commissions for purchases made through links in this post. View our Affiliate Disclaimer.
The Kids Rock Climbing Hold Buying Guide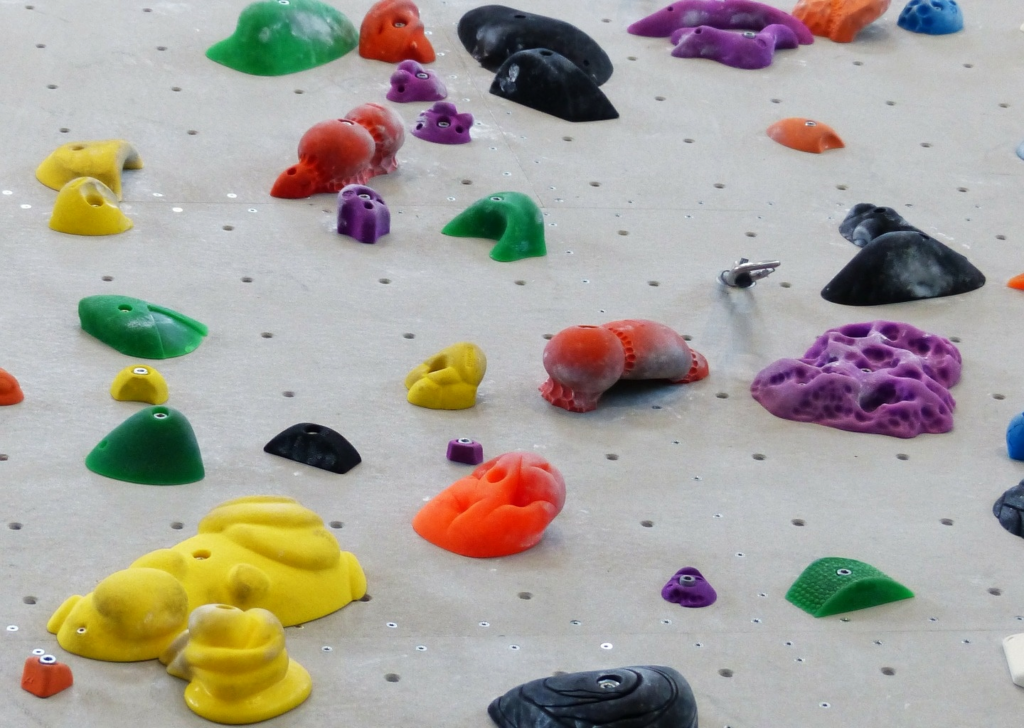 To choose the best kids climbing holds, you need to consider many things. By paying attention to these factors, you can make optimum utility in kids' climbing walls.
You have already budgeted a good amount of money on wall construction. What if the kids cannot use the wall properly for the size or number of holds?
Let's see what questions can help you with your successful purchase. Yet, keep in mind, a rock-climbing wall is an investment. So, be flexible with your budget.
1. What size and type of holds do you need?
The holds' size directly depends on the age, limb size, and expertise of your kid. For example, if your kid is a toddler, the smaller hold will be better.
Similarly, close placement will allow him to catch the nearby hold for the next move.  In contrast, if your kid is already going to a climbing gym, he has enough training.
So, he'll need the kids rock climbing holds placement according to his training needs. For this purpose, you can consult his coach and get suitable holds. Therefore, in our selection, we'll also tell what type of holds will meet the specific training needs including jugs, crimps, slopers, etc.
2. What Texture of the kids climbing hold is suitable?
Smooth, even, or rough, you can get a variety of textures in climbing holds. Which one you should, doesn't matter a lot.
However, if your kid has joined a gym, he can tell what type of hold he wants. Otherwise, for your toddler, you can make a mix of the holds for the training variation.
3. What holds will be comfortable for your kid?
It's a big question, especially when your kid is a toddler or a beginner. Generally, it takes time to learn the individual grip preference and nature of your kid's movements on the wall.
Therefore, add a variety of different grips to allow your kid to move comfortably on the wall besides serving as footholds. Hence, you can place various holds of different textures and grip by combining them evenly on the wall. For this purpose, your intermediate kid can also help you.
4. Single hold vs. multi-grip hold, which should you choose?
Not all holds are the same. Some holds like jugs give a single grip option. Yet, some others have more embedded holding options — versatility.
So, by aiming at versatile holds, you can add more toughness, a variety of challenges for your kid for the best training. Finally, you'll not need to replace the holds sooner.
5. How much area of the wall do you have?
The wall area is essential to care about for selecting the size and the number of holds. For instance, if you have a giant climbing wall, you can place larger and smaller holds equally. In contrast, if you place larger holds in a smaller area, there'll be no place for the smaller.
Eventually, the wall won't offer optimum training for your kid. Instead, by placing a smaller hold on a smaller area, you can make the bouldering training more challenging for your kid.
6. How much fun do you want to add?
Fun is inevitable when you want your kid to practice regularly. You can pick the kids climbing holds of different shapes even though you think unnecessary. In our guide, you'll also find some fun-filled climbing holds.
7. Are you flexible with the budget?
You care little about the budget when you've already spent a lot on the wall construction. Simultaneously, you don't want any compromise on the holds.
Still, you can cut on the budget. How?
The larger holds are expensive. Yet, the smaller ones are pocket-friendly. So, if your kid is a beginner or intermediate, you can just buy smaller holds. Likewise, if you have a more oversized wall but your kid is younger, you can place a hold on a smaller area. Thus, you can cut the cost.
14 Best Kids Rock Climbing Holds for Climbing Walls
It's pretty clear how you should select the right holds for your kids climbing walls. You'll find our collection for toddlers to expert kids. So, let's get started with our group of kids climbing holds.
1. IFOYO Rock Climbing Holds, 20 Large Climbing Rocks Set for Kids Over 4 Years fit for Plywood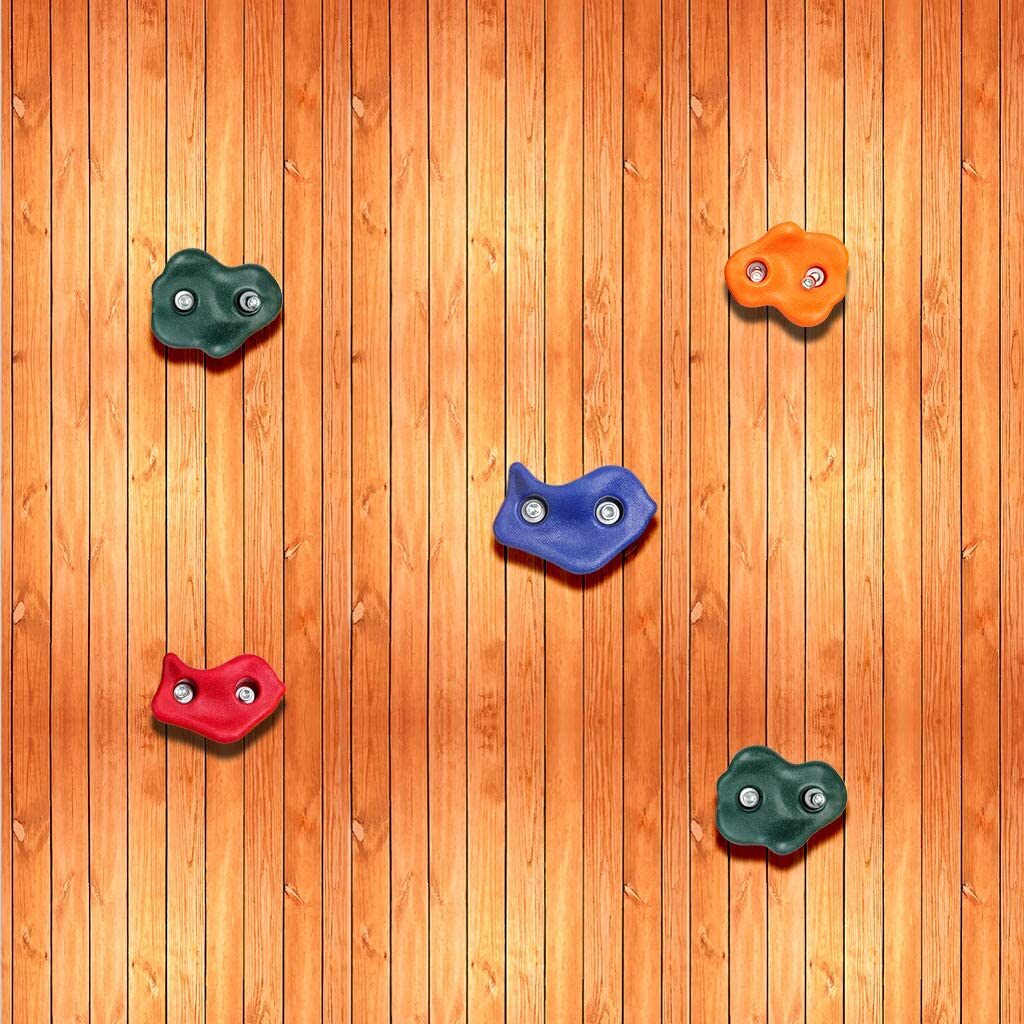 Beautiful kids climbing holds are superb for the early climbing experience of your toddlers. Your kid will love the variety of colors you'll bring from him under a budget.
The durability of the climbing holds is incredible. Besides this, the holds can bear a weight of up to 60 kg. So, your plump child of 8 can also enjoy the beginning level training with the holds.
The bolts have an average length for the installation. So, you can fix them on plywood quickly.
In short, the holds are suitable for toddlers' use at home.
Pros
String holds
Longevity
Good for toddlers
Cost-effective
Cons
Not for commercial use.
Not for concrete walls
Not for outdoor walls
Do you need climbing holds for your motivated toddler or elderly child climber? The climbing holds by Sekkvy is what you wanted.
The holds can bear a weight of up to 100 kg. So, your kid from any age can use it.
The bright color of the hold will add more beauty to the playroom of your kids. Besides this, the stainless steel hardware will help the holds withstand rain and weather. Hence, you can also install the holds on outdoor rock climbing walls for kids of up to 2 inches thickness.
Pros
Beginner level grip
Rust resistance
Pocket friendly
Durable
Cons
●    Lack versatility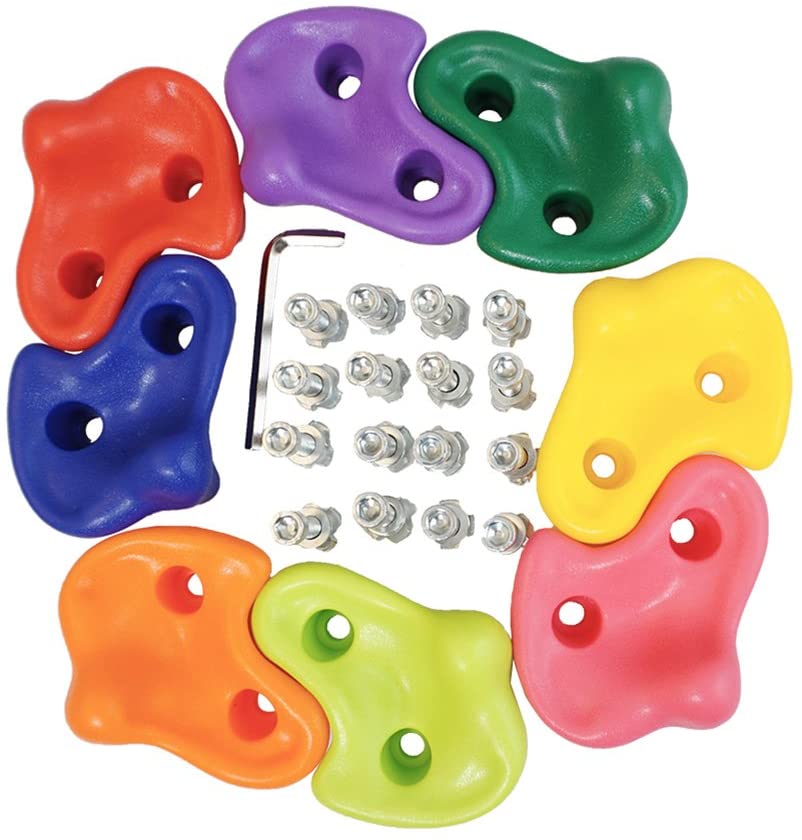 Want to add some small climbing holds for the little hands for your 3-5 years or kid? The Happy Pie beautiful climbing holds will be enough.
You can easily install the holds on a small wooden climbing frame. The rock climbing introductory holds are smooth.
So, your kid will feel no irritation. Similarly, the holds have a very basic structure for developing a love for climbing.
You can also set the hold on the other toys in your kid's playroom. Overall, the holds are excellent if you want to raise your kid as an expert climber later.
Pros
For early grip
Durable
Fun colors
Cons
Not for commercial use
For indoor climbing wall only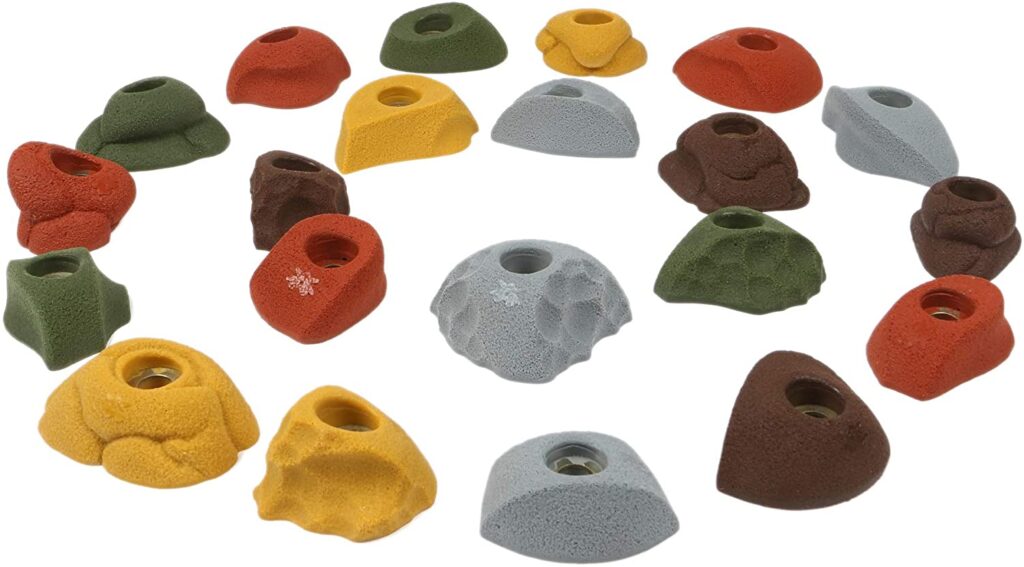 Do you care that the little hand should have an excellent grip? Among our best kids climbing holds list, the holds from Atomik are of all-rounder type. The holds have rough surfaces to allow superb hold.
You can vary the hold position for the level of difficulty you want to have. The placement of the holds is also effortless. You can see that the zinc screw will last longer with a fantastic grip.
The polyurethane material of the hold is also durable. So, use the holds for kids of up to 12 age with no word of breakage.
Pros
Better grip
Durable
For indoor and outdoor climbing walls
Cons
Not for teens
Not bright colors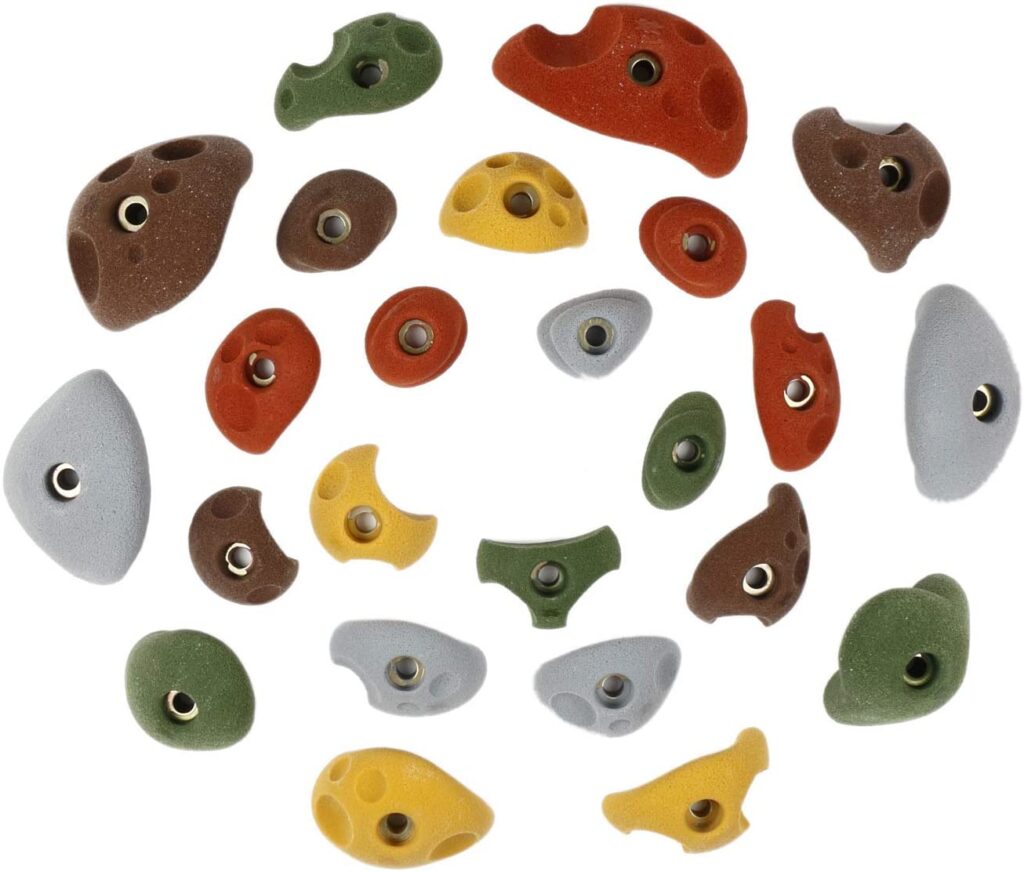 Are you building a climbing wall for your preschooler kids? Finding powerful kids rock climbing holds can be an enormous challenge.
The reason is, a gigantic wall for over one kid means to ensure safety too. For this purpose, the set of 24 holds from Atomik is perfect.
You can make worry-free use of the holds for your commercial walls. Add these holds on your kids' climbing wall at home when the entire family has a craze for climbing.
For your oversized wall, you can also get more sets. Though the holds are expensive, yet you'll enjoy the value you'll get.
Pros
Excellent grip
Will last
Perfect for commercial and non-commercial use
For indoor and outdoor walls
30 days return policy
Cons
No bright colors
Not for older kids
Costly
You don't want to buy a set of large numbers of holds? Or you want to make only an addition to the already built kids rock climbing wall?
The under budget holds by Crystal Lemon are for you. You have the freedom to buy the holds in a set of 10-20 holds.
The material of the holds is strong to carry the weight of young kids. Besides this, the material is also health-friendly.
The holds are for the wooden walls. On the other hand, the plastic can resist UV rays, yet the screws might not bear weather. In short, the holds are for indoor walls or portable wooden walls.
Pros
For early climbing grip
No toxicity
UV protection
Cons
Only for indoor or portable walls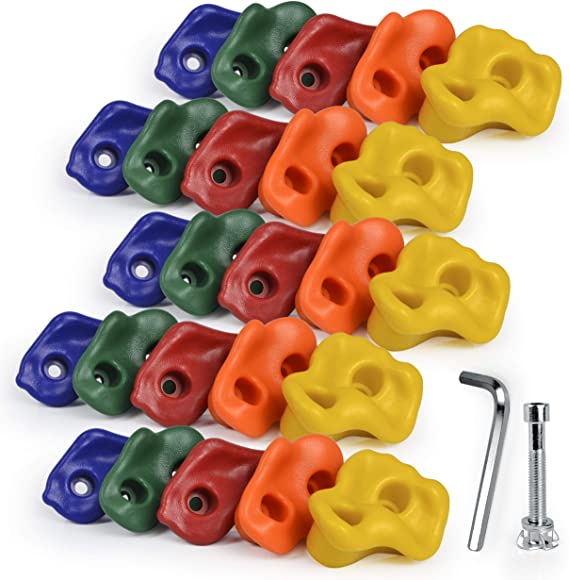 Do you want long-lasting holds for outdoor climbing walls? Bright color, weather bearing holds are an excellent choice.
You can also use these BPA-free, skin-friendly holds on indoor kids climbing walls. The holds have incredible strength of carrying up to 440lb. Thus, your teens can easily use the holds.
The sets also include the nuts and bolts. As the bolts' length intends to suffice thick walls, you can cut them if you look forward to fixing them in the ¾ plywood DIY climbing wall.
Pros
Long-lasting,
Beautiful colors
For indoor use
Cons
No rust-resistant bolts
Larger bolts
8. Escape Climbing Starter Pack | 51 Premium Plastic Rock Climbing Holds Designed for Beginners | Full Set
Are you looking for supreme quality premium holds for full climbing training? The pack of 51 holds with all the jugs, crimps, and pinches will help you set a complete route to train your young climbers reach the top.
Among kids rock climbing holds, the holds are incredible for durability and versatility. The whole suffices for strength and endurance training in the best way.
The holds have material. So, you'll be happy when your kid will climb over the years.
All the kids rock climbing holds are of compatible sizes. So, if you want to add a giant size jug, consider the jugs that you'll find in our collection later on.
Pros
For domestic and commercial use
Sturdy
Cons
Needs larger jug
No variety of colors
Pricey
Do you want to add a complete climbing experience of gyms at your small kid climbing wall? The Slacker's climbing hold set is an excellent choice.
Your set includes pinches, climbing holds, and jugs of different sizes. Thus, you'll not need an extra jug for the center as well.
For more fun, the manufacturer has also added three ropes. Thus, emergency support will also be available to aid his escape.
The holds are quite sturdy. So, you need not worry about the age or weight of your kid.
To conclude, the excellent kids rock climbing holds kit is the best choice for hard climbing training at home.
Pros
For max training
Longevity
Value for money
Nice colors
Cons
Bolts might not bear the humidity in the long haul
10. 12 Medium Dripstone Jugs – Bolt-on kids Rock Climbing Holds | Climbing Holds | Orange
Want to turn the kids' climbing wall into a perfect climbing wall like that of gyms?
Jugs are necessary. So, you can get the bright color, easy to locate Dripstone jugs. The mini jugs will help your kids' climbing training.
The jugs' texture is smooth. Thus, it'll not hurt the kids' sensitive hands.
The holds can fight the weather. However, the nuts and bolts might not. So, use the hold on indoor walls or portable frames. In a nutshell, the product is excellent.
Pros
Perfect support
Long-lasting
Nice color
For intermediate climbers
Cons
Is it you need the jugs to add to your large climbing wall to bring the best climbing experience for your beginner-level young one?
The simple orange jugs will be fanatics. The jugs are easy to install.
You can add the holds on vertical, and 45 degrees tilted walls for intermediate-level training. Thus, the hold can fit not only your climbing wall at home but the commercial usage as well.
Pros
Cons
Not for teens
Not bright colors
12. Escape Climbing 10 Screw-On Jugs Holds Designed for Beginners

At the beginner level, the basic jugs can help to master the escape training. For this purpose, the simple jugs are the basic need of your little master — crazy beginner.
You can get the simple jugs. The jugs' structure and design are uniform. So, you'll not need to think much about the placement, even on your 50-degree wall.
The jugs are better for plywood walls, not for the drywalls. In short, the jugs lasting that commercial climbing walls also love to have them.
Pros
Cons
What if we say the more natural experience you have to the wall, the better training your kids will get? You'll agree…
It's why we have added the unique holds that create a perfect rocky crack for the expert training of the kids' hands. Your teens can also use the crack holds.
The holds are so strong that you'll love them over the years. If you aren't packed with the budget, you can add the holds from our best kids climbing holds list.
Pros
Unique
Perfect for expert-level training
Lasting
Cons
Have you got a happy tree in your backyard? You can amaze your kid with the fun of climbing trees by bringing the climbing hold out of his playroom.
NNNNo, you need not pull out those kids climbing holds. Instead, you can buy these climbing holds for your kid.
The holds from Ninja are easy to put around the park tree. Hence they are portable as well.  So, if you ever want kids climbing parties in your backyard, make it a memorable party.
Besides this, the permanent placement will allow your kid to practice his climbing training outdoors whenever he wants it. The reviews for the product seem disappointing, yet they might not have availed of the refund policy. Besides this, they are also unverified purchases.
Pros
Portable
Refund policy
For toddlers to more senior kids
Cons
Final Thoughts
Creativity, fun, and learning have no limits. By making a mix of the holds, you can make the personalized kids climbing wall.
The expenses can be higher. However, the climbing gym fee and the traveling cost are more elevated. So, you can comfortably maximize your kids' rock climbing training by customizing the walls.
You have got a variety of climbing holds according to the needs and age of your kid. Which are your favorite kids rock climbing holds? You pick more than one….!!!
*This page may contain affiliate links. I get commissions for purchases made through links in this post. As an Amazon Associate, I earn from qualifying purchases. View our Affiliate Disclaimer.