Do you want to raise your kids' fun and expertise to the next level with rock climbing games for kids? Fun is not the only aim.
You need a variety of climbing games to deal with the various climbing issues the kid faces. For example, some games help with memory, others with flexibility and strength issues or footwork.
In this article, we will discuss each type of game in connection to its benefits as well. Thus, you'll easily pick the game that can help you train your kid. So, let's explore our collection of rock-climbing games.
Rock climbing games for kids and toddlers: up to age 7
Toddlers are eager climbers. Yet, you want your kid to learn to climb without getting bored. You can also use various rock climbing games for kids and toddlers to help your kid in his early academics.
So, to help you train your little climber more efficiently by working on specific areas, we have got you simple climbing games. Let's read what these are.
1. Blindfold climbing for communication focus and meditation
Does your kid overlook your verbal instructions? The game can help you deal with your kid's focus issue — common for toddlers to older kids.
To play, blindfold your kid and ask him to practice climbing the wall following your suggested route and holds.
You can try blindfold climbing at the lower area after making sure all the rock climbing safety rules. Be careful…. Your kid should not try the game in your absence.
2. Number or letter routes for academics
Is your climbing kiddo struggling to learn numbers or letters at school? Blending his academics with his passion can help him learn faster.
For this purpose, you can carefully notice the various routes that he uses to climb. Then, design a problem for him by placing specific numbers or letters he finds hard to learn at the holds.
Thus, you can ask him to climb and advise him to identify the number or letter to help him climb. You can use sticky notes to mark numbers or letters by the side of the holds.
3. Beta route for memory improvement
Memory issues are common for kids, do you agree? You can use beta routes among rock climbing games for kids to help your kid with memory issues. If your kid is a solo climber, you can make a note of his route.
Then ask him to recall and follow the same route. Similarly, if you have your kids' climbing friend, you can design a game to follow each other's routes exactly in each session.
4. Simon says to improve creative thinking.
We call it pure instructional climbing, which places minor challenges before the climbing kids. How to play the game?
The kid will catch hold of the wall with four of his limbs: Two hands, and two feet. Then you'll ask him to move towards the next hold using his foot or hand, saying, "move your right hand," etc. Thus, the kid will continue climbing.
5. Octopus game for stamina and strength
Flexibility, hand or feet grip, and hanging stamina building is essential at an early age. Your kid can achieve strength and grip by playing the octopus game.
For this purpose, your kid should hold a jug on the wall, then reach other holds, maintaining his grip on the same jug. You can score his effort for motivation. Over one player can also take part in the climbing game.
6. Search prop game for more joy
Do you simply want to add fun to kill boredom? You can place various toys, items, and objects like balls, hats, or puzzle pieces on holds at varied distances on designed routes. Thus, locating or reaching the things the kid will remove them.
You can make the game more challenging by telling the kid to approach each item, maintaining the specific position of feet. Similarly, for multiple climbers, you can instruct individual climbers to collect a particular item only.
Rock climbing games for Kids: above 7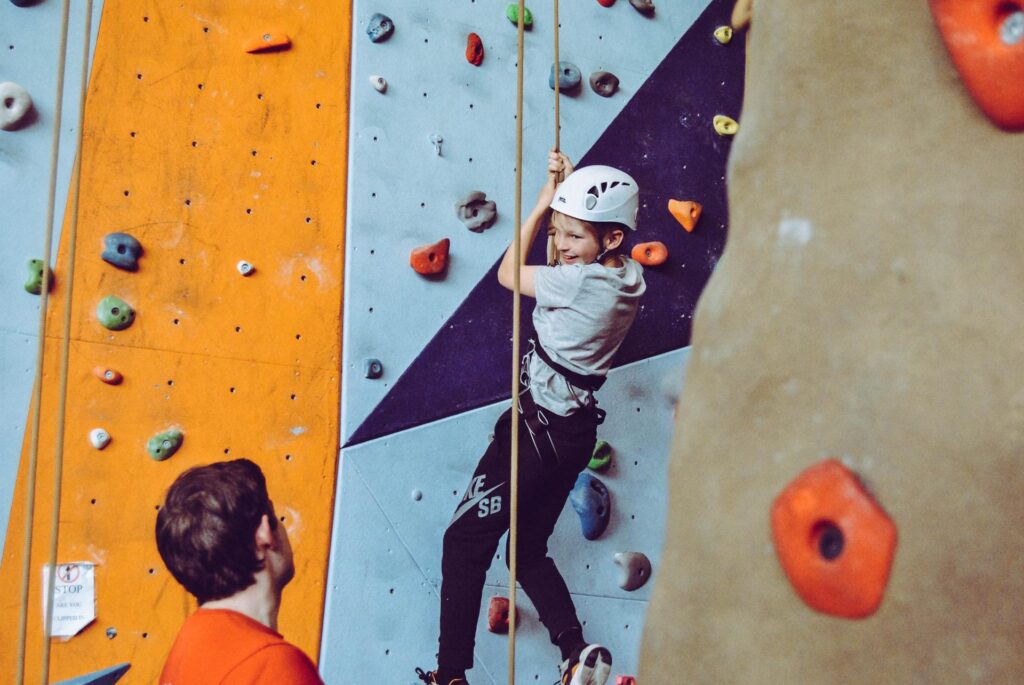 Indeed, many rock-climbing wall games for kids at a beginner level can also help those at intermediate or expert levels. Yet, these games will serve more pleasure.
Here, we will see what games can help climbers at the intermediate or expert level. Besides this, the games also have playing options, e.g., solo climbers, two players, or groups.
Your kids can play all the rock climbing games for kids at indoor or outdoor climbing walls at home or gym.
1. One arm or leg for critical thinking or a focused limb
The game focuses on the use of one leg or arm to reach the holds. This way, the climber thinks critically and reaches the max toughness level. In the same way, you can specify a leg or arm that you consider the kid should learn to improve.
The number of players:
1, 2, or more
How to play
You can decide on the leg or the arm the kid will use for the specific route and height to play the game. At the same time, you will restrict the use of another leg or arm. For one player, you can set a time limit to scale the success.
If the kid is playing with another partner, then the speed or the reaching point can help decide the winner.
Who can play
Kids at intermediate to expert level training can play the game.
2. Add-On Game for learning route creation and memory
The rocks are tough, and the kid needs to learn to devise his route using different rock climbing games for kids. The game is excellent to help the kids think and calculate the challenge.
The number of players:
Over 1
How to play
The game follows a step-by-step turn. Here is how:
First player: First kid will point at the first hold and then reach the second.
Second player: The second kid will follow the same holds, then add another hold by reaching it.
First or next player: The player will follow the same three-holds route and add another hold by climbing it.
The players will continue repeating the whole climbing route by remembering it. The process will continue until a player accomplishes all holds without falling or failing to recall.
Be careful that kids are more enthusiastic, and the game can cause fatigue. So, you can restrict the count on holds.
Who can play
Kids at an intermediate and aggressive level can play this game from our collection of rock climbing games for kids. Yet, if you want your beginner kid to play, you can indicate the next hold and ask him to restart the route by recalling and holding all the holds.
3. Eliminator game for problem-solving
In the game, usually, over one climber takes part. However, your kid, with some modification, can also play solo. Using a pre-defined route, the instructor or partner eliminates a specific hold to make the game more challenging.
Thus, the payer has to figure out the moves to reach the marked point. Hence, the game is excellent for developing critical thinking, problem-solving, and extra strength.
Number of players
One or more
How to play
One climber will define his route by climbing and eliminating one hold. Once found that the route is practical, he will challenge the second climber with it.
If the second climber finishes the goal, he will remove another hold to challenge the first climber. The turns will continue until one completes all routes, and there is no hold left to remove.
You can restrict the removal of holds up to 3 for intermediate-level kids to avoid fatigue.
Who can play
Intermediate or expert kids can enjoy this aggressive climbing game. However, if you want your kid to practice it at home, you can keep his unfollowed route in view and eliminate the holds one by one.
4. Pointer for problem-solving skill development
Just point it out!!! Yes, it's how the game works. The game adds extended fun with significant challenges.
Number of players
One or more
How to play
The instructor, belayer, partner, or you can point at every next hold you think the climbing kid can reach with some level of difficulty. Thus, the kid will keep on traversing.
Once he falls, the turn is over. Thus, the game will continue.
The climbers will decide on success, counting on the number of holds caught. They can maintain the record as well.
Who can play
Climbing kids from any level can play the game. Be careful that the moves should be realistic. Moreover, when your kid plays any game among those rock climbing games for kids, follow all the safety tips for rock climbing.
5. Drag Race for the team playing and motivation
Kids love racing, you know very well. The same you can do when you want them to improve team spirit and a sense of fair play.
Number of players
Ideally, over 2
How to play
The game is simple to play. You can set a practical timer, and kids can climb the route after having sufficient knowledge about a kid's climbing skill. Finally, you can announce the winner.
Who can play
Your single kid can also play the game at home. For this purpose, you can set a timer and record the same repetitive route climbing time. Still, remember that kids must know how speed can be dangerous too.
6. Rock Climbing Tag for speed, endurance, and strength with joy
"Catch me if you can…!!!" It is how tagging works.
The game lets the player enjoy speedy bouldering and build the highest stamina with team spirit.
Number of players
Two or more
How to play
The children will boulder in groups and tag one child. The victim will try to catch another nearby boulderer to tag or touch him. Thus, the game will continue by tagging every other untagged climber.
The game seems speedy, yet there is a rest margin too. The kid who has just tagged another climber can climb down and have a break until the tagged climber catches on the other.
Who can play
Expert rock-climbing kids can enjoy this game.
7. Forced Falls for fall training and win over fear
As the name tells you, the game isn't hard to understand. Fall is a must in climbing, and an unpredictable fall is usually fearful too.
By practicing in the fall, the kid can master his fear and also learn safe landing as much as possible.
Number of players
One or more
How to play
The climber will climb the wall and the instructor, agreed team member, or parent can shout for fall as a command at any point. Thus the climber will manage a fall.
Be realistic and allow your kid to decide if he should fall or not after assessing his safety.
Who can play
Any climber at any age can practice falling. However, make sure that the climber has reasonable control over his rope and comfort with the harness.
8. Hoar's game for fun
What comes to your mind, thinking of dice? Fun, of course!!!
Dice decides the number of holds the kid can climb. Thus, the game is more fun and motivates when the kids feel bored.
Number of players
Two, yet more are better.
How to play
The leader will decide the route for climbing the wall: start and endpoint.
Then, they will roll the dice to see how many holds they can get support. If the first kid reaches the final point, the rest of the team members will have to do so.
Here is the twist, if the first climber cannot meet the challenge, the second kid rolls the dice and leads.
Who can play
Kids at a similar level of expertise can play the game.
9. No hand-to-master footwork
Expert-level kids need extensive hard work with their feet, just like for their hands. The games help the best to make use of feet among our rock climbing games for kids.
Number of players
One
How to play
Select a wall or area of the wall easy to finish horizontally. Then, let your kid traverse without holding with hands.
Who can play
The game sounds fit for aggressive climbers. Yet, you can add the game at initial levels to help kids outdo footwork from early climbing.
Add unbeatable zest and joy to kids' rock-climbing wall games.
Do you think creativity has any limits? No, you'll agree.
So, you can add as much learning as you want by designing climbing games for your kid. If you want your kid never to get bored, you can also get a wall projector to project beautiful wallpapers on the wall.
In this way, your kid will be more energetic, with limitless delight. So, which of the rock climbing games for kids will you want your kid to play on the augmented climbing wall at your home?