Climbing can be an exhilarating and challenging adventure, but it's essential to prioritize safety at all times. Whether you're a beginner or an experienced climber, taking precautions and following safety guidelines is crucial to minimize risks and ensure a safe and enjoyable climbing experience. In this guide, we'll explore 21 climbing safety tips that cover various aspects, from equipment checks to communication and decision-making. By implementing these safety measures, you can enhance your safety, reduce the likelihood of accidents, and fully embrace the thrill of climbing.
21 Climbing Safety Tips to Keep You Safe While Rock Climbing
1. Double-check everything before climbing:
Before you begin your climb, it is crucial to thoroughly double-check all your gear, equipment, and safety systems. Ensure that your harness is properly fitted, your knots are correctly tied, and your belay device is attached securely. Verify that your helmet is in good condition and properly fastened. Take a moment to inspect your climbing shoes for any damage or wear. By double-checking everything, you minimize the risk of overlooked issues that could compromise your safety.
Thoroughly inspect your gear, equipment, and safety systems to ensure they are in proper working condition.
Check that your harness is correctly fitted, with all buckles securely fastened and straps adjusted properly.
Verify that all knots, such as the figure-eight knot for tying into the rope, are tied correctly and securely.
Ensure that your belay device is properly attached to your harness and that it functions smoothly.
Take a moment to examine your helmet, ensuring it is free from cracks, damage, or any signs of wear and tear.
Make sure your helmet is properly fastened, with the chin strap securely tightened.
Inspect your climbing shoes for any damage, such as delamination or worn-out soles, which could affect their performance.
Double-check that all carabiners are locked and gates are closed securely.
Verify that your ropes are in good condition, without any fraying, cuts, or significant wear.
Ensure that any additional gear, such as cams, nuts, or quickdraws, are in proper working order and free from damage.
Take the time to confirm that you have all the necessary equipment for your specific climb, including any
specialized gear required for the route or conditions.
By meticulously double-checking everything before you start climbing, you reduce the chances of overlooking potential issues that could compromise your safety during the climb.
Protecting your head is paramount in climbing. Wearing a helmet specifically designed for climbing provides a vital layer of protection against falling rocks, potential impacts, or accidental falls. Make sure your helmet fits snugly and covers your entire head, including the sides and back. It should be securely fastened under your chin to stay in place during any unexpected incidents.
3. Know your limits and climb within your ability level:
It is essential to be self-aware and honest about your climbing abilities. Pushing beyond your limits can lead to accidents and injuries. Assess your skills, experience, and physical fitness, and choose climbing routes that align with your capabilities. Gradually challenge yourself within a safe range to improve your skills over time.
4. Respect climbing dangers and don't climb over your head
Climbing involves inherent risks and hazards. It is crucial to respect these dangers and avoid attempting routes or maneuvers that exceed your skill level or comfort zone. Be realistic about what you can handle and resist the temptation to take unnecessary risks that could compromise your safety.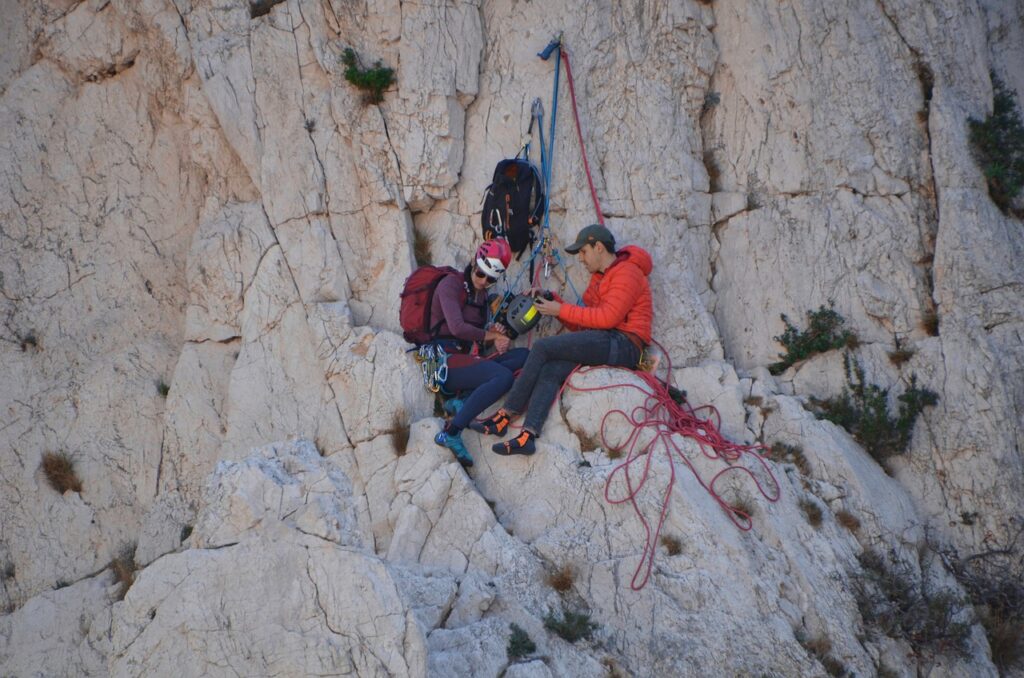 Climbing with a knowledgeable and experienced partner enhances safety significantly. Look for a climbing partner who has expertise in the type of climbing you plan to undertake. They can provide guidance, support, and assistance in challenging situations. Together, you can watch out for each other's safety and make informed decisions throughout the climb.
6. Use sound judgment
Developing good judgment is crucial in climbing. Assess the risks, evaluate the conditions, and make informed decisions based on the information available to you. Trust your instincts and be willing to modify or cancel your plans if the circumstances warrant it. Sound judgment is a vital skill that helps you navigate challenging situations and ensures your safety.
7. Have a plan and know your route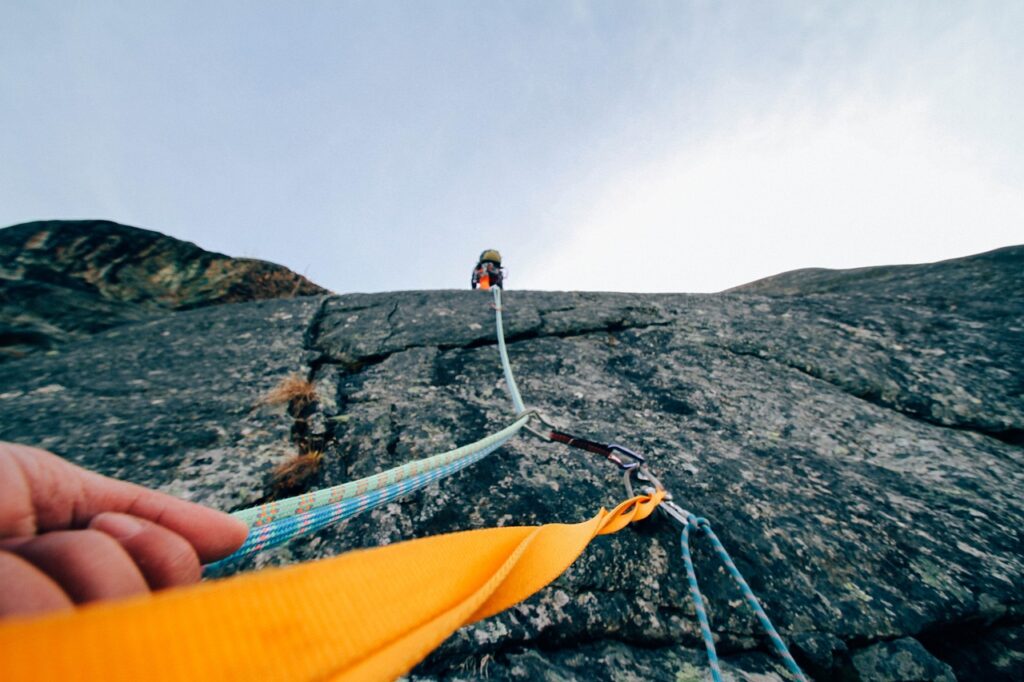 Proper planning is key to a safe and enjoyable climbing experience. Familiarize yourself with the route you intend to climb, including potential hazards, difficult sections, and necessary equipment. Plan your strategy for each pitch, including rest spots and communication points. Having a well-thought-out plan minimizes surprises and allows for efficient and safer climbing.
8. Make sure your group has clear communication terms and knows when to use them:
Effective communication is essential for a safe climbing experience, especially when climbing with a group. Establish clear communication protocols before starting the climb, including hand signals, verbal cues, and any specific terms or codes you will use. Ensure that everyone understands when and how to use them to relay important information or warnings during the climb.
9. Check the weather before climbing: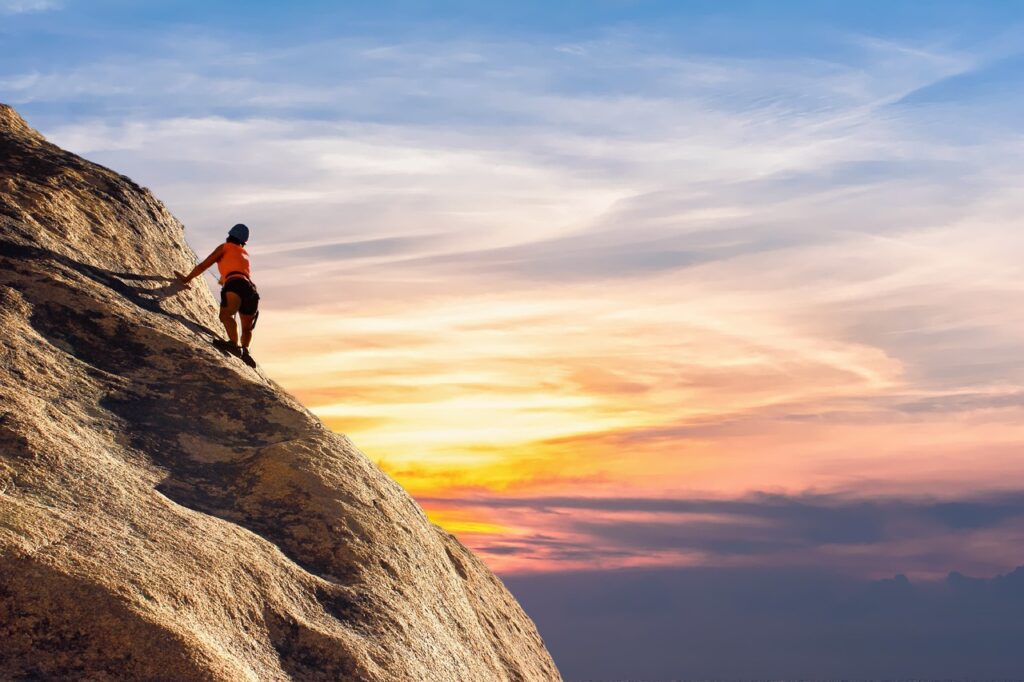 Checking the weather forecast is a crucial step before heading out for a climb. Unfavorable weather conditions, such as high winds, lightning storms, or heavy rain, can significantly increase the risks associated with climbing. Stay updated on the latest weather information and make informed decisions based on the forecast. It is better to postpone or reschedule your climb if adverse weather conditions are expected.
10. Conserve energy when possible:
Climbing can be physically demanding, and conserving energy is vital for both safety and enjoyment. Use efficient climbing techniques, such as using your legs to support your weight and conserving your upper body strength. Take breaks when needed and pace yourself to avoid becoming excessively fatigued, as exhaustion can compromise your focus, decision-making abilities, and physical performance.
11. Use your legs to support your weight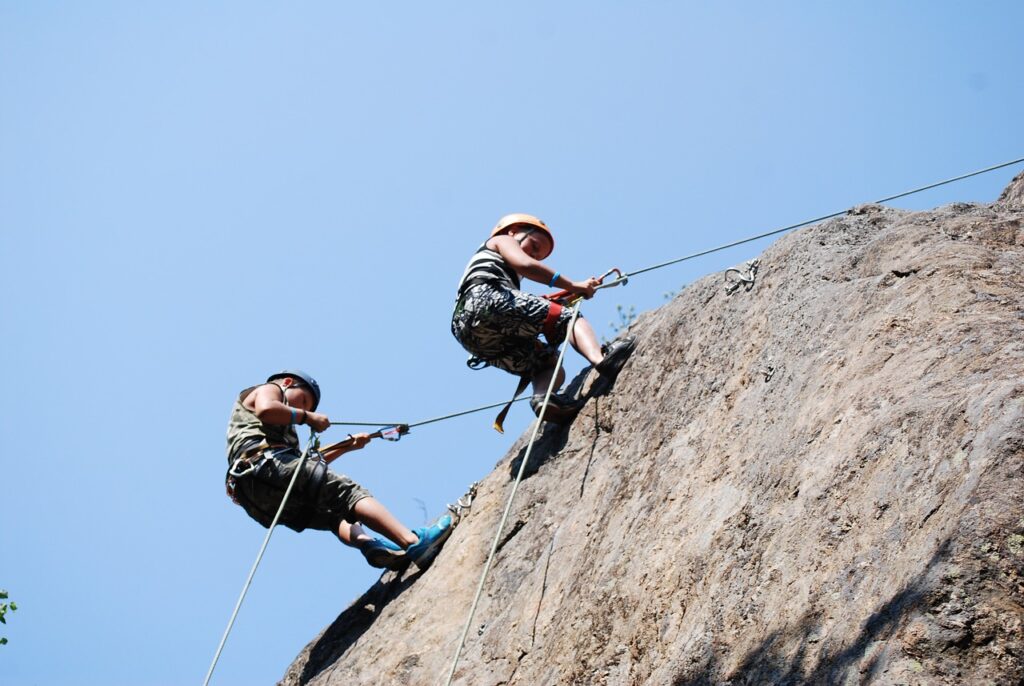 Proper weight distribution is essential for stability and energy conservation while climbing. Engage your leg muscles and use them to support your body weight whenever possible. This takes some of the strain off your arms and hands, reducing the risk of fatigue and improving overall climbing efficiency.
12. Pace yourself when climbing to prevent fatigue:
Climbing can be physically demanding, particularly during long routes or multi-pitch climbs. Pace yourself by maintaining a steady and sustainable rhythm. Avoid rushing or pushing yourself too hard too quickly, as it can lead to premature fatigue. By maintaining a steady pace, you can conserve energy and ensure you have the endurance needed to complete the climb safely.
13. Always maintain 100% tie-off while on the tower:
When climbing towers or any elevated structures, it is crucial to stay connected and maintain 100% tie-off at all times. Use appropriate safety equipment, such as harnesses, lanyards, and ropes, to secure yourself to the structure. Even during transitions or while adjusting equipment, ensure you are continuously tied off to prevent falls.
14. Maintain a good climbing form and rhythm:
Developing and maintaining proper climbing form and rhythm contribute to stability, balance, and overall safety. Keep your body positioned efficiently, maintain a relaxed yet focused posture, and use smooth and controlled movements. Find a rhythm that works for you, allowing for a consistent and efficient climbing style.
15. Properly wear, inspect, care for, clean, and maintain your personal protective equipment (PPE):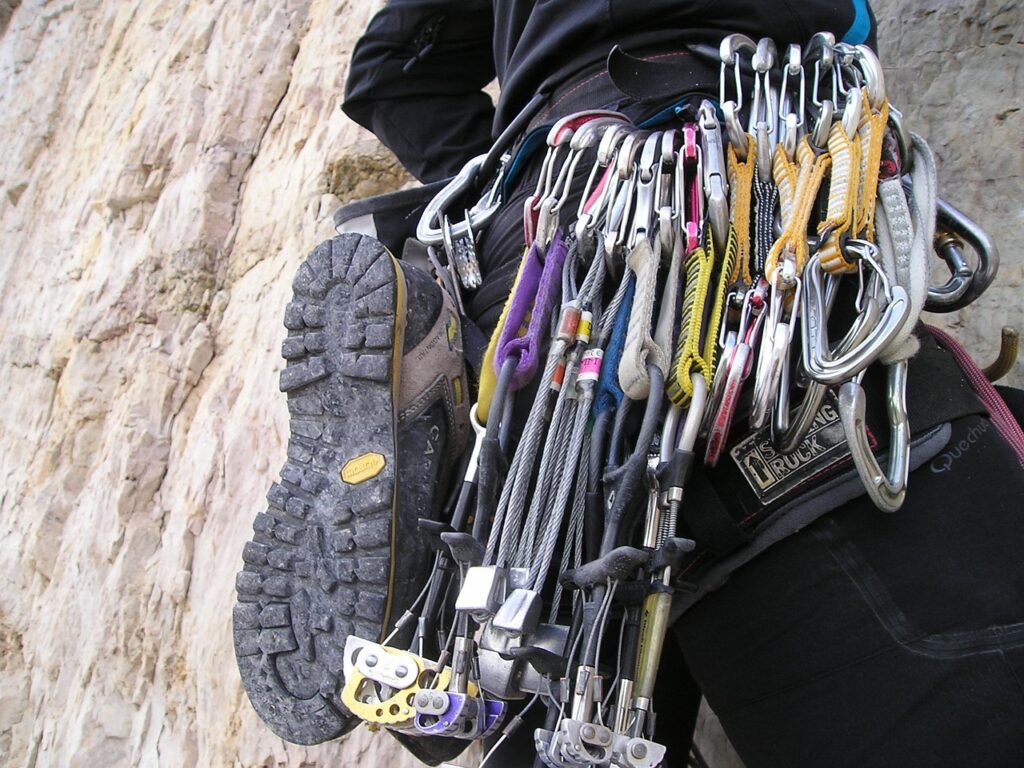 Your personal protective equipment (PPE) plays a crucial role in your safety while climbing. Wear your harness correctly, ensuring it is snug and adjusted properly. Regularly inspect all your gear, including ropes, carabiners, slings, and helmets, for any signs of wear, damage, or deterioration. Clean and maintain your equipment as per the manufacturer's instructions to prolong its lifespan and ensure optimal performance.
16. Use climbing boots with good arch support and a defined heel
Choosing appropriate footwear is vital for stability and grip while climbing. Opt for climbing boots or shoes that provide good arch support and have a defined heel. These features help maintain stability on various surfaces and improve overall foot placement and grip.
17. Use work positioning lanyards (fall restraint)
Work positioning lanyards are valuable tools for maintaining a safe position while climbing. They allow you to secure yourself to a stable point, preventing falls or unwanted movement. By using work positioning lanyards, you can work comfortably and safely in challenging or exposed sections.
18. Use a full-body safety harness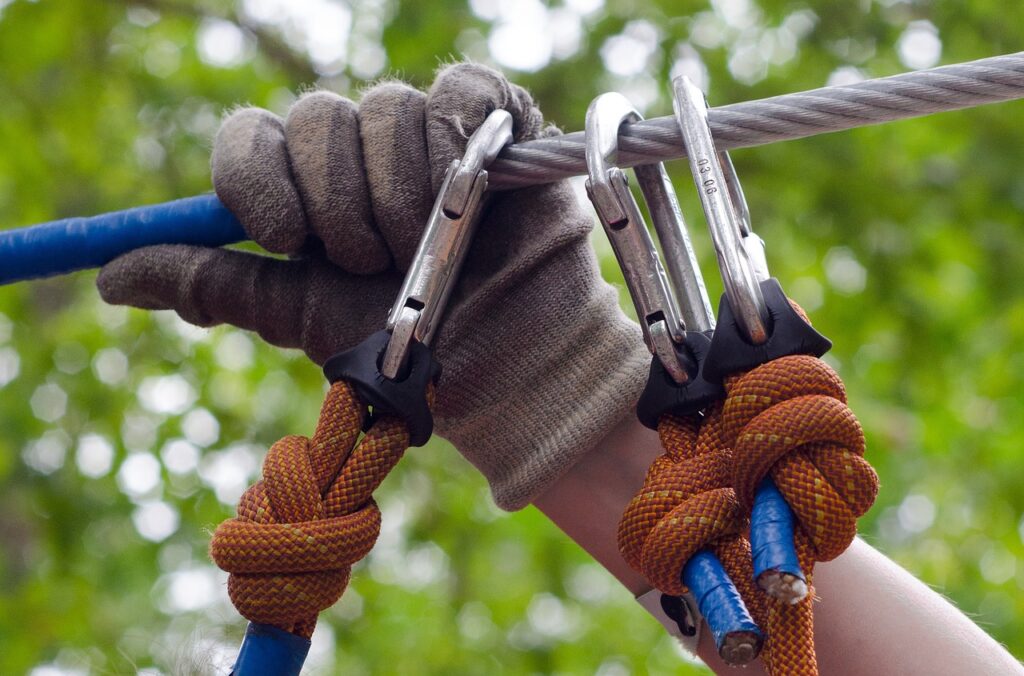 A full-body safety harness offers enhanced protection compared to waist-only harnesses. It distributes forces evenly across your body in the event of a fall, reducing the risk of injury. Ensure your harness is correctly fitted, with all buckles and straps securely fastened.
19. Use energy-absorbing lanyards (fall arrest):
Energy-absorbing lanyards are designed to minimize the impact forces generated during a fall. They contain specialized components that absorb and dissipate energy, reducing the strain on your body. By using energy-absorbing lanyards, you can significantly reduce the risk of severe injuries in the event of a fall.
20. Clip your gates in the direction opposing the location of your next bolt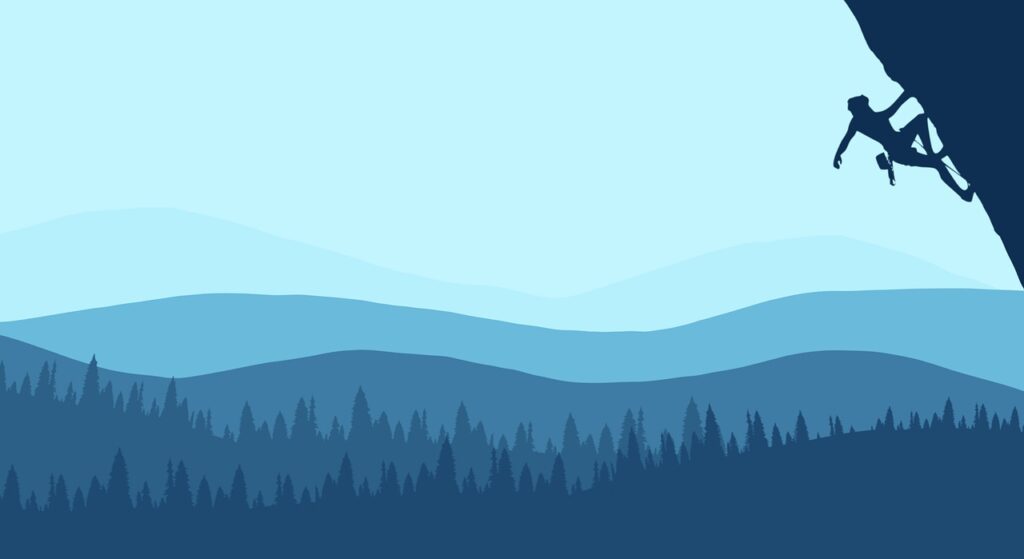 When using carabiners to clip into bolts or protection points, it is essential to orient the gates properly. Clip the gate in the direction opposing the location of your next bolt to minimize the chances of the accidental gate opening. This ensures a secure connection and reduces the risk of unintentional equipment disengagement.
21. Keep your fingers out of the carabiner when clipping:
When clipping into a carabiner, be mindful of your finger placement. Keep your fingers outside the carabiner to avoid injury or accidentally releasing the gate. Maintain a safe grip and focus on proper clipping technique to ensure a secure attachment.
Remember that climbing safety is a shared responsibility. Both you and your climbing partner should prioritize vigilance, effective communication, and being aware of each other's safety throughout the climb.
Conclusion
Prioritizing safety is paramount to protect yourself and those around you. By following the climbing safety tips outlined in this guide, including double-checking gear, wearing appropriate protective equipment, climbing within your abilities, and maintaining clear communication, you can mitigate risks and enjoy climbing with confidence. Remember, climbing safety is a shared responsibility, so always be mindful of the well-being of your climbing partner and encourage a culture of safety within the climbing community.
Related Posts: