Are you seeking an exhilarating way to challenge yourself physically and mentally while immersing yourself in the thrill of heights? Look no further than Indoor Climbing, where vertical exploration meets a controlled and safe environment. Indoor Climbing has soared in popularity, offering individuals of all skill levels an opportunity to engage in this dynamic sport.
Whether you're a novice eager to learn the ropes or an experienced climber looking to push your limits, Indoor Climbing provides a gateway to adventure and fitness. In this article, we will dive into the world of climbing gyms, exploring their benefits, types, facilities, and tips for making the most of your climbing gym experience. Get ready to climb to new heights and embark on an unforgettable journey of strength, agility, and personal triumph!
What is Indoor Climbing?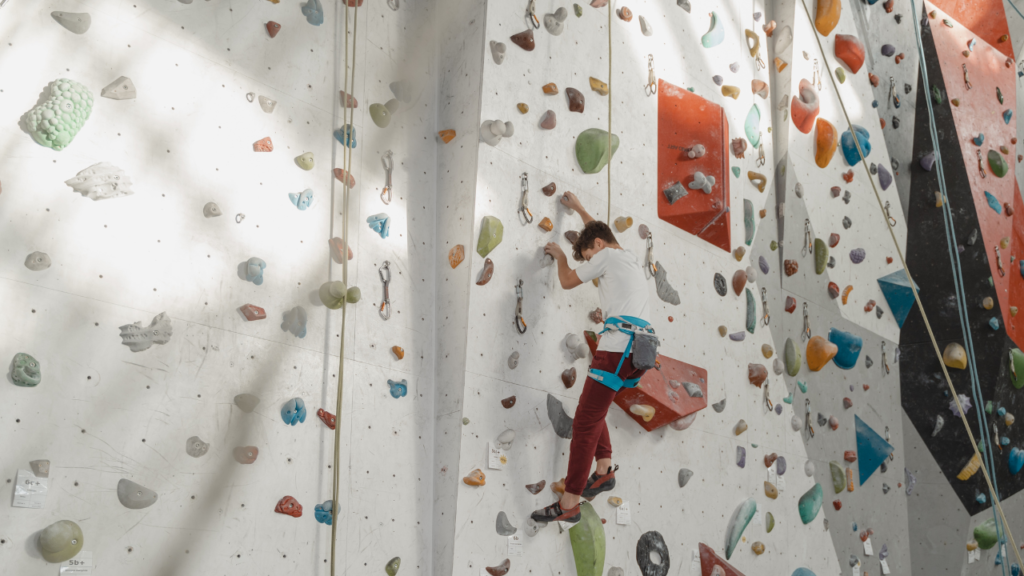 Climbing gyms, also known as indoor climbing facilities or rock climbing centers, are specialized indoor spaces designed for individuals to practice and train in the sport of climbing. These gyms offer a controlled environment where climbers can experience the thrill and challenges of scaling artificial walls that mimic the natural features found in outdoor climbing areas.
Features and Facilities
Indoor Climbing typically provides a wide range of features and facilities to cater to climbers of all levels, from beginners to advanced athletes. Here are some common elements you can find in a climbing gym:
Climbing Walls: The centerpiece of any climbing gym is its climbing walls. These walls are constructed with various materials, such as plywood or fiberglass, and are often textured to simulate real rock surfaces. Climbing walls come in different shapes, sizes, and difficulty levels, offering climbers a diverse range of routes to tackle.
Bouldering Areas: Bouldering is a form of climbing that doesn't involve the use of ropes or harnesses. Indoor Climbing usually dedicates specific sections or rooms for bouldering. These areas consist of shorter walls with thick, padded mats below to cushion falls. Bouldering focuses on shorter, more intense routes and emphasizes technique, strength, and problem-solving skills.
Top Rope and Lead Climbing: In addition to bouldering, Indoor Climbing often provide options for top rope climbing and lead climbing. Top rope climbing involves climbing while secured to a rope that runs through an anchor system at the top of the wall, while lead climbing requires climbers to clip their rope onto protection points as they ascend. These forms of climbing are typically practiced on taller walls and require the use of harnesses, ropes, and belaying equipment.
Training Areas: Many Indoor Climbing offer dedicated training areas with specialized equipment to help climbers improve their strength, endurance, and technique. These areas may include fingerboards, campus boards, hang boards, and other training tools specifically designed for climbing-related workouts.
Classes and Instruction: Indoor Climbing often provide classes and instruction for climbers of all skill levels. These can range from introductory classes for beginners to advanced workshops focusing on specific techniques or training methods. Instructors are typically experienced climbers who can offer guidance, safety tips, and personalized feedback to help climbers progress.
Gear Rental and Retail: Climbing gyms may have gear rental services, allowing climbers to access necessary equipment, such as climbing shoes, harnesses, and helmets. Some gyms also have retail areas where climbers can purchase their own gear or other climbing-related merchandise.
Benefits of Climbing Gyms
Indoor Climbing offers numerous benefits to climbers, regardless of their experience level or climbing goals. Here are some advantages of utilizing climbing gyms:
Weather-independent: Indoor climbing facilities provide a climate-controlled environment, enabling climbers to practice year-round regardless of weather conditions.
Safety and Training: Indoor Climbing prioritizes safety and provides a controlled setting for climbers to learn proper techniques, receive instruction, and develop skills under the supervision of experienced staff.
Community and Social Interaction: Indoor Climbing often foster a sense of community among climbers. They serve as gathering places where climbers can meet, share experiences, and find climbing partners.
Progression and Skill Development: Indoor Climbing offer a progressive range of routes and training opportunities that allow climbers to continually challenge themselves and improve their climbing abilities.
Accessibility: Indoor Climbing provides a convenient and accessible option for people who may not have access to outdoor climbing areas or prefer the convenience of an indoor facility.
Types of Indoor Climbing 
Different kinds of Indoor Climbing focus on various types of climbing, and their layout and equipment vary accordingly. Here are some details on each type of gym climbing:
1. Bouldering 
Bouldering gyms focus solely on bouldering, a type of climbing that is performed without ropes or harnesses on shorter walls, typically no higher than 20 feet. These gyms feature numerous routes or problems, which are specific sequences of holds to be traversed or climbed.
Bouldering gyms often prioritize complex and technical movements, requiring climbers to rely heavily on their strength, agility, and problem-solving skills. These facilities typically provide crash pads and have a friendly, social atmosphere, making them ideal for climbers who enjoy camaraderie and want to focus on honing their technical skills.
2. Top-Rope 
Top-rope gyms are designed for climbers who prefer climbing with the safety of a rope. In this type of climbing, a rope runs through an anchor at the top of the wall, and climbers are secured by a harness and belay system. Top-rope gyms typically offer walls of varying heights and difficulties to accommodate climbers of all levels. These gyms often prioritize endurance and technique, allowing climbers to practice longer routes and perfect their climbing skills. They are popular among beginners and individuals who enjoy a more controlled and secure climbing experience.
3. Lead Climbing 
For climbers seeking a more advanced and adrenaline-pumping experience, lead Indoor Climbing provides the perfect setting. In lead climbing, the climber clips their rope into anchors as they ascend the wall, rather than relying on pre-set ropes. These gyms feature walls with bolted routes of varying difficulty levels and require climbers to have a solid understanding of rope management, clipping techniques, and risk assessment. Lead climbing gyms are favored by experienced climbers who crave challenges, want to test their mental and physical limits, and aspire to improve their overall climbing skills.
Indoor Climbing vs. Outdoor Climbing
Climbing is a thrilling and challenging sport that pushes individuals to their limits both physically and mentally. Whether you prefer the controlled environment of an indoor climbing gym or the rugged beauty of climbing in the great outdoors, both options offer unique experiences and benefits. In this article, we'll compare indoor climbing and outdoor climbing, exploring their differences and highlighting their respective advantages.
Indoor Climbing: Testing Limits in a Controlled Environment
Indoor climbing has gained immense popularity in recent years, with the proliferation of Indoor Climbing across the country. These dedicated facilities offer climbers a controlled environment to practice and hone their skills. Here are some key aspects of indoor climbing:
Safety and Training
One of the significant advantages of indoor climbing is the emphasis on safety. Indoor Climbing provides a secure environment with padded floors, properly maintained equipment, and trained staff to ensure climbers' safety. Additionally, indoor climbing facilities often require participants to undergo training and certification programs, teaching essential techniques and safety protocols.
Weather Independence
Indoor climbing is not affected by unpredictable weather conditions. Unlike outdoor climbing, where rain, wind, or extreme temperatures can hamper your plans, indoor climbing allows you to climb regardless of the weather. This weather independence provides a reliable option for climbers to train consistently throughout the year.
Diverse Routes and Challenges
Indoor climbing gyms feature a variety of routes and climbing walls that cater to climbers of all levels. From beginner-friendly walls with large holds to advanced routes that demand precise technique and strength, climbers can continually challenge themselves and progress at their own pace. Moreover, gyms often change their routes regularly, keeping the experience fresh and engaging for regular visitors.
Community and Social Aspects
Indoor climbing gyms foster a strong sense of community among climbers. These facilities attract climbers of all ages and skill levels, providing ample opportunities to meet fellow enthusiasts, share experiences, and learn from one another. The supportive atmosphere encourages camaraderie and creates a platform for climbers to connect and form lasting friendships.
Outdoor Climbing: Connecting with Nature's Challenges
While indoor climbing offers a controlled environment, outdoor climbing presents a whole different set of challenges and rewards. Here are some key aspects of outdoor climbing:
Natural Beauty and Adventure
Outdoor climbing allows climbers to immerse themselves in the breathtaking beauty of nature. Scaling cliffs, boulders, and mountainsides, climbers are rewarded with awe-inspiring landscapes and stunning views. The adventure of exploring new outdoor locations adds an element of excitement and exploration that cannot be replicated indoors.
Real-World Challenges
Outdoor climbing demands adaptability and problem-solving skills. The ever-changing rock formations and environmental conditions require climbers to analyze and strategize their ascent. Factors like weather, rock quality, and route finding pose unique challenges that test a climber's skills and decision-making abilities.
Physical and Mental Endurance
Climbing outdoors often involves longer and more physically demanding routes compared to indoor climbing. The exposure to natural elements, rougher terrain, and the absence of artificial holds require climbers to develop greater strength, stamina, and mental resilience. Overcoming these challenges can be immensely rewarding, both physically and emotionally.
Sense of Freedom and Solitude
Outdoor climbing offers a sense of freedom and solitude that is difficult to replicate indoors. Being surrounded by nature's serenity and conquering a challenging route in the wild provides a unique sense of accomplishment and peace. It allows climbers to disconnect from the hustle and bustle of daily life and reconnect with themselves and the natural world.
Indoor climbing and outdoor climbing each offer distinct advantages and experiences. Indoor climbing provides a controlled and safe environment for training and honing climbing skills, while outdoor climbing offers the thrill of exploration and connection with nature's challenges. Whether you prefer the vibrant community of a climbing gym or the solitude and adventure of climbing outdoors, both options have something valuable to offer. Ultimately, the choice between indoor and outdoor climbing comes down to personal preference and the type of experience you seek as a climber.
Essential Factors to Keep in Mind When Selecting a Climbing Gym
When it comes to choosing a climbing gym, there are several factors to consider that can greatly impact your overall experience and progress as a climber. Whether you are a beginner or an experienced climber looking to improve your skills, finding the right climbing gym is essential. Here are some key factors to keep in mind when making your decision:
Location and Accessibility The location of the climbing gym plays a significant role in how often you will be able to visit and enjoy the facility. Look for a gym that is conveniently located near your home, workplace, or frequently visited areas. Consider factors such as parking availability and public transportation options to ensure easy access.
Facility Size and Layout The size and layout of the climbing gym can have a direct impact on the number and variety of routes available. A larger gym generally offers more options, including bouldering walls, top rope routes, and lead climbing areas. Additionally, a well-designed layout with ample space between routes can enhance safety and create a comfortable climbing environment.
Climbing Routes and Variety The diversity of climbing routes available is crucial for climbers of all skill levels. A good climbing gym should offer a wide range of routes with varying difficulties and styles, catering to beginners as well as advanced climbers. Look for gyms that frequently reset their routes to keep the climbing experience fresh and challenging.
Training and Coaching Options If you are interested in improving your climbing skills, it is important to choose a gym that provides training and coaching options. Qualified instructors and coaches can offer valuable guidance, help you develop proper techniques, and provide personalized training programs to meet your specific goals. Check if the gym offers classes, workshops, or one-on-one coaching sessions.
Equipment and Gear Availability Climbing requires specific equipment and gear to ensure safety and comfort. When selecting a gym, consider whether they provide rental gear or have a well-stocked gear shop on-site. The availability of equipment such as climbing shoes, harnesses, and belay devices can be essential, especially for beginners who may not have their own gear yet.
Membership Options and Pricing Evaluate the membership options and pricing structure of the climbing gym. Look for a membership plan that suits your frequency of visits and provides the best value for your money. Some gyms offer flexible options, including day passes and monthly memberships, while others may have discounted rates for students or long-term commitments.
Community and Social Events A thriving climbing community can greatly enhance your gym experience. Look for gyms that foster a strong sense of community by organizing social events, competitions, and meetups. These events provide opportunities to connect with other climbers, share experiences, and create a supportive network.
Staff Expertise and Training Programs The expertise and knowledge of the gym staff can greatly impact your climbing journey. Inquire about the qualifications and certifications of the staff members, especially those involved in coaching and instruction. Additionally, check if the gym offers training programs or workshops conducted by experienced climbers or certified professionals.
Exploring Climbing Gym Facilities
A. Wall Types and Features
Indoor Climbing offers a variety of wall types and features to cater to different skill levels and preferences. Here are some common wall types you can expect to find:
1. Top-Roping Walls
Top-roping walls are designed for beginners and intermediate climbers. These walls feature harnesses and ropes that pass through an anchor system at the top of the wall. Climbers can scale the wall while being belayed from below, providing a safe and controlled climbing experience.
2. Bouldering Walls
Bouldering walls are usually shorter in height and don't require ropes or harnesses. Climbers can focus on shorter, more intense routes called "problems." Bouldering walls often have padded flooring to ensure a safe landing during falls. These walls are great for improving technique, strength, and problem-solving skills.
3. Lead Climbing Walls
Lead climbing walls are designed for advanced climbers seeking a more challenging experience. These walls feature routes with pre-placed bolts or anchors. Climbers use their own rope and clip into the anchors as they ascend. Lead climbing walls require climbers to have knowledge of lead climbing techniques and safety procedures.
4. Auto-Belay Walls
Auto-belay walls are ideal for climbers who prefer to climb alone or without a belayer. These walls feature an automatic belay device that controls the rope tension as climbers ascend. Auto-belay systems provide a safe and convenient climbing experience without the need for a partner.
B. Training Areas and Equipment
Indoor Climbing also offers training areas and equipment to help climbers improve their skills and strength. Here are some common training facilities you can find:
1. Campus Boards
Campus boards are training tools that consist of a series of small rungs or wooden blocks arranged horizontally. Climbers use these boards to develop finger strength, improve grip technique, and increase upper body power. Campus boards are popular among advanced climbers looking to push their limits.
Hangboards, also known as fingerboards, are wall-mounted training devices with various grip options. Climbers hang from the board using different grip positions to build finger strength, and forearm endurance, and improve grip strength. Hangboards are suitable for climbers of all levels and offer a versatile training option.
3. Training Walls
Training walls feature a range of climbing holds and specialized features to target specific climbing techniques and movements. These walls allow climbers to practice specific moves, such as dynos, heel hooks, and crimps, in a controlled environment. Training walls are beneficial for honing climbing skills and improving overall performance.
4. Slacklines
Slacklines are tightrope-like setups made of webbing that are anchored between two points. Climbers use these slacklines to improve balance, core stability, and concentration. Slacklining is not only a great physical workout but also helps climbers develop mental focus and coordination.
C. Additional Facilities and Amenities
Apart from the climbing walls and training areas, Indoor Climbing often provides additional facilities and amenities to enhance the overall experience. Here are some common offerings:
1. Fitness Areas
Many Indoor Climbing features fitness areas equipped with cardio and strength-training equipment. These areas allow climbers to complement their climbing workouts with cross-training exercises to improve overall fitness and conditioning.
2. Yoga Studios
Yoga studios within Indoor Climbing offer dedicated spaces for climbers to practice yoga and improve flexibility, balance, and mindfulness. Yoga sessions can help climbers prevent injuries, enhance recovery, and maintain overall well-being.
3. Gear Rental Shops
Gear rental shops are convenient for climbers who don't own their equipment or need to try out different gear. These shops offer a range of climbing shoes, harnesses, helmets, and other necessary gear for rent. Renting gear is a cost-effective option for beginners or occasional climbers.
4. Pro Shops and Retail Stores
Pro shops and retail stores within Indoor Climbing provide a wide selection of climbing gear and equipment for purchase. Climbers can find everything from climbing shoes and harnesses to carabiners and ropes. These shops often have knowledgeable staff who can offer advice and recommendations based on individual needs.
Tips for Making the Most of Your Climbing Gym Experience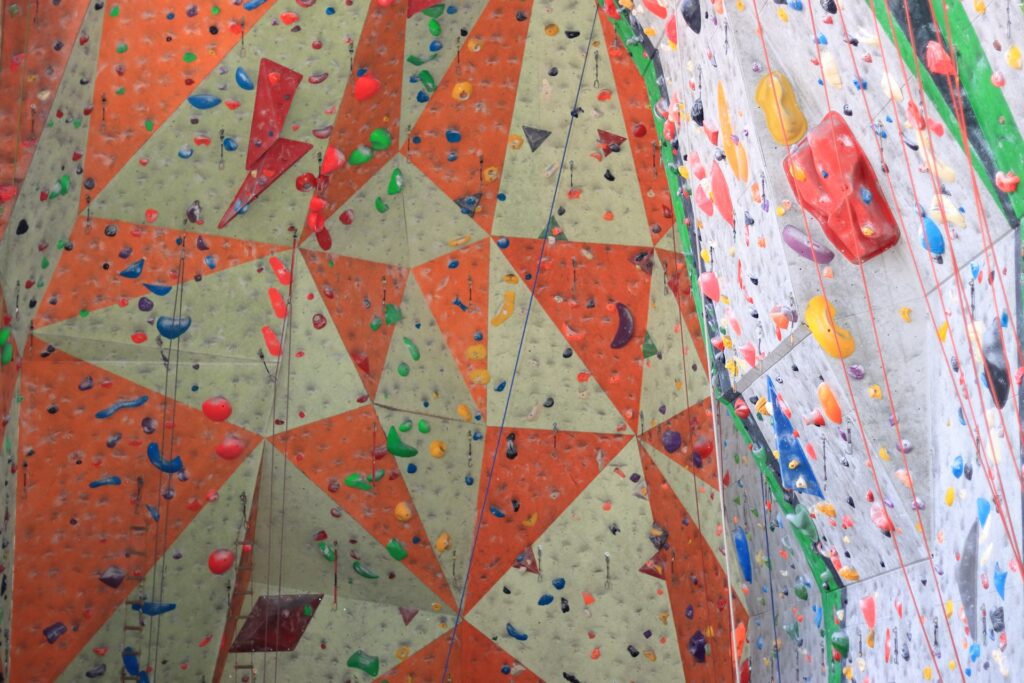 Climbing at a gym can be an exhilarating and rewarding experience. Whether you are a beginner or a seasoned climber, it's essential to make the most of your time at the climbing gym. By following a few tips, you can enhance your climbing skills, stay safe, and have a blast. Here are some key areas to focus on:
Proper climbing gear and attire
Before you hit the climbing gym, it's crucial to ensure you have the right gear and attire. Here are a few things to consider:
To prevent injuries and improve your climbing performance, warming up properly is crucial. Here are some warm-up exercises and stretching techniques to consider:
Cardiovascular warm-up: Engage in light aerobic exercises like jogging or cycling to get your heart rate up.
Dynamic stretching: Perform dynamic stretches that focus on your major muscle groups, such as leg swings, arm circles, and shoulder rolls.
Specific warm-up climbs: Start with easy climbs or traverse the wall to gradually warm up your muscles and get a feel for the holds.
Understanding basic climbing techniques and terminology will help you navigate the climbing gym more efficiently. Here are a few terms and techniques to familiarize yourself with:
Footwork: Focus on placing your feet precisely and using them to support your body weight.
Handholds and footholds: Learn to identify different types of handholds (crimps, jugs, pockets) and footholds (edges, smears, ledges).
Flagging: Use flagging techniques (extending a leg to the side or behind) to maintain balance and reach distant holds.
Beta: Beta refers to information or advice about a specific climb, such as the sequence of holds or the best technique to use.
Safety guidelines and precautions
Safety should always be a top priority when climbing. Here are some important safety guidelines to follow at the climbing gym:
Belaying: If you're belaying, ensure you are properly trained and follow correct belaying techniques.
Communication: Establish clear communication with your climbing partner, using standardized commands like "On belay," "Climbing," and "Off belay."
Fall zones and landing areas: Be aware of fall zones and make sure landing areas are clear before climbing.
Spotting: When bouldering, have a spotter to help prevent falls and guide you toward safe landing spots.
Importance of gradual progression and rest days
To improve your climbing skills and avoid overuse injuries, it's crucial to progress gradually and take rest days. Here are a few things to keep in mind:
Start easy: Begin with climbs well within your comfort zone to build technique and strength before attempting more challenging routes.
Listen to your body: Pay attention to any signs of fatigue or pain. Take rest days to allow your muscles and tendons to recover.
Cross-training: Engage in complementary exercises like strength training, yoga, or flexibility exercises to improve overall climbing fitness.
Climbing variety: Explore different climbing styles and routes to challenge yourself and develop a well-rounded skill set.
Summary of Indoor Climbing
Indoor Climbing offers a unique and exhilarating experience that combines physical fitness with mental agility. Whether you are a seasoned climber or a beginner looking to explore a new hobby, climbing gyms provide numerous benefits that can positively impact your overall well-being. Let's recap some of the key advantages of Indoor Climbing:
1. Full-body Workout
Climbing is a fantastic way to engage your entire body. It challenges your muscles, from your arms and shoulders to your core and legs. With every ascent, you activate and strengthen various muscle groups, leading to improved strength, endurance, and flexibility. The constant need to balance and stabilize while climbing also enhances your proprioception and coordination skills.
2. Mental Stimulation
Climbing is not just about physical strength; it requires mental focus and problem-solving abilities as well. As you navigate the climbing routes, you must analyze the path ahead, strategize your moves, and make split-second decisions. This mental stimulation can enhance your cognitive abilities, improve your concentration, and boost your problem-solving skills, both on and off the climbing wall.
3. Stress Relief
In today's fast-paced world, stress has become a common companion. Climbing offers an excellent outlet for releasing stress and tension. When you climb, your mind becomes fully absorbed in the activity, allowing you to temporarily disconnect from everyday worries and focus solely on the task at hand. The adrenaline rush and sense of achievement that comes from conquering a challenging route can leave you feeling refreshed and rejuvenated.
4. Community and Camaraderie
Indoor Climbing provides a vibrant community of like-minded individuals who share a passion for climbing. Whether you climb solo or with a partner, you'll find a supportive network of climbers who are eager to share their knowledge, offer encouragement and celebrate your progress. The camaraderie within climbing gyms fosters a sense of belonging and provides opportunities to make new friends and create lasting memories.
5. Accessibility
Indoor Climbing offers a controlled environment that caters to climbers of all levels, from beginners to advanced. You don't need any prior experience or exceptional fitness to get started. Trained instructors are available to guide you through the basics and ensure your safety. The gym provides all the necessary equipment, making it easy for you to embark on your climbing journey.
6. Adventure and Exploration
Climbing opens up a whole new world of adventure and exploration. Whether you prefer indoor climbing or aspire to venture outdoors, there are endless possibilities to satisfy your craving for excitement. Climbing allows you to conquer new heights, discover breathtaking views, and push your limits in a way that traditional exercise routines can't match.
7. Personal Growth
Embarking on a climbing journey can be a transformative experience. As you face and overcome challenges on the wall, you'll develop resilience, build self-confidence, and learn to embrace failure as a stepping stone to success. Climbing teaches you to trust your abilities, push your boundaries, and embrace a growth mindset that extends beyond the climbing gym and into various aspects of your life.
8. Fun and Enjoyment
Above all, climbing is incredibly fun and enjoyable. The rush of adrenaline, the sense of accomplishment, and the sheer joy of conquering a route make climbing an addictive and fulfilling activity. It's an opportunity to break free from the monotony
Frequently Asked Questions (FAQs)
Do I Need a Helmet?
Wearing a helmet while climbing is highly recommended, especially for outdoor climbing where there is a risk of falling objects or rock debris. It provides crucial protection for your head in case of accidents or unexpected incidents.
Can I Bring the Kids to the Climbing Gym?
Many climbing gyms welcome children, but it's essential to check with the specific gym about their age restrictions and any necessary supervision requirements. Some gyms offer special programs or areas designed for kids to climb safely.
How Much Does it Cost?
The cost of climbing varies depending on factors such as location, type of climbing (indoor or outdoor), equipment rental, and gym membership fees. It's best to inquire directly with the climbing gym or outdoor guide services for accurate pricing information.
Is Indoor Climbing Safe?
Indoor climbing is generally considered safe when proper safety protocols are followed. Climbing gyms have safety measures in place, including trained staff, padded floors, and reliable equipment. However, it's important to adhere to safety guidelines, uses proper climbing techniques, and receive proper instruction, especially for beginners.
What Do I Wear Indoor Climbing?
For indoor climbing, it's recommended to wear comfortable athletic clothing that allows freedom of movement. Opt for flexible pants or shorts and a moisture-wicking shirt. Climbing shoes are essential, and some climbers prefer to use chalk for better grip.
Is Indoor Climbing suitable for beginners?
Absolutely! Indoor Climbing is an excellent place for beginners to start their climbing journey. These indoor facilities offer a controlled and safe environment where you can learn the ropes, quite literally. Most climbing gyms provide introductory classes and have routes specifically designed for beginners, allowing you to progress at your own pace under the guidance of experienced instructors.
How often should I climb at a gym?
The frequency of your visits to a climbing gym depends on your personal goals, fitness level, and availability. For beginners, starting with two to three sessions per week can be a great way to build strength, technique, and confidence. As you become more experienced, you may choose to increase the frequency to four or five sessions per week. However, it's crucial to listen to your body and allow for adequate rest and recovery between sessions to prevent overexertion and injury.
How do I find a climbing gym near me?
To find a climbing gym near your location, there are a few convenient options. You can start by conducting an online search using search engines or mapping applications. Simply enter "climbing gym near me" or "indoor rock climbing gym near [your location]" in the search bar, and you'll be provided with a list of nearby gyms. You can also reach out to local climbing communities or outdoor gear stores for recommendations. Visiting their websites or contacting them directly will give you a better idea of the facilities, services, and rates offered by different Indoor Climbing in your area.
Do I need a partner to climb at a gym?
No, you don't necessarily need a partner to climb at a gym. While climbing with a partner can be enjoyable and provide an added sense of security, climbing gyms often have systems in place to facilitate solo climbing. These include auto-belay devices and bouldering areas, where you can climb shorter routes without the need for ropes or a partner. Additionally, climbing gyms are great places to meet like-minded individuals, and you'll often find fellow climbers willing to partner up for a climb.
What are the age restrictions for climbing gyms?
Age restrictions may vary depending on the climbing gym. While some gyms may have minimum age requirements, others cater to climbers of all ages, including children. Many climbing gyms offer youth programs and classes specifically designed for younger climbers. It's best to check the specific policies of your local climbing gym regarding age restrictions and any requirements for minors, such as parental supervision or signed consent forms.