One of the crucial aspects that climbers often overlook is the importance of wearing appropriate attire. The right clothing can significantly enhance your performance, comfort, and safety during your climbing sessions. This article aims to provide a comprehensive guide to the essential clothing items you should consider when engaging in indoor rock climbing. Whether you're a beginner or an experienced climber, understanding the significance of proper clothing can make a world of difference in your climbing experience.
How Appropriate Attire Enhances Performance in Indoor Rock Climbing?
Indoor rock climbing is a physically demanding activity that requires strength, agility, and precision. It involves scaling artificial rock walls, gripping holds, and maneuvering through challenging routes. Wearing the right clothing not only ensures maximum flexibility and freedom of movement but also offers protection and enhances your overall climbing experience. Here are a few reasons why wearing appropriate attire is essential:
1. Freedom of Movement
Indoor climbing demands a wide range of motion. Wearing clothing that allows unrestricted movement of your limbs is vital. Opt for stretchable fabrics that provide flexibility, such as spandex or nylon blends. These materials enable you to reach and stretch comfortably, ensuring you can execute the necessary climbing techniques without feeling restricted. Loose-fitting clothes may snag on holds or impede your movement, hindering your performance and potentially compromising your safety.
2. Comfort and Breathability
As you engage in intense climbing sessions, you're likely to work up a sweat. Choosing moisture-wicking and breathable materials will keep you dry and comfortable throughout your climb. Moisture-wicking fabrics like polyester or nylon blends efficiently draw sweat away from your skin, allowing it to evaporate quickly. This prevents excessive moisture buildup, reducing the risk of discomfort, skin irritation, and chafing. Avoid cotton fabrics, as they tend to retain moisture and can leave you feeling damp and uncomfortable.
3. Protection
Indoor climbing involves coming into contact with abrasive surfaces, rough holds, and potential falls. Your clothing should provide a protective layer against scrapes, grazes, and minor injuries. Consider wearing long-sleeved shirts and pants to shield your skin from abrasive surfaces. Look for climbing-specific pants that feature reinforced knees and seat areas for extra durability. This added protection can minimize the risk of injuries and enhance your confidence as you tackle challenging routes.
4. Temperature Regulation
Indoor climbing facilities vary in temperature, and you may encounter variations depending on the season and location. Layering your clothing allows you to adjust to different temperature conditions. Start with a moisture-wicking base layer, add insulation if necessary, and top it off with a breathable outer layer.
In addition to the clothing you wear, certain accessories contribute to your safety while indoor climbing. These include a properly fitted climbing harness, climbing shoes, and a helmet. Ensure that your clothing allows you to wear these accessories comfortably and securely.
What to Wear When Indoor Rock Climbing?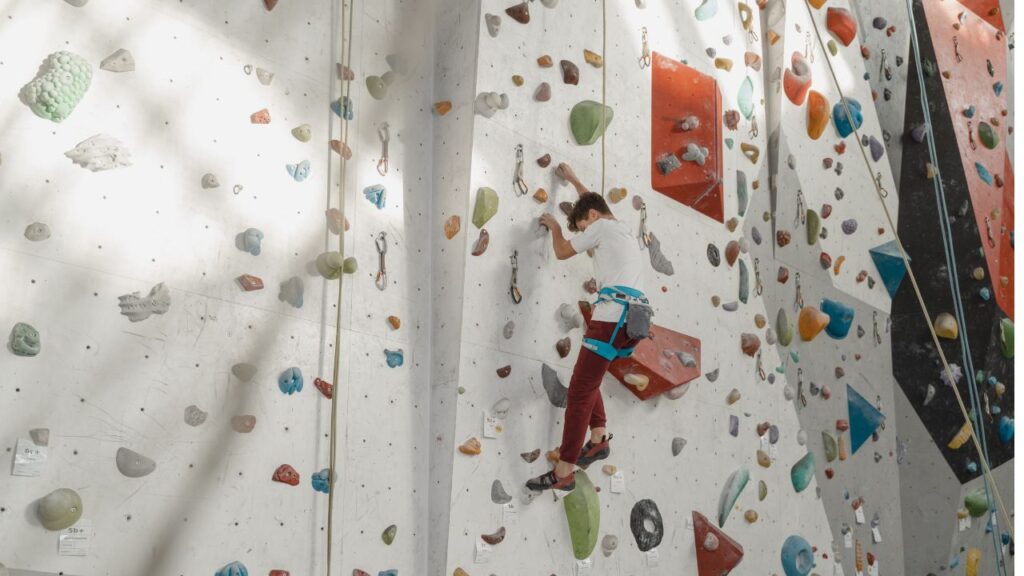 Indoor rock climbing provides a controlled environment for climbers to practice and hone their skills. Whether you're a beginner or an experienced climber, wearing the right clothing is essential to ensure comfort, safety, and optimal performance during your indoor rock climbing sessions. In this article, we will explore the clothing essentials that every rock climber should have to enhance their climbing experience.
Indoor Rock Climbing-Specific Apparel
Investing in a good pair of climbing shoes is crucial for indoor rock climbing. These shoes are designed with sticky rubber soles that provide excellent grip on the climbing holds. They should fit snugly to provide maximum support and sensitivity.
Related: Best Ways to Stretch Rock Climbing Shoes
A climbing harness is essential for safety during indoor rock climbing. It is a waist belt with leg loops that secures you to the rope system. Look for a harness that fits well and has adjustable straps for a comfortable and secure fit.
Chalk helps to absorb sweat and moisture from your hands, providing a better grip on the holds. It comes in either loose or block form. Carry a chalk bag with you to easily access the chalk while climbing.
Opt for lightweight and stretchable pants or shorts made from durable materials. These will allow unrestricted movement and protect your legs from scrapes against the climbing wall.
5. Climbing Shirt or Top
Choose a moisture-wicking and breathable shirt or top that allows freedom of movement. Avoid loose-fitting clothes that can get in the way while climbing.
Layering for Comfort and Versatility
1. Base Layers
Wearing moisture-wicking base layers helps regulate your body temperature and keeps you dry during intense climbing sessions. Look for materials such as synthetic blends or merino wool that provide both insulation and breathability.
2. Mid Layers
Mid-layers are essential for insulation and trapping heat in colder climbing environments. Opt for lightweight and compressible fleece or synthetic jackets that can be easily layered over your base layers.
3. Outer Layers
Your outer layer should be a lightweight and waterproof shell jacket or windbreaker. This layer protects you from the elements, such as wind or light rain, without compromising breathability.
Accessories and Additional Gear
Climbing gloves provide extra protection for your hands and improve grip on rough surfaces. Look for gloves made from durable materials that offer flexibility and dexterity.
Although not always necessary in indoor climbing facilities, wearing a climbing helmet is recommended for added safety. It protects your head from potential falling debris or accidental bumps against the wall.
3. Climbing Backpack
A small climbing backpack is useful for carrying your personal belongings, including water, snacks, extra chalk, and a first aid kit. Look for a backpack with adjustable straps and compartments for easy organization.
Choosing the Right Gear for Indoor Rock ClimbingTops for Indoor Rock Climbing
When it comes to tops for indoor rock climbing, several considerations can help you make the right choices for comfort and performance. Here's what you should keep in mind:
Materials: Look for moisture-wicking and breathable fabrics like polyester or nylon blends. These materials will keep you dry and comfortable during intense climbing sessions.
Styles: Opt for tops that offer a balance between freedom of movement and a snug fit. Consider sleeveless, short-sleeved, or long-sleeved options based on your preference and the climbing environment's temperature.
Features: Look for tops with stretchable materials and ergonomic designs that allow unrestricted movement. Flatlock seams can minimize chafing, and mesh panels provide ventilation in key areas.
Bottoms for Indoor Rock Climbing
Selecting the right bottoms is equally important for indoor rock climbing. Here are some factors to consider:
Fit: Choose bottoms that provide a comfortable yet snug fit. They should allow freedom of movement without being too loose or restrictive.
Pants, Shorts, or Leggings: The choice between pants, shorts, or leggings depends on personal preference and the climbing environment. Opt for pants or leggings if you want added protection against scrapes and abrasions. Shorts can offer more freedom of movement and ventilation.
Material: Look for stretchable and durable fabrics that can withstand the demands of climbing. Nylon or polyester blends are common choices due to their flexibility and resilience.
Sports Bra for Indoor Rock Climbing
For women climbers, wearing a supportive and comfortable sports bra is essential. Consider the following factors:
Support: Look for a sports bra that offers adequate support to minimize movement and discomfort during climbs. The level of support needed may vary depending on individual preferences and body types.
Comfort: Choose a sports bra made from moisture-wicking and breathable materials. Adjustable straps and a soft, seamless construction can enhance comfort during climbing sessions.
Layering for Indoor Climbing
Layering is crucial for adapting to different temperatures and intensities during indoor climbing. Consider the following tips:
Base Layer: Start with a moisture-wicking base layer that keeps you dry and comfortable. Look for lightweight materials that facilitate sweat evaporation.
Insulation Layer: Add an insulation layer, such as a lightweight fleece or synthetic jacket, for colder environments or during warm-up periods. Ensure the layer allows for freedom of movement.
Outer Layer: Depending on the temperature and the climbing facility's conditions, you may need an outer layer for protection. Choose a breathable and weather-resistant shell jacket that can shield you from the elements without hindering movement.
Suitable Footwear for Indoor Climbing
Climbing shoes are an essential part of your indoor climbing gear. Consider the following when choosing suitable footwear:
Types of Climbing Shoes: There are three main types of climbing shoes: neutral, moderate, and aggressive. Neutral shoes provide all-around performance, moderate shoes offer a balance between comfort and precision, and aggressive shoes prioritize precision and power.
Fit: Climbing shoes should fit snugly without causing pain or discomfort. They should provide a precise fit to maximize control and sensitivity on the holds.
Rubber Sole and Toe Rand: Look for climbing shoes with sticky rubber soles and a durable toe rand for better grip and protection.
Jewelry and Accessories
When it comes to indoor rock climbing, it's important to consider the potential risks associated with wearing jewelry and accessories. Here's what you need to know:
Risk of Injury: Wearing jewelry, such as rings, bracelets, or necklaces, can increase the risk of injuries during climbing. They can get caught on holds, ropes, or other climbing equipment, causing accidents or hindering your movements.
Safe Accessories: It is recommended to avoid wearing any jewelry or accessories that may pose a risk. However, if you prefer to wear something, opt for minimal and secure accessories like stud earrings or silicone rings. These options minimize the chances of entanglement or injury.
Prioritizing safety means minimizing potential hazards, and avoiding jewelry and accessories during indoor rock climbing is a simple yet effective precaution to take.
Clothing Dos and Don'ts
To ensure safety and functionality during your indoor climbing sessions, consider the following clothing guidelines:
Dos: Prioritize clothing items that provide adequate coverage and protection. Opt for long-sleeved shirts, pants, or leggings to shield your skin from scrapes and friction-related injuries. Choose clothing made from durable and stretchable materials for optimal comfort and freedom of movement.
Don'ts: Avoid wearing loose or baggy clothing that may get caught on holds or equipment. Loose clothing can restrict movement and pose a safety risk. Additionally, refrain from wearing clothing with drawstrings or hanging accessories, as they can also become entangled.
By adhering to these dos and don'ts, you can ensure that your clothing supports both your safety and functionality during indoor rock climbing activities.
Hair Management
Proper hair management is another important aspect of safety during indoor climbing. Consider the following tips:
Tie Back Hair: Keep your hair securely tied back to prevent it from obstructing your vision or getting caught on holds or equipment. Use hair elastics or hairbands that provide a firm hold.
Suitable Hairstyles: Opt for hairstyles that keep your hair neatly contained. Braids, ponytails, buns, or headbands can help keep your hair out of the way while climbing.
Considerations for Hair Safety: Avoid hairstyles with loose ends or accessories that can get caught on holds or ropes. Additionally, be mindful of using hair products that may make your hair slippery, as it can affect your grip.
Properly managing your hair reduces the risk of accidents and distractions during indoor climbing, ensuring a safer and more focused climbing experience.
By following these safety considerations and taking necessary precautions, you can enjoy your indoor rock climbing activities with peace of mind. In the next section, we will explore additional tips and recommendations to enhance your indoor climbing journey. Stay tuned!
Final Thoughts
Rock climbing is a fantastic adventure that combines strength, agility, and mental focus. To ensure you have a rewarding and enjoyable experience, it's crucial to pay attention to what you wear. The right attire can enhance your performance, provide comfort, and protect you from potential injuries. By considering the tips and recommendations in this guide, you'll be well-equipped with the knowledge to make informed decisions when choosing your indoor rock climbing gear. So, dress appropriately, gear up, and embrace the thrilling world of indoor rock climbing with confidence and style!
FAQs
Q: Can I wear regular workout clothes for indoor rock climbing? A: Regular workout clothes can be suitable for indoor rock climbing, especially if they are made from moisture-wicking and stretchable materials. However, it's important to consider the specific demands of climbing and choose clothing that allows for freedom of movement and provides adequate protection.
Q: Should I wear tight or loose-fitting tops for indoor climbing? A: The choice between tight or loose-fitting tops depends on personal preference and comfort. Some climbers prefer tighter tops as they minimize excess fabric and allow for better visibility of hand and body placements. Others may opt for looser-fitting tops for increased breathability and a more relaxed feel. Ultimately, choose a top that allows for unrestricted movement and enhances your climbing experience.
Q: Are there specific clothing requirements for bouldering compared to rope climbing? A: In terms of clothing requirements, bouldering and rope climbing share similar considerations. The key is to wear comfortable and flexible clothing that allows for a full range of motion. However, since bouldering often involves dynamic and powerful movements close to the ground, climbers may prefer clothing with reinforced knees and durable materials for added protection.
Q: Can I wear leggings or yoga pants for indoor rock climbing? A: Yes, leggings or yoga pants can be suitable options for indoor rock climbing. Look for leggings or pants made from stretchable and breathable fabrics that provide freedom of movement and wick away moisture. Make sure they fit well and allow for unrestricted mobility during climbing maneuvers.
Q: What are the essential features to look for in climbing shoes for indoor use? A: When choosing climbing shoes for indoor use, consider features such as a snug fit, appropriate stiffness, and a sticky rubber sole for optimal grip on holds. Look for shoes with a shape and style that align with your climbing preferences, whether it's precise edging, sensitivity, or versatility.
Q: Do I need a special sports bra for indoor climbing? A: It's recommended to wear a sports bra that provides proper support and comfort during indoor climbing. Look for sports bras specifically designed for high-impact activities. They should offer good coverage, adjustable straps, and moisture-wicking properties to keep you comfortable throughout your climbing sessions.
Q: Are there any specific clothing restrictions in indoor climbing gyms? A: Each indoor climbing gym may have its own specific clothing guidelines, so it's advisable to check with the gym staff or review their policies. However, in general, it's important to wear clothing that doesn't have any hanging accessories, drawstrings, or loose ends that could get caught on holds or equipment.
Q: Should I wear socks with climbing shoes for indoor climbing? A: It is generally recommended to climb without socks when using climbing shoes. Socks can affect the fit and sensitivity of the shoes, diminishing your ability to feel the holds accurately. However, if you prefer to wear socks for hygiene or comfort reasons, choose thin and moisture-wicking socks specifically designed for climbing.
Q: How do I layer clothing for varying indoor climbing temperatures? A: Layering clothing allows you to adapt to different indoor climbing temperatures. Start with a moisture-wicking base layer to keep your skin dry. Add a lightweight mid-layer for insulation, and choose a breathable outer layer that can be easily removed if you start to feel too warm. This layering system allows you to regulate your body temperature as needed during your climbing sessions.
Q: What should I consider when choosing between pants and shorts for indoor rock climbing? A: When deciding between pants and shorts, consider factors such as the temperature of the climbing environment, the type of climbing you'll be doing, and personal preference. Pants provide more coverage and protection against abrasions, while shorts offer increased freedom of movement and ventilation. Choose the option that best suits your comfort and the demands of your climbing session.
Related Posts: